'Toilet Man of India' Bindeshwar Pathak, chosen as Person of the Year
29-December-2018
Vol 9&nbsp|&nbspIssue 53
Internationally acclaimed social worker Dr. Bindeshwar Pathak, founder, Sulabh International, known for his work to eradicate manual scavenging and improvement of sanitation in India, has been chosen as The Weekend Leader – VIT Person of the Year (2018) by an eminent three-member jury comprising 'people's bureaucrat' U Sagayam, IAS (Tamil Nadu), supercop Roopa Moudgil, IPS (Karnataka), and Dr. N Jayasankaran (Advisor, VIT Business School, Vellore).
Pathak, who has earned the epithet 'Toilet Man of India,' in recognition of his immense service in the field of sanitation, was one of the five nominees of The Weekend Leader's editorial team for the award. The other four nominees were Dr. Vishal Rao (Bengaluru), Navin Gulia (Delhi), Gayatri Pathak (Mumbai), and Sahil Gurucharan (Nagpur).
Bindeshwar Pathak founded Sulabh International in 1970 (Photos: Monirul Islam Mullick)

Pathak established Sulabh International in 1970 and has constructed over 1.5 million household toilets across the country addressing the rampant problem of open defecation, which has been one of the priorities of the central government.
In 1974, Pathak built his first public toilet in Patna, with 20 bathrooms, urinals, and washbasins, which had soap and clean water. Around 500 people used the toilet on the first day itself at the charge of 10 paise per user.
Sulabh International maintains over 8,500 public toilets across the country and employs over 50,000 people. These toilets generate revenue of around Rs 500 crore every year. Over 10 lakh manual scavengers have been provided with jobs in Sulabh's various projects.
Sulabh means easy access – and they have provided access to clean toilets to millions. Their work has now crossed over to Afghanistan, Nepal, South East Asia, Africa and Latin America. Besides this, the NGO is also involved in philanthropic activities and has been giving stipends to widows and educating children from Dalit communities.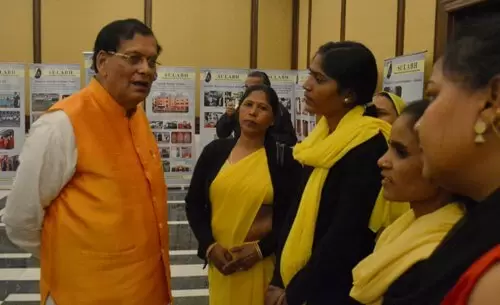 Sulabh has provided employment to over 10 lakh manual scavengers from around the country

Since its inception in 2010, The Weekend Leader has written about real-life heroes like Pathak, who have contributed to change in the community in different fields such as health, education, environment, women empowerment, development and poverty eradication.
Every year one such person featured in the magazine is chosen as the Person of the Year. VIT University joined hands with The Weekend Leader in 2011 to honour these heroes and ever since The Weekend Leader – VIT Person of the Year Award has grown in stature and prestige.
Following is the list of people who have won the award in the previous years:
2017: Dr. Thiruvengadam Veeraraghavan (Chennai, Tamil Nadu)
2016: Biplab Ketan Paul (Ahmedabad, Gujarat)
2015: Jockin Arputham (Mumbai, Maharashtra)
2014: Thinlas Chorol (Ladakh, Jammu and Kashmir)
2013: Balasaheb Darade (Pangra Dole, Maharashtra)
2012: Anil Joshi (Mandsaur, Madhya Pradesh)
2011: V Venkatraman (Erode, Tamil Nadu)
2010: Tanishk Shyamya (Ranchi, Jharkhand) - TWL Bureau

Trending Now: