A reservoir of hope for poverty alleviation that also addresses problems such as crop failure

04-April-2016
Vol 7&nbsp|&nbspIssue 14
A social entrepreneur and innovator based in Ahmedabad, Gujarat, Biplab Ketan Paul, has devised an innovative and path-breaking water-harvesting community initiative led by women. He has facilitated more than 14,000 farmers and transformed 40,000 acres of barren, disaster-affected or highly saline land into productive farms.
"Water is powerful, you cannot control water," says Biplab, 46, who has successfully harnessed the precious natural commodity through an innovative process named 'Bhungroo,' which uses pipes to filter and store rain water in underground reservoirs with capacities to hold as much as 40 million litres of water in it.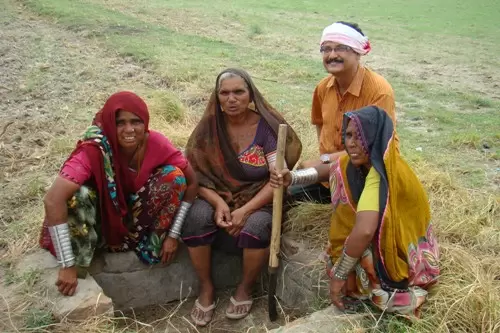 Biplab's innovative process to harness rainwater with the help of women's groups has transformed the lives of farmers in arid rural Gujarat

A single Bhungroo - the Gujarati word for a hollow pipe –unit harvests water for only about 10 days a year, but supplies water for as long as seven months and ensures food security for five families by irrigating two crops in two seasons for at least 25 years. Besides, this non-saline rainwater reduces the salinity of groundwater, making it fit for agricultural use.
Water has been the leitmotif of Biplab's life, right from his formative years in Hooghly, then an idyllic town on the banks of river Ganges, 62 km from Kolkata.
Both his parents earned modest incomes, and the greatest gift they gave Biplab and his two equally intelligent sisters was the love of books and empathy for others.
After his graduation and postgraduation in Economics from Jadavpur University, while studying at the Centre for Environment Education, Ahmedabad, and working in the Aga Khan Development Network, he was hit by ground realities of farming in arid rural Gujarat.
Lok Vikas, an NGO, had invited Biplab to provide technical knowhow for addressing the drinking water problem at Mehsana district of Gujarat. In 2001 while conducting a biodiversity analysis in villages there, he learnt about the far-reaching effects of water scarcity and contamination.
In Mehsana there was a peculiar situation: farmers were not allowed to draw underground water, yet a water park with 1.5 lakh borewells depleted ground water, pushing the level from 200 feet to 1,200 feet in just ten years. "The small farmers could not survive in this scenario," recalls Biplab.
In 2004 Biplab was invited by the Bureau of Educational & Cultural Affairs of the US Government as part of the International Visitor Leadership Program (IVLP). In Miami, Biplab learnt how the city secured fresh water for residents in its salinity- affected regions.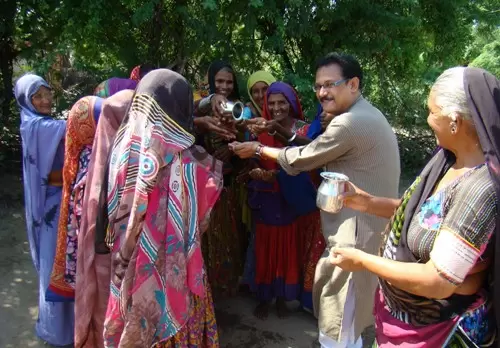 Each Bhungroo unit is owned and managed by a group of five women belonging to small and marginal farmer families

This was the genesis of Bhungroo. "I learnt things that I applied in a constructive way," says Biplab.
In 2007, Biplab conceptualized the social enterprise Naireeta Services Private Limited, with his wife Trupti Jain as founder-manager, and himself as innovator and director, looking after the technology aspects.
Naireeta promotes a social business model that ensures women empowerment, as each Bhungroo unit has to be owned and managed by women from small and marginal farmer families. Now there are seven in the team, along with 17 women farmer volunteers and eight members on an on-call basis.
The Women Self Help Groups of a village identify the below-poverty- line women members of a village with the help of Biplab's team.
A group of five then agrees to their roles in the group and the costs of maintenance. One of them gives a part of her land for construction of the Bhungroo while the other members contribute labour, bringing an added sense of teamwork.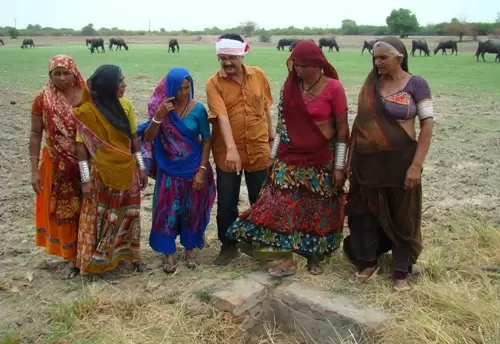 Biplab with a group of women managers of a Bhungroo unit

The first Bhungroo units were installed in five villages in Patan district of Gujarat in 2002 in nine months at nearly Rs. seven lakhs each.
The current Bhungroo units come in 17 designs and their prices range from Rs. four to 22 lakhs, based upon 29 variables such as rainfall and subsoil. Installation of the unit takes a mere three days.
A one-time investment of Rs. 8 to 9 lakh in Bhungroo can generate an income of Rs. 3 lakh per annum and the investor breaks even after 36 months. It increases a farmer's agricultural income illustratively from Rs 11,000 a year to a minimum of Rs 34,000 in three months.
Each Bhungroo unit caters to the irrigation need of 15 acres of land, making that much land productive twice a year.
With several awards and honours such as the Ashoka Globaliser Award for Innovation in 2012 and 2014, Biplab has received grants, awards and accreditations from organizations such as the World Bank, the Commonwealth, the United Nations Framework Convention on Climate Change, and the Asian Development Bank.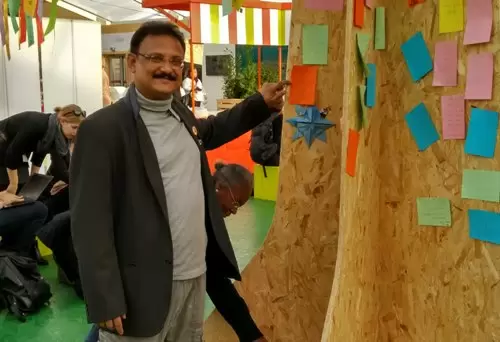 Biplab has implemented the Bhungroo technology in several African, EU and Asian countries

Bhungroo technology has been replicated widely in Gujarat, Karnataka, Bihar, Jharkhand, West Bengal and Odisha. Internationally, Bhungroo has crossed over to Africa (Ghana, Liberia, Kenya), EU countries, Bangladesh, Cambodia and Vietnam.
Biplab has made Bhungroo not only a reservoir of water, but a reservoir of hope for poverty alleviation and women empowerment, besides addressing seminal problems such as crop failure.
Wish to share your story?
Trending Now: