Taking women to the greater heights of Ladakh is her job

15-February-2014
Vol 5&nbsp|&nbspIssue 7
She had literally covered a long distance and scaled great heights as a trekking guide before turning a social entrepreneur and launching a travel company to create employment opportunities for women in Ladakh.

Thinlas Chorol, the woman we are talking about, has a steely resolve befitting her upbringing in the harsh terrain of Ladakh. It was with sheer determination that she managed to become a trekking guide in the first place.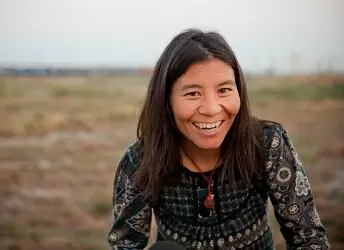 Thinlas Chorol founded 'Ladakhi Women's Travel Company' (LWTC) in 2009
"Travel agencies rejected me because they had not been employing female guides then. Everyone thought that only men were fit for the job," says the 32-year-old entrepreneur.

She worked as a freelancer and took tourists to monasteries and on cultural tours, as it was the only available option for women then.

Thinlas loved the mountain from childhood as she used to accompany her father in high mountainous pastures tending to the family's animals.

Born in a small village Takmachik in Ladakh, she grew up with seven siblings and had the opportunity to study at a school run by Students' Educational and Cultural Movement of Ladakh (SECMOL) at Phey, near Leh.

SECMOL is a social organization working in the field of education. At SECMOL, she was associated with their travel agency 'Around Ladakh with Students.'

To train herself as a guide she did a course in mountaineering from the Institute of Mountaineering, Uttarkashi. Being a mountain girl, the basic mountaineering course was a cakewalk for her, but it helped hone her skills further.

Thinlas got a scholarship from SECMOL to study at National Outdoor Leadership School (NOLS) at Ranikhet, Uttarakhand, where she learnt about first aid, rafting, leadership and backpacking.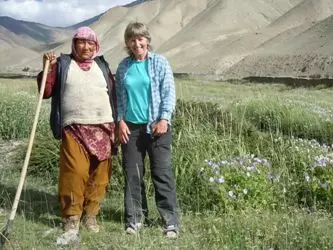 LWTC has provided jobs for many Ladakhi women
She founded 'Ladakhi Women's Travel Company' (LWTC) in 2009 with the aim of providing jobs for Ladakhi women as trekking guides, promoting ecotourism, and home stays.

She started with just three women but today about 6 trekking guides, 4 assistant guides, 10 porters and 2 office staff work for her.

Employees are paid based on their skill, experience, and competence. "Some of our experienced guides earn over Rs 1 Lakh in one season, a season being only 3 months," says Thinlas.

Ladakh remains cold and chilly for most part of the year, but the best season to visit the place is from June to September.
For those who love trekking, the Markha trek is the most popular. However, for the uninitiated Thinlas suggests moderate treks in Sham which they locally call 'baby treks'.

But she cautions that there is no easy trek in Ladakh. Markha and Sham treks last about 4-7 days.

Most of her clients are foreigners. LWTC does 'female only' treks, but men could also be part of groups where there are already women.

"Women don't require female guides, but they sometimes feel better and safer with female guides," clarifies Thinlas.

Normally LWTC has no work in off-season. Sometimes they do the Chadar trek in winter across the frozen Zanskar River, which could be dangerous.

As a responsible tour company with focus on eco-tourism and community based tourism, they encourage tourists to stay in home stays. The tourists are asked not to buy bottled water, and instead encouraged to refill water from shops, guest houses, or home stays.
LWTC does 'female only' treks, but men are included in the groups some times
There are many home stays along the popular trekking routes. "I don't know how much a household gets during the whole season. But we pay between Rs 500-800 per night, per client," says Thinlas.

Home stay owners are happy working with LWTC. Women of the households like to meet guests from different countries.

LWTC started making profit from the first year itself.

To generate income for LWTC staff in the off-season, Thinlas is working on a pilot project of canning tomatoes for sale in winter.

"The basic idea is to supply canned tomatoes to Ladakh in winter after the passes close and fresh ones cannot be brought in, and it is too cold to grow them," says Thinlas, a former ice hockey player, who was part of the bronze winning team in the National Ice Hockey Championship in 2006.

She says that they are trying to create more business opportunities for their staff during off-season, though they make enough to get through the off-season.

Thinlas along with few other women has started a group called "Ladakh Women's Welfare Network" to focus on women related issues.

An accomplished writer, who writes on environmental and social issues, Thinlas received the 'Sanjoy Ghosse Ladakh Women Writers' Award' from an NGO, Charkha Development Communication Network.

Her newspaper articles, 'Beyond conventional tourism' on the impact of tourism in Ladakh and 'A trek through life' on her own experience of becoming the first female trekking guide in Ladakh were well appreciated.

Trending Now: