Vijay blockbuster 'Mersal' puts the spotlight on Chennai's 'two-rupee doctor'

P C Vinoj Kumar
&nbsp | &nbsp Chennai
10-November-2017
Vol 8&nbsp|&nbspIssue 46
On a pleasant November evening, I am at the clinic of Dr Thiruvengadam Veeraraghavan at Sri Kalyanapuram in Vyasarpadi, North Chennai, a predominantly working class area where people often come down with infectious diseases.
Thiruvengadam is a real life hero, who has served this community since his days as a medical college student during the 1970s without charging fees from poor patients, and later for small fees.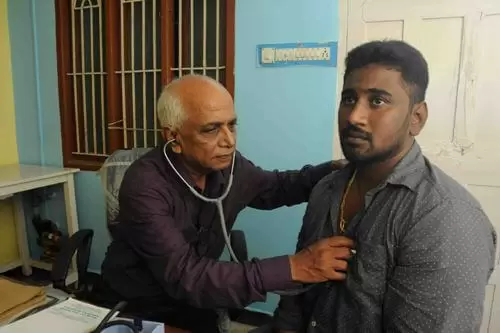 Thiruvengadam Veeraraghavan spends his after-work hours at his private clinics in Sri Kalyanapuram and Erukkancherry in North Chennai, where he treats poor patients (Photos: H K Rajashekar)

Vijay's blockbuster 'Mersal' that hit the screens last month - in which the actor plays the role of a 'five rupee doctor' - turned the public mood in Tamil Nadu against corporate hospitals that charge exorbitant fees and put the spotlight on conscientious doctors like Thiruvengadam.
Known as the 'two rupee doctor', 67-year-old Thiruvengadam works in a corporate hospital at Velacherry during the day and spends his after-work hours from 8 pm till midnight at his private clinics in Sri Kalyanapuram and Erukkancherry in North Chennai.
Residents of Sri Kalyanapuram clearly love this doctor. "He is like a god to us," says 58-year-old Saroja, who has been witnessing his service to the community for the past few decades.
Thiruvengadam is a son of the soil and his ancestral house is located right behind his clinic in Sri Kalyanapuram. Born in 1950, he grew up in this house with his parents, four younger sisters and the families of his father's two elder brothers.
He might have inherited the desire to serve people from his father and uncles, who were active members of St John Ambulance Service that trained volunteers in administering medical first-aid to injured persons.
His uncles were also qualified siddha practitioners. "We were a joint family with more than 20 members, including cousins, living under the same roof.
"Our doors were always kept open for the people to come for treatment of wounds and simple ailments like fever, stomach ache or diarrhea," says Thiruvengadam.
Those days Sri Kalyanapuram was a village, and Thiruvengadam's family owned about 3 acres of agriculture land, where they cultivated crops like paddy, ragi, and green gram. But most of their land was later acquired by the railways.
Thiruvengadam studied in Thyagaraya Chetty School in Washermenpet from Class six to 11. "I used to walk to the school. It took half an hour to reach the school from home," he recalls.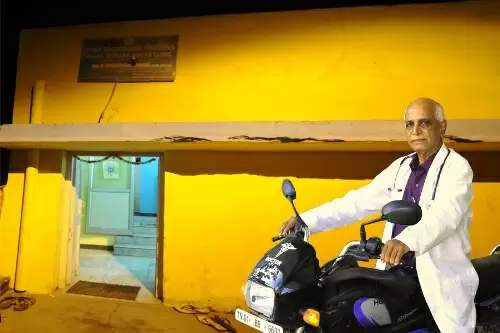 Dr. Thiruvengadam commutes on his Hero Splendour motorbike

In the night he attended tuition classes conducted by a volunteer named Ganapathy, who was doing it as a service for the children. Ganapathy motivated Thiruvengadam to apply for medical college.
"I was among 1100 students selected for MBBS in 1968. I did my one year pre-medical course (which was mandatory then) at Thyagaraya College and continued studying at Stanley Medical College, Chennai," says Thiruvengadam.
His involvement with the medical services that his father and uncles provided from home took a toll on his studies and he could not complete his degree until 1990.
Later, he joined the Communicable Diseases Hospital in Tondiarpet and learned to dress leprosy patients at Madras Medical College. He studied industrial medicine at Central Labour Institute, Mumbai, for three months in 2000.
Since 2003, he has been employed as industrial medical officer in a corporate hospital, where his job involves the periodical monitoring of the health condition of workers in petrochemical companies and reporting any abnormalities for appropriate medical treatment.
"I receive a regular salary from the hospital. My wife worked as an officer in the railways and was drawing a good salary. She retired last year from service. I have enough money to take care of my needs," he says contentedly.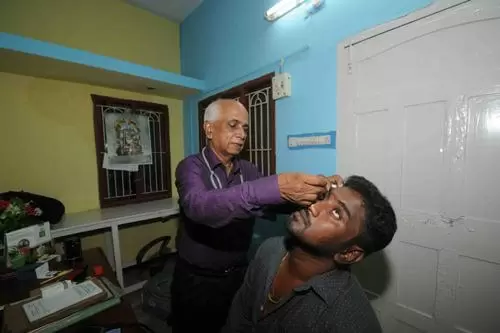 Dr. Active: Thiruvengadam works until midnight at his clinic in Erukkancherry and reports for work at 9 am the next day

"Doctor will not miss attending the clinics in the evenings," says S Boopalan, 35, a car mechanic, who volunteers with Thiruvengadam at Sri Kalyanapuram clinic. "I have been helping him since I was 14," he adds.
Thiruvengadam accepts consultation fees from people who can afford to pay, but he would not take anything above Rs 50.
His daughter Preethi is a practicing doctor and his son Deepak is studying medicine at a college in Mauritius.
"My wish is that my children should continue serving the society," says Thiruvengadam, who continues to commute on his Hero Splendour, crisscrossing the city, weaving through traffic, driven only by the desire of serving the people.
This article is part of the 'Inspiring Indians' series
More Inspiring Indians

Trending Now: