Juin Dutta's Pathshala is an example of what you can do, when you have the heart to serve
Kavita Kanan Chandra
&nbsp | &nbsp Vadodara
23-May-2017
Vol 8&nbsp|&nbspIssue 21
It's 8:15 in the morning. I am standing amidst the leafy surroundings of the Maharaja Sayajirao University's (MSU) Institute of Leadership & Governance campus in Vadodara as the soothing chants of prayer waft through.
A few minutes later I hear a gaggle of excited voices. This is to be expected – after all, I am at the Pathshala, an informal mobile school for underprivileged children that is run under the aegis of the city-based Srotoshwini Trust.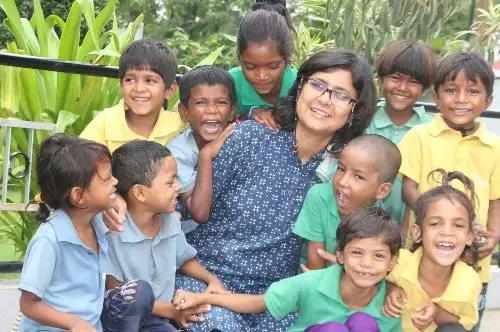 Juin Dutta's Pathshala, an informal school for underprivileged children in Vadodara, has an enrolment of 110 students currently

I walk in to see a large group of children doing yoga. There is much giggling as the children get into the tree pose. Some are a picture of poise while the others wobble and shake, unable to strike a balance.
An athletic lady adds to the fun by making a game of the yoga pose – the children who are not able to balance are asked to sit down and the last child standing is cheered on loudly!
The children are then served breakfast. "Learn away, laugh away," the lady wishes them with a smile as they run to their respective classes.
She is Juin Dutta (50), founder-president of the Pathshala. "At any given day, the school has about 80-90 children attending and our enrolment has reached 110 presently," says Juin.
"This is possible only because of our dedicated volunteer teachers," she says. "Together, we knit a dream to see these children grow into confident, respectful and honest individuals."
From being set up at a construction site to conducting classes on the footpath and in various borrowed premises, the Pathshala has travelled to many locations across the city.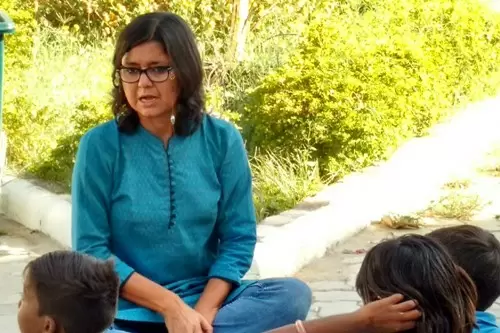 Juin was drawn to teaching the underprivileged kids watching the children of construction workers near her home loitering around

From their first teaching space at a construction site in May 2013 to the footpath to the slums, from the Police Training School to the footpath again and now at the MSU campus, Juin and her team have battled all odds to keep the Pathshala afloat.
They have taught on the Fatehgunj and Sardar Estate footpaths and the Parshuram Bhatta slums. When they were offered space at the Police Training School at Lalbaug, the Pathshala happily accepted and functioned from the premises between February 2016 and January 2017.
"In this period, the school became very organised. Weekly tests were conducted and a grand Annual Day was celebrated. Children got meals every day and some teachers even got remuneration," Juin recalls.
However, after a year the school was back on the footpath again. Desperate for another location for the school as her students and teachers were getting scattered, Juin was relieved when the director of the Institute of Leadership & Governance, Jigar Inamdar, granted her a space on their campus on 21 February 2017.
Looking at the energetic teachers and cheerful students, I secretly wish they never need to return to the footpath again. Each member of Juin's team loves the Pathshala and it shows.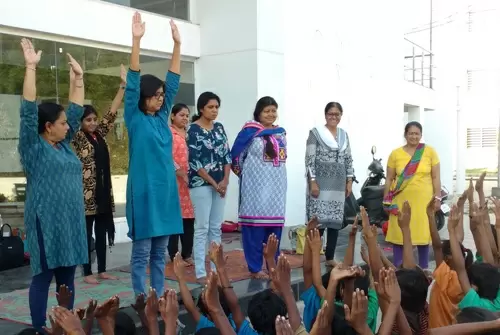 Yoga is taught to the children studying at the Pathshala

Be it Bithika Ganguly, the sprightly septuagenarian teacher who teaches Gujarati, Prahlad Kaka who brings home-cooked breakfast, Bharatbhai Desai, who is the chairman of the vocational training centre, and all the volunteers who take time out from their busy lives to teach at the Pathshala.
They ensure that the children get the best of opportunities. The day I am there Juin plans to visit the Navkaushalya Skill Development Training Centre to enrol one of her students Rani for skill-based education and vocational training.
"She is an intelligent girl and deserves to go far ahead in life," she says. Rani's mother plans to accompany them. "It is because of the efforts of Juin Madam that my elder daughter Rani has reached the Advanced Class at the Pathshala. She will never have a life like mine," she says with hope.
Juin understands the value of education having pursued several degrees herself. She grew up in Chittaranjan in West Bengal and did her higher studies at Maharajadhiraj Uday Chand Women's College at Burdwan, completing her post-graduation in economics.
She then worked as school coordinator at New Era and Navrachna International schools. Juin then got bachelor's and master's degrees in library sciences and her PhD on information literacy from MSU.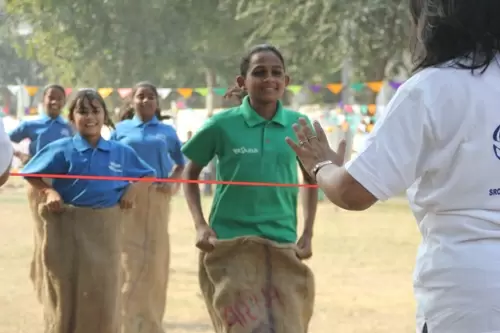 Trained to be Winners - Children at the Pathshala taking part in a sports meet

"My faith in education and good values come from my trade union leader father Suhrid Ranjan Das and school teacher mother Anima Das. They were selfless in their work and humble in their deeds," she avers.
What triggered Juin's interest in teaching underprivileged kids was the proximity of a construction site near her home in Sama locality.
"I would often see construction workers taking their children to the site and they would just loiter around."
So she approached the workers and offered to give free lessons to their children but they refused. Eventually she got smarter and approached the project manager of the site. He agreed and allowed her to teach the children and that was how the Pathshala began in May 2013.
Juin was already associated with Srotoshwini Trust that was set up to promote Bengali culture in the city. So, she roped in the Trust's dedicated volunteers and they taught the children till March 2014 when the migrant workers went back to their hometown for Holi.
When they returned, the project manager did not allow Juin to continue the Pathshala. "I was disheartened. However, when some parents came to me and requested me to take care of their children, my joy knew no bounds," recalls Juin.
With the help of the Srotoshwini Trust, Juin raised funds to buy a single BHK house for the children of these migrant workers. Her husband, KK Dutta, who works for Larsen & Toubro, generously donated a flat.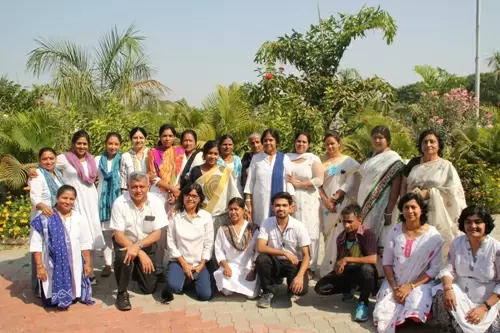 Juin (sitting, third from left) with her team of volunteers involved in the activities of the school

These two flats were turned into a hostel, where around 11 girls are now staying and being given proper education at a nearby school
"All their expenses are met by donations from well-meaning people. Now we have a plot and are collecting funds to build a hostel for 100 children where they can stay and go to schools free of cost," says Juin
The Pathshala presently has classes from kindergarten to grade six and functions from 8:15 am to 11:30 am. "However, irrespective of age, children are put into classes according to their ability to learn," says Juin.
"Many children go to Navprerna, the afternoon school for underprivileged children at Navrachna International School, or to the government school after they finish here in the morning," she concludes, satisfied that the children are well-set on the path to education.
As I leave the Pathshala, I am filled with hope and happiness. Juin Dutta's Pathshala may not have a fixed address, but it will certainly never lack direction.
This article is part of the 'Inspiring Indians' series
More Inspiring Indians
Wish to share your story?
Trending Now: