Computer engineer from Bengaluru quit MNC job to find her calling in Uttarakhand
Anvi Mehta
&nbsp | &nbsp Champawat, Uttarakhand
23-August-2017
Vol 8&nbsp|&nbspIssue 33
In 2015, it was just a dream project. In less than two years, however, 33-year-old Pratibha Krishnaiah, a computer engineer from Bengaluru, has turned Himalayan Blooms into reality and has already provided employment for 65 women from the villages of Uttarakhand.
In the sleepy hamlets of Champawat district in Uttarakhand, there is a sudden buzz. Local women seem to have acquired a new purpose, as they make a beeline to the workshop of Himalayan Blooms at Khetikhan, the village cluster centre.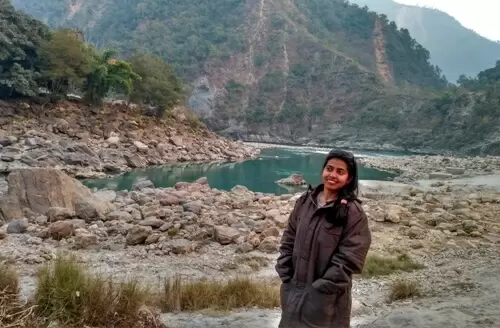 Pratibha Krishnaiah, a computer engineer from Bengaluru, found her calling in Uttarakhand, where she trains women in knitting and crocheting, and helps in marketing the products through her organisation, Himalayan Blooms

Started by Pratibha as a project for the State Bank of India's Youth for India fellowship, Himalayan Blooms improves the skill sets of women who knit and crochet, and provides a market for the handcrafted products.
Within two years, Himalayan Blooms has made a turnover of around Rs. 7 lakh. "This year it will definitely increase," says Pratibha. "Our inventory now has handmade cotton and woollen sweaters, gloves, caps, knee-warmers, mufflers, toys, children's apparel, ponchos, dresses, baby blankets and so much more."
The women of Champawat now earn between Rs. 2,000 and Rs. 5,000 per month, making it a viable livelihood option. It's not just the money; the women working with Himalayan Blooms have gained in confidence.
In 2014, Pratibha quit her well-paying job in a multi-national company to join the 13-month Youth for India fellowship programme under which fellows work in a rural area, in an attempt to empower the underprivileged.
"After working in the same company for eight years, I wanted to take a break from the corporate world," explains Pratibha. "My job was good, with great colleagues and big money, but I wasn't satisfied; it all seemed meaningless, this vicious cycle of earning and spending."
Pratibha with the women knitters at Himalayan Blooms

Pratibha always had an inclination to work for the betterment of people. "I was already involved in teaching children at a school set up by the Sri Ramakrishna Sarada mission in Bengaluru," she says, "and I was looking for work which could have a positive impact on society. This is when I learnt about the Youth for India fellowship and applied for it."
She joined the fellowship in November 2014, and a few months went by in understanding how community living works in the small hamlets of Uttarakhand. Coming from South India, initially she had problems communicating in Hindi, which was the only language the villagers knew apart from the local dialect, Kumauni.
"Those days it was funny when I would talk to them in my broken Hindi," she laughs as she remembers. "It's been almost three years now, and they have taught me both Hindi and Kumauni… in return, I have taught them a few words in Kannada!"
For the fellowship, Pratibha had to do a project involving the local women. It was in the beginning of 2015 when she first observed that these women were good at knitting woollen apparels, and thought she could do something to help them market this skill.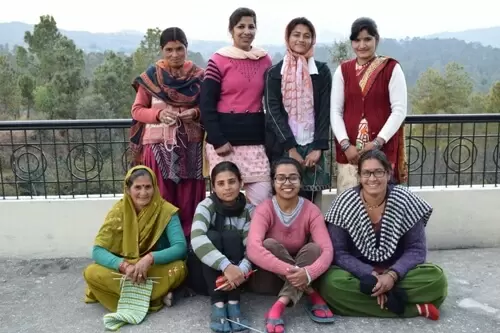 Pratibha Krishnaiah with women who attended a workshop on tailoring and stitching organised by Himalayan Blooms in association with Rural Self Employment Training Institute

As a child, Pratibha had learnt the basics of how to crochet and knit, but that was decades ago and all was forgotten. "With the help of YouTube tutorials I began re-learning the basics of knitting," she says, "and came up with ideas on designs and products that could appeal to urban markets."
At that time the project was nothing but a small experiment: seven or eight women from nearby villages agreed to participate while many dismissed the idea, refusing to spare the time for it.
Pratibha gave the women who came on board the wool to knit and a labour charge of Rs. 90 for knitting 100g of wool, which is double the price of what the local towns of Lohaghat and Champawat paid to artisans.
"We made clips, hair bands, socks and scarves to start with," remembers Pratibha. "I had no experience in sales and marketing so to sell the products I approached the weekend market Sunday Soul Sante in Bengaluru." They got a good response and made Rs. 20,000 in one day, and even got some media coverage.
An article that appeared in a website gave Pratibha the break she was looking for. "I wasn't sure if I could stay back and continue this work, but I did not want to disappoint the women who were so happy seeing their handmade products sell in a city like Bengaluru," she says.
Pratibha officially launched Himalayan Blooms in November 2015 encouraged by the support of a donor, Joginder Kundra

It was then that, to her utter surprise, Joginder Kundra, a 70 year old humanitarian from USA, got in touch with Pratibha. He had read the article, which carried her email address, and he sent her an email asking for details of the project.
Upon learning the details, Kundra decided to visit the village during his next visit to India. In September 2015, he saw the work that Himalayan Blooms was doing and decided to donate for the venture so that it could set off as a social enterprise for empowering rural women.
His funds covered the monthly running expenses, field visits for the women, training sessions and provided machines and accessories needed for knitting, crochet and stitching, and Himalayan Blooms officially came into existence in November, 2015.
The fellowship was over but Pratibha stayed back. She has been lucky in having a supportive family, who have helped her achieve her dreams throughout, often helping sell the products in Bengaluru.
With the help of Joginder Kundra, Himalayan Blooms started enrolling more designers to help them develop products that were apt for the urban market. "We got our products on e-commerce websites like Tijori, and Etsy in USA," says Pratibha. "Mr. Kundra also helped us with sales in the US."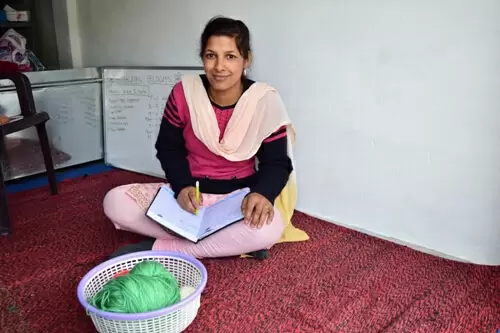 Bhagwati Paridhyani (26), a local woman, takes care of administrative work at Himalayan Blooms

One of the designers they work with showcased some of their products in the NY Now event held in New York this year, giving global exposure to the work of these village women.
Expanding the as yet unregistered social enterprise, Himalayan Blooms has installed nine tailoring machines in their workshop. They had a workshop for 30 women to learn basic tailoring skills.
"The designers I am working with will be helping us with designs of bags, pouches and small hand-stitched items that have a market round the year," says Pratibha. "We are also looking at orders for school uniforms, petticoats and blouses from the local markets. This will help us get regular revenue for the women."
Some women, like Bhagwati Pardhyani, who only had basic education are now operating laptops, maintaining inventory and doing other administrative tasks. Few women who have been abandoned by their husbands have found a family in Himalayan Blooms.
One such woman, who didn't even know knitting, has learnt the skill and now excels at making mufflers. On an average, she earns Rs. 2,000 a month; in the village that money is enough to feed a family of four.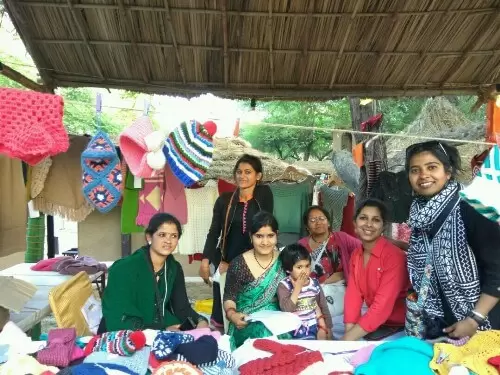 Himalayan Blooms team members at an exhibition held in Delhi in March, 2017

There are several such stories: Rita Bairagi, 27, had come to Khetikhan about 10 years ago from Odisha, when her husband decided to start a small electronics repair shop in the village.
With two children, they struggled to make ends meet but now that Rita has started working with Himalayan Blooms, she earns about Rs. 4,000 a month and that really helps.
When asked about future plans, Pratibha says: "My ultimate aim is to empower these women and make them confident and strong enough to run their own ventures. Until then I'm going to stay put in this amazing place."
This article is part of the 'Inspiring Indians' series
More Inspiring Indians
Juin Dutta, Vadodara

Manika Majumdar, Kolkata
Wish to share your story?
Trending Now: