'People passed remarks to undermine my work, saying that I deal with the mad people'
08-July-2017
Vol 8&nbsp|&nbspIssue 22
Covering the distance from being an ill-treated and isolated child to becoming a grassroots mental health counsellor in West Bengal in six short years, Manika Majumdar has emerged as an inspirational protagonist in an extraordinary story of inner strength and public acclaim.
Manika, 38, a foot soldier of Anjali, a Kolkata-based NGO, offers counselling to psychosocially disabled people. Since 2009 till March 2017, Manika has counselled more than 2,700 individuals and visited 400 homes between November 2015 and March 2017 for outreach.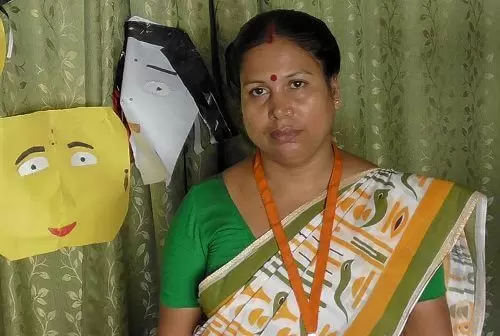 Manika Majumdar works with Anjali, a Kolkata-based NGO, which provides accessible and affordable mental health care to marginalised individuals and families

Incidentally, Manika's own life too had been tough and that makes her service even more awesome.
"My parents migrated from Bangladesh to India when I was just a-year-and-a-half old. We initially lived in a rented house at New Barrackpore in the Barasat Subdivision of the North 24 Parganas District, and then moved to Khardah under the Barrackpore Subdivision four years later," she recounts.
Little Manika grew up witnessing her hostile father Kiran Byapari's relentless fights with her mother Manju Byapari.
Her jobless father would hardly ever go out to look for work and the household was run by her mother who worked for Rs 3,000 a month as an ayah (nurse) at the Bishwanandan Research Centre, a nursing home.
Meanwhile, Manika started going to the Madhab Ashram Primary School in Khardah, moving to the Deshapriya Balika Vidhyalaya in Sodpur after passing Class five. But the birth of her baby brother when she was in Class six put a stop to her schooling.
Since Manju had to go to work, the baby became the responsibility of 12-year-old Manika. Her lonely childhood became confined to the four walls of her house and an endless series of household chores.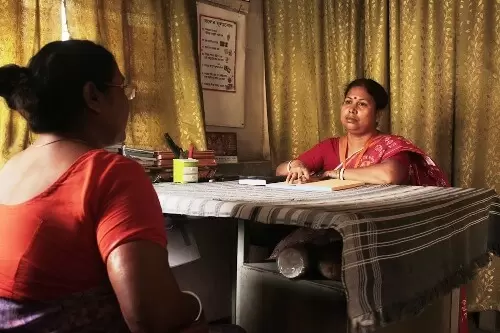 Manika counselling a patient
However when she turned 18, in 1996, she found a ray of hope, a new life. In May 1996, at her mother's behest, she was married to Samir Majumdar, who ran a cycle-repair shop at Mridha Market in Jyotinagar in Baguihati in the Barasat Subdivision.
Her supportive in-laws gave her liberty back. The once tight-lipped Manika made friends in the 'paara' (neighbourhood), who later recommended her name for enrolment in the Mahila Samiti, a self-help group (SHG) in Rajarhat Municipality, less than 20km from Kolkata, in 2001.
Manika soon joined the SHG for a stipend of Rs 500 a month and was assigned to collect Rs 20 per month from each member of the group for their future investments.
The women associated with the SHG received training in embroidery, sewing or as a beautician, organised by the Municipality. After the training, they could find work or start up their own work with their SHG savings.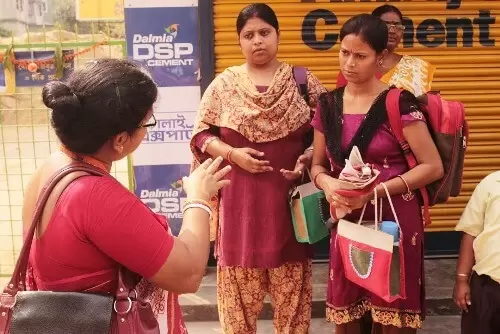 One of Manika's responsibility is to spread awareness on mental health issues among the public

2008, Anjali, a Kolkata-based NGO, who set up a community mental health kiosk to provide destigmatised, accessible and affordable mental health care to marginalised individuals and families, approached the Rajarhat Municipality to train women counsellors in mental health and well-being.
The NGO needed women who had studied up to Class seven to 10. These women were to be given self-leadership, counselling and educational training in helping psychosocially disabled people.
Around 108 candidates filled the form, but only 36 women were selected for the first-level training based on their educational qualifications, association with Municipality's work and ability to be trained.
Manika didn't meet the educational criteria. But on her repeated request, the project officers and other members discussed her case and gave her an opportunity as she had proven to be hardworking and completely committed.
"In partnership with the Municipality we started the project – Janamanas Manosik Shastha Kendra - a kiosk service with two objectives," says Project Manager, Chandrabarna Saha. The two goals were: outreach through dialogue and awareness programmes and counselling the mentally sick in a government hospital, the Calcutta Pavlok Hospital in Gobra. They served across thirty-five municipal wards and in 2015 Anjali fully adopted the project.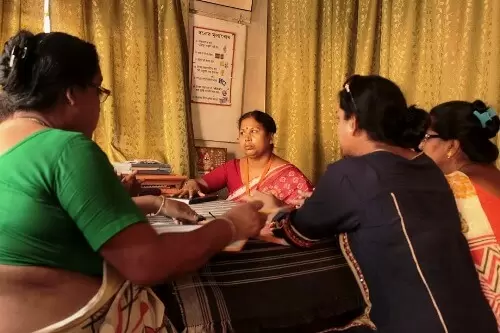 Since joining Anjali in 2008, Manika has counselled more than 2,700 individuals

Manika's job was to visit the local hospital and campaign door-to-door in order to make people aware of psychosocial disabilities and to identify people suffering from it, set up awareness camps for the same and visit the stakeholders such as the local councillor, health officers, Municipality chairperson, local schools, clubs, clinics, police station, polio-department, and so on.
"We distributed handbills and also staged plays about why people should visit us at our kiosk in the local government hospital to know the reason and benefits of our counseling," says Manika.
The seriously affected patients were referred to the OPDs of Calcutta Pavlok Hospital in Gobra. As pyschosoical disabilities vary, sometimes a person may get better after two sessions of counseling and, other times, it may take more than 10 sessions.
As per the medical guidelines, the counsellors counsel them to understand what happens when they lose self control and how to overcome this, so that they can avoid violence, depression, persecution complex and suicide.
With such dedication, it's not surprising that the founder of Anjali, Ratnabali Roy, recommended Manika's name for the CII Foundation Woman Exemplar Award Programme. On April 27, she received the award from the President of India, along with a trophy, a citation and a cheque of Rs three lakh.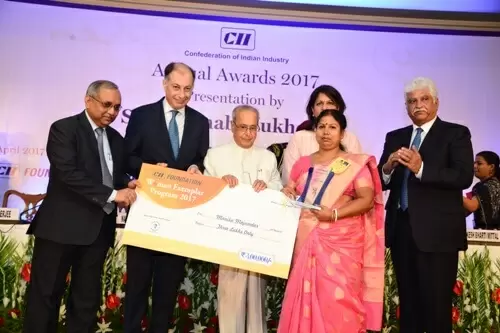 Manika received the CII Foundation Woman Exemplar Award from the President of India, Pranab Mukherjee

"I was speechless when I received the award," says Manika, who is ever grateful to Anjali and its team. "Tears rolled down from my cheeks. The moment reminded me my days of struggle. People passed remarks to undermine my work, saying that I deal with the mad people."
She proved them all wrong by becoming a winner - not just for herself but for a cause.
This Article is part of the 'Inspiring Indians' series
More Inspiring Indians
Wish to share your story?
Trending Now: