This Mumbaikar Spends Hours Daily to Save the Mangroves and Create a Beach on Carter Road
Deven Lad
&nbsp | &nbsp Mumbai
14-October-2017
Vol 8&nbsp|&nbspIssue 42
We have all heard of the story of Dashrath Manjhi, a.k.a Mountain Man, who chipped away at a mountain for 22 years to make a road for people of his village. In Mumbai, we have the Mangrove Man: a man on a mission to save Mumbai's last remaining mangroves and create a beach where none exists now.
Rehan Merchant, 51, has been working at Mumbai's Carter Road area for the past five years removing the litter from the mangroves and cleaning up the slushy, rock strewn patch of land next to it that could one day become a beach.
Rehan Merchant started working on the mangroves at Carter Road since 2010 to protect them and create a beach nearby (Photos: Deven Lad)

One man clearing 5,000 sq m of mangroves is no less of a task than breaking a mountain, and Rehan is doing this only because he wants to leave the world a slightly better place for the future generations.
His mammoth ongoing effort is an inspiration and an example of what it really takes to have a Swachch Bharat: actions, not mere words.
Finding him is easy, just go to Carter Road in Mumbai around 8 a.m. and you will find him stomping around in his gumboots, picking up rocks and creating what he hopes would become a beach someday in the future.
Rehan lives in Bandra, and is gaining a reputation of being an eccentric man.
"When I first started removing stones, people called me crazy," laughs Rehan, "many thought I was here to grab fish out of the ponds!"
People tell Rehan that his efforts are going to be a waste as the rocks will return with the tide, but it hasn't stopped him. "I just want to see a beach here, I want this to be a place where children can play," he says.
Carter Road is a favourite spot for Mumbaikars, specially youngsters who hang out here, but not many people realise there used to be a beach here once.
Born and brought up in Bandra, Rehan went to St Andrews school before he graduated from National College in physics, though the degree had little to do with what he later did in life. He started working with Eureka Forbes as a sales executive and then, in 1992, went to Sharjah where he worked till 2009.
He worked at companies like Eureka Forbes, Modi Xerox, IBM and DHL, after which he moved to web and logo designing because of the recession, which is also why he had to return to India. He now lives in Mumbai with his wife and two children.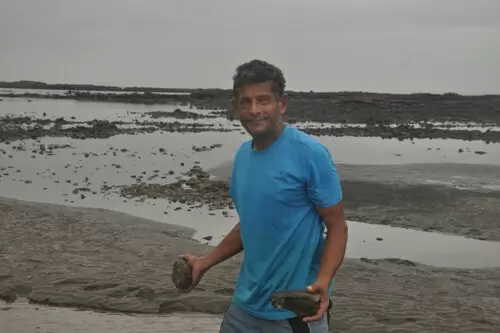 There were days when Rehan used to remove 400-500 stones a day from this slushy stretch, which he wants to turn into a beach

"In Sharjah I started suffering from back pain, so I started swimming — later I designed two boats which I have carried back here," says Rehan.
In 2010 he found out that there used to be a beach ahead of the mangroves in Bandra. Rehan had no idea then that this knowledge will change his life.
"When I came here I saw mudflats, but there were two problems that needed tackling," he says, "the rocks had to be removed and the mud needed to be flattened out." He saw that wherever there were fewer rocks, the mud had settled over the years and smoothened – but he couldn't just chuck away the rocks. "I needed to rearrange the rocks in such a way that the sand wouldn't erode," Rehan explains.
He spent some time studying nature and its movement: the timing of tides, force of water and so on. "You have to observe, observe and observe," he says. "One day eventually the answers become clear."
"When I first saw it, I said to myself, 'oh what a nice beach this could be' but then every 10 ft there was a rock," he says. "I wished there were no rocks but this is no Creation, where god says 'let there be light' and there will be light, you have to work on it!"
He decided he will start removing the rocks himself. He started with sunrise and slowly started moving the rocks around. "The first question was how many rocks I can remove," he explains. "I found out that I could do 400-500 a day, so everyday instead of doing my exercise, I started spending two hours here…
"It took me five years to achieve my goal."
Rehan started working in the mangroves then to make sure there are no stagnant water-bodies. "When storm water comes, it does not go in one direction but spreads out," he explains. "The force is not high so it doesn't affect the soil. Stagnant water trapped in ponds pollutes the water."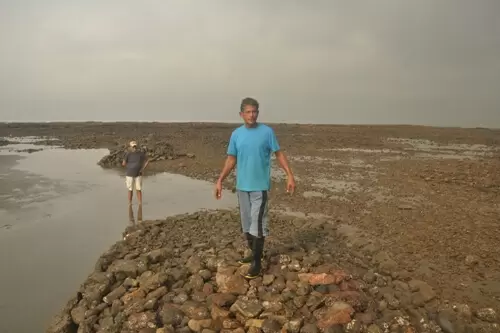 Nowadays Rehan is not removing the stones, but rearranging them in piles to retain the sand on one side, which would form the beach

Rehan has managed to clean an area of one sq km. "I also managed to carve out two water channels for sea water to enter the mangroves, so now the water here is less acidic and least polluted," he says.
His 16 year old son accompanies him sometimes, but only for a swim. Rehan works alone to remove the rocks from the muddy area and rearrange them in a way that won't lead to sand erosion.
"It's a very slow process," he smiles. "I have been working here for the last five years every day for two hours and now I spend half of my day doing this… but I love spending time here."
Rehan works as a freelance designer but spends a lot of time on Carter Road. He has made a small machan for himself from where he can sit and observe the tides.
It was RJ Malishka of Red FM who first spotted him and interviewed him, which led to BMC (Brihanmumbai Municipal Corporation) stepping in to help him. Rehan isn't too thrilled though, as he claims BMC did it only for publicity.
"They only helped me for two Saturdays, that too for two hours, and asked the reporters to take pictures," he says. "I want genuine people who really care for nature and know about sand and water. I don't want mass, I want quality."
Rehan sometimes plays guide to enthusiastic people who want tours inside the mangroves and see the beach location. He often gets a donation from people who see him working, which he spends on daily wages for workers he sometimes hires to help him.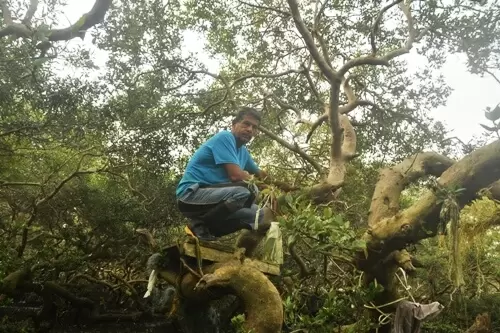 Rehan has created a machan in the mangrove where he could relax and watch the sea

Mangroves in Mumbai are in danger because of encroachment and the one belt that is left on Carter Road is ignored by the government. Rehan's efforts will help our environment.
"In the end, humans cannot totally destroy nature, we are too weak in front of it, but we can stop people from trying," he says. "We have to make this place beautiful again and my only goal is to see a beautiful beach here in future. It will take time but it will happen."
Rehan doesn't carry a mobile phone as he lost too many while working on the beach and now his family members send him messages via people!
He doesn't know how many years it will take for a functional beach to come up here but he is determined to do what he can till he dies. "All I can do is keep at it daily and hope my efforts will help the future generations even after if I die," says Rehan.
This article is part of the 'Inspiring Indians' series
More Inspiring Indians
Juin Dutta, Vadodara

Manika Majumdar, Kolkata
Wish to share your story?
Trending Now: