Nagpur Youngster Develops Device to Counter Rigged Meters at Petrol Bunks and Launches a Business
15-September-2018
Vol 9&nbsp|&nbspIssue 38
When Sahil Gurucharan Chawla was cheated at a petrol pump with a rigged meter, a problem that is widely prevalent in the country, he decided to develop a device that would be fitted in the fuel tanks of vehicles to correctly measure the quantum of liquid flowing through it.
Sahil was an engineering student then. "This was in 2010," he reminisces. "After my experience at the petrol pump I realised that several people go through a similar ordeal on a daily basis. I saw an opportunity in this problem and started working on it and developed the product within two months."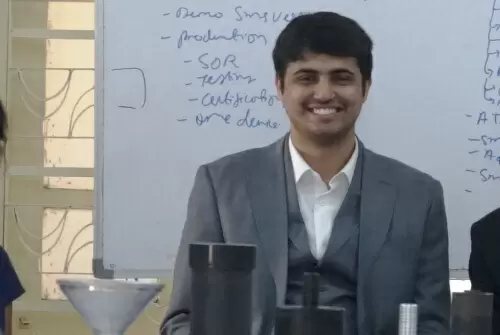 Sahil Gurucharan Chawla founded Tsecond Generations Technology Private Limited in 2014 with a vision of developing innovative products like the E -Funnel (Photos: By Special Arrangement)

The E-Funnel, as the product is called, is an electronic fuel monitoring system that keeps track of fuel fillings and records the exact amount of fuel filled on a mobile app. Foul play at the petrol pumps can be exposed since the device would record the actual quantum of fuel filled irrespective of the meter reading at the pump. Deployed initially on vehicles, it is now being fitted on diesel engines powering mobile phone towers as well.
By using the device, one is able to track actual fuel consumption whether on vehicles or diesel engines and it eliminates scope for human fraud and employee dishonesty.
"The accuracy of this device is very high and the data can be accessed by an easy-to-use app, FCA (Fuel Cost Analyzer), on the smartphone. It provides proper orientation of data in tabular and graphical forms," explains Sahil. "The device comprises a flow sensor, and a simple circuit to measure the quantity of liquid that flows from the funnel. The LCD screen attached to the funnel displays the exact quantity."
As a child, Sahil used to fiddle with electronic gadgets at home to find out how the mechanisms worked. "My parents would worry – why is their son not going out and playing like all the other children?!" he laughs, as he starts to tell his story.
Little did they know that their child was taking baby steps towards building something from scratch and becoming an inventor-entrepreneur!
Sahil's company, Tsecond Generations Technology Private Limited, clocked a turnover of Rs 15 lakh in 2017-18 and now, with a recent order of 5,000 units, he is eyeing Rs 7.5 crore in 2018-19.
The 27-year-old Nagpur-based entrepreneur expects the sale figures of the E-funnel to reach 7,000 units by the next fiscal year, a big leap from just 123 units sold in 2016.
Started in 2014, with limited success, his company branched out to providing service to mobile towers, where the E-funnel measures the oil usage in the diesel engines.
The journey hasn't been smooth for young Sahil, who was born at Brahmapuri in Maharashtra, to a civil contractor. "My father was a well-known figure in our area. He ensured that my elder sister and I got good education," he says.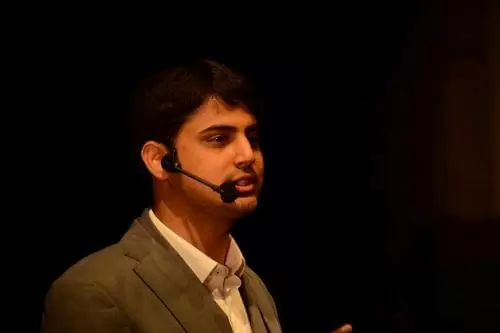 Sahil is eyeing a turnover of Rs. 7. 5 crore in FY 2018-19

In 2014, he borrowed money from his sister and friends and started his company from a single room of around 180 sq ft, at a monthly rent of Rs 2,500. To save money, he did all the menial jobs in the office himself.
After completing his engineering in computer science from Nagpur in 2013, he started a job at TechM, an IT company, but quit within a few months to start his own venture.
"It was very difficult to promote the product in a small city like Nagpur where people praised it but also advised me to move to some foreign country where I might find buyers," shares Sahil. "I walked from one client to another only to face rejection."
He was, however, determined to succeed. He continued the research and development work for E-funnels while trying to find customers for his product.
"In 2016, I realised that the telecom sector offered huge scope since it is the largest consumer of diesel and therefore diesel costs play an important role in their budget," says Sahil, who had struggled for two years till then and banked on funds from friends and family to sustain the business.
The same year he also got a loan of around Rs 10 lakh from the Pradhan Mantri Mudra (Micro Units Development and Refinance Agency) Loan scheme and things started rolling better from there on.
Today, Sahil has copyright for the E-funnel from the Convention of Bern - a certification valid in over 160 countries - and operates out of a 500 sq ft office in Nagpur paying a monthly rent of Rs 24,000. The company has also got the US patent for the E-funnel in 2017.
Starting alone, Sahil today employs 17 people in his company

With two directors, seven shareholders and four executive team members, the company now has presence in Delhi NCR, Mumbai and Nagpur. The current staff strength is 17 and they have collaborated with LocationGuru Solutions, Mumbai, and Napino Auto Electronics, Delhi, and share office spaces with them in those cities. The team also works with the R &D team of Napino in Delhi.
His company was shortlisted for the Hong Kong Festival in 2016 and 2017 and selected among the best start-ups at Collision 2018.
Some of his advisors, like industry professionals Atul Rajwadkar, Pranav Joshi and Manish Karandikar, have been his constant pillar of support since the company's inception.
The company has raised Rs 2 crore till date and his major investors have been industry heavyweights like Shashikant Chaudhary, Vaibhav Raheja and Jay Chopde among others.
The entrepreneur, who is still a bachelor, has a piece of advice for other young entrepreneurs: "Business is like a rollercoaster ride, there will be ups and downs, but all you need to do is to keep moving."
This Article is Part of the 'Super Startups' Series
MORE SUPER STARTUPS
Satish Chamyvelumani, Founder, Frshly
Wish to share your story?
Trending Now: