He Stayed Put When his Employees Deserted Him, Today He is Tasting the Fruits of Success
Usha Prasad
&nbsp | &nbsp Bengaluru
27-July-2018
Vol 9&nbsp|&nbspIssue 31
Achitra Borgohain's struggle to get rid of e-waste when he was moving to a new residence in Bengaluru led to setting up of Binbag, a start-up which provides end-to-end e-waste management services for corporates, SMEs and households.
E-waste is a large category comprising computers, cell phones, white goods like ACs, refrigerators, etc. India produced 2 million tonnes of e-waste in 2017 and is the fifth largest producer of e-waste in the world.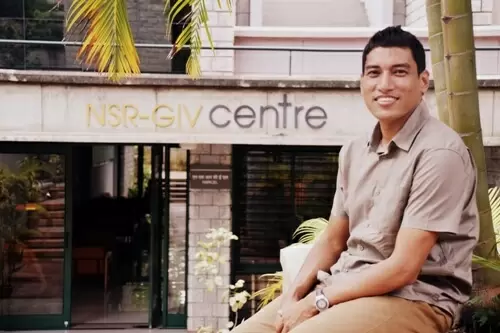 Achitra Borgohain started Binbag, a e-waste company, after ten years of service in the finance industry (Photos: Special Arrangement)

Achitra, Founder & CEO of Binbag, quit a well-paying job to set up the company, which registered a turnover of Rs. 1.15 crore in 2017-18 and aims to cross Rs. 3 crore during FY 2018-19.
Born in Assam, Achitra holds a production engineering degree from Lukhdhirji Engineering College (Saurashtra University) and an MBA degree from B.K. School of Business Management (Gujarat University).
After ten years of working in the fields of venture capital, investment banking and consulting service, Achitra, 40, decided to turn entrepreneur and quit his job at IL & FS Infrastructure Development Corporation, Bengaluru .
He enrolled for an incubation programme at IIM, Bangalore, and started Binbag in June 2014. He picked on the name Binbag when he went moving around with a bag full of e-waste and trying to find a bin to dump it.
"I felt the name was easy to remember," he says, adding, "I didn't want to dump my e-waste on the roadside. I called a few recyclers looking up the internet, but most said the minimum quantity they would pick up was 200 to 300 kilos."
That's when he realised the need for an e-waste company that would cater to all kinds of clients, both big and small.
While IIM, Bangalore invested Rs. 10 lakh in Binbag, Achitra, pumped in Rs. 5 lakh from his savings.
For the first 15 months, during the incubation period, Binbag operated from IIM Bangalore. Later, they moved to a friend's garage. The company, which by then had four employees, would pick up waste from customer places and then give it to the recyclers.
"Initially, we tried connecting with local trash collectors. Customers would send details to us on Whatsapp. We would share the same with the kabadiwalas. They would in turn go and pick up the e-waste," says Achitra. "We also tried to reach out to more people through milkmen and newspaper vendors."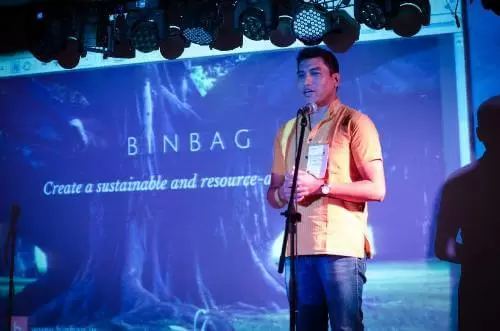 Achitra conducts a lot of awareness programmes on disposal of e-waste

Binbag generated a lot of interest and served around 3000 customers in the first 18 months, with more than 60 to 70 per cent of e-waste coming from White Field area alone, which houses large corporates and IT professionals.
They did a lot of awareness drives interacting with people coming to parks and with students in a few schools and colleges. On weekends, they would go around Cubbon Park, one of Bengaluru's biggest lung spaces and spread awareness about e-waste disposal.
"People would come with wastes such as Wi Fi routers, mobile chargers, old radios etc. They also took pictures with their beloved product before dumping the waste in our bins," says Achitra.
Binbag segregated the waste and sent it to the recyclers, who would extract the plastic and metal in the content for reuse. Achitra throws light on the recycling process. "All plastics in computers have flame-retardant materials in them, which gets re-used to produce other materials. It usually gets sold to manufacturers for use in other electronics," he shares.
"Metals extracted from the waste go to smelters and metal manufacturing facilities. Elements like rare earth metals, used in many electronics, are easier to exact from our recycled electronics than from the earth itself, resulting in savings of valuable resources."
Achitra says the plastic from lead acid batteries used in equipment such as UPS is recycled into pellets. "Similarly, the lead is cleansed of its impurities and reused in production of new batteries," he adds.
Eighteen months into the business, the company was in trouble as they ran out of funds. There were four employees then and all of them left the company leaving Achitra all alone, to pick up the pieces and rework the business model.
"It is a huge cost to pick up e-waste, segregate and send it to recyclers. We could hardly make any profit," he says. The payment they received from recyclers could barely cover their costs.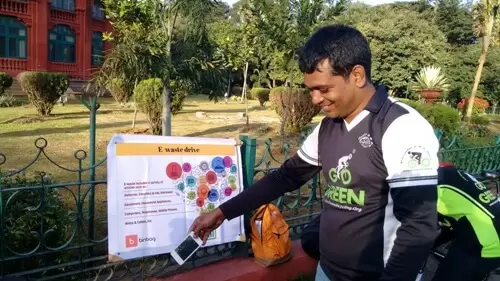 A Bengaluru resident leaves his old phone at a Binbag collection point

It was at that point Achitra came in contact with Krishnan Chandra Bhushan, who would invest in the company and take the designation of co-founder and head of sales at Binbag. Bhushan had a software business in Pune, which he had exited and shifted to Bengaluru due to personal reasons.
"I met Achitra last year and we connected immediately. He had clear insight on what he wanted to do and we spent some time fine-tuning the whole process and worked out the modalities to increase revenue," recalls Bhushan. He pumped in some money into the company and acquired stakes in the private limited firm shooting up the total investment to around Rs 25 lakh.
After Bhushan's entry the focus shifted to corporates and it turned out to be the game-changer. "E-waste generated by corporates is large in quantity and high in quality," says Achitra. "Many companies look for data destruction, which is technically known as degaussing. We charge separately for this."
For households and smaller clients, they have neighbourhood e-waste collection centres from where they pick up later. "There are instances where people come and dump their e-waste at our office," says Achitra.
Binbag is also associated with a big hospital chain, which has six hospitals across the country. While large corporates form 30 per cent of Binbag's clients, SMEs make up for 50 per cent, and households 20 percent.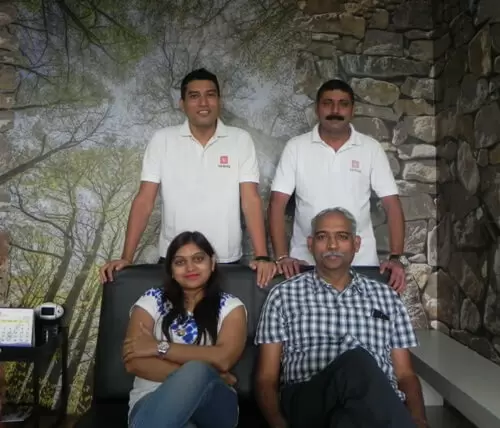 Achitra with his team members at his Bengaluru office

Achitra's father is retired from a public sector undertaking in Assam while his mother is a housewife. He has a younger brother, who works for TCS in Ahmedabad.
Achitra's wife Aparajita is an engineer and works with Infosys. The couple have a six-year-old son Ahan.
"Our overarching goal as a company is to increase the recycling rate in the country which is currently at a low double digit, says Achitra, adding, "We will be soon launching our App for businesses for quick and intelligent assessment of e-waste."
With the help of the app, customers can upload the details and photos of e-waste, which helps Binbag to plan properly to pick up the consignment. The company is also in the process of setting up its own recycling plant at Guwahati in Assam.
This Article is Part of the 'Super Startups' Series
MORE SUPER STARTUPS
Chirag Gupta and Ankur Gupta, Founders, 4700 BC
Wish to share your story?
Trending Now: