MBA Graduate's E-Waste Startup Notches up a Turnover of Rs 8 Crore in Only Its Third Year
Sofia Danish Khan
&nbsp | &nbsp New Delhi
11-July-2018
Vol 9&nbsp|&nbspIssue 28
All of us have colleagues and friends who carry a new mobile phone every six months or so. Have you ever wondered what happens to their old gadgets? We all buy electronic items with greater frequency these days and discard the ones that go obsolete or are simply not needed in the house anymore… like DVD players.
Akshay Jain, 29, is making sure they are discarded responsibly. Akshay, who lives in Faridabad, found his calling in recycling electronic waste that ends up harming the environment.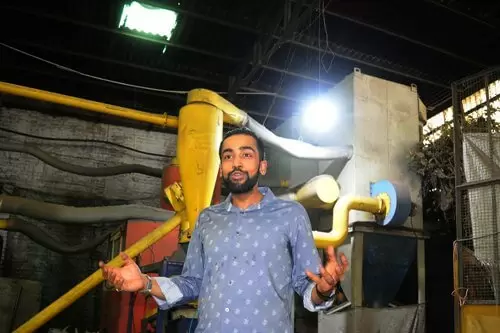 Akshay Jain launched Namo eWaste Management Limited in August 2015. The company has made Rs 5.5 crore in just three months this fiscal and is eyeing Rs 25 crore for 2018-19 (Photos: Navnita)

Launched in August 2015, his public limited company, Namo eWaste Management Limited, has notched up a turnover of Rs 8 crore in 2017-18.
"There are various ways to get rid of old electronics: you can exchange them for money at a store; sell them to the local scrap dealer for peanuts or just throw them in the dustbin.
"The last option is the worst because we don't know where it will end up. Harmful chemicals in the batteries of these gadgets are affecting our environment. The right thing to do is recycle them responsibly," says Akshay.
The entire process of recycling electronic waste is pretty complex. First, the e-waste is picked up from various locations and brought to the factory in Faridabad, and inspected to see if electronics like laptops and computers are working.
The non-functional ones are completely dismantled, while laptops and computers that can be repaired are worked upon and sold in the market. Plastic is sent to plastic recyclers, wires and other materials are sent to metal recycler plants. Finally, the hazardous waste is dumped at government-approved sites.
"A washing machine that weighs 15 kg, for example, is reduced to 60 per cent metal, 30 per cent plastic, 2 per cent hazardous material and the rest is a mix of everything. The factory recycles 15 tons of e-waste daily and ends up recycling 5,500 tons in a year," Akshay explains.
An alumnus of Bharati Vidya Bhavan School, New Delhi, Akshay did his B Tech from Coastal Institute of Technology and Management, Faridabad, in 2010. He further went on to do his MBA from Greenwich University, London, which he completed in 2012 before returning to India.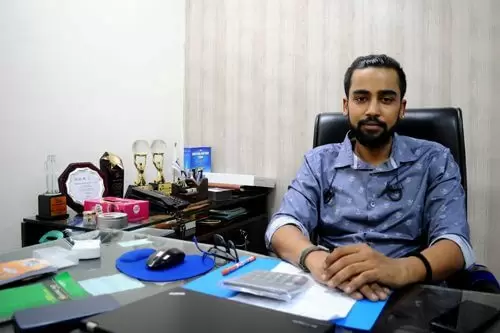 Namo deals with 15 tons of e-waste daily at its factory

"I would always get average scores, neither too good nor too bad. I was into sports like badminton and table tennis, but there too I was mediocre," he laughs. "I spent less time with books and more time engrossed in learning from life. I loved to learn from people, from their experiences and I was always curious to learn more. I realised that most people are successful because of their curiosity, not their marks."
Belonging to a joint family of businessmen, Akshay had entrepreneurship in his genes. His grandfather started as a scrap trader in 1975, and his father, Naresh Jain, joined him in 1982. The company, Namo Alloys, which was registered in 1998, currently has a collective turnover of Rs 600 crore.
"After finishing my MBA, I worked at Maruti as a Management Trainee for a period of six months for a salary of Rs 38,000. I then decided to join the family business, but soon realised that the company was already well set – it had a structure and a way of functioning – and I couldn't add much to it," says Akshay.
He decided to do something on his own. "When I was in London, I had seen dedicated bins for plastic and metal waste, which would then go to recyclers.
"India has been exposed to the electronic craze but we still don't know how to deal with our e-waste. I saw a great business opportunity there," he explains his choice of business.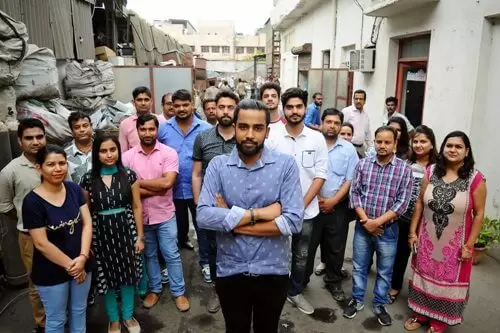 Akshay with some of his employees at their Faridabad factory

While his father inspired him, Anil Jain, a chartered accountant, rendered a lot of help during his entrepreneurial journey.
Akshay was fortunate to get a loan of Rs 1 crore from his father but he ran with this opportunity and made it fly. He rented a 20,000 sq ft factory in Faridabad and got down to work.
"My father gave me a business mantra: you should be earning at least 15 per cent more than your investment," he shares. "I have repaid 30 per cent of the loan to him as of now, with interest. His mantra has helped me achieve this."
The most difficult part of Akshay's job is to collect the e-waste. One cannot collect one-odd laptop or washing machine from individual homes, as the logistics and costs involved are unsustainable. So the company has put up special bins in various localities in the country where public can put their e-waste like old laptops, mobiles, and used batteries. They have centres in 23 states and 7 franchise outlets, which collect waste material and finally send it to the factory in Faridabad.
"Samsung, Godrej, Acer, Voltas and Blue Star are among our top clients," says Akshay. "They sell factory damaged products, manufacturing scrap in bulk which reaps great benefits. We sell the segregated plastic to recyclers like 3R, Greenscape, and Greentek Reman, who turn it into some new product."
Getting here wasn't easy, though. There was a time when he was running around government offices for permissions, unsure of his future.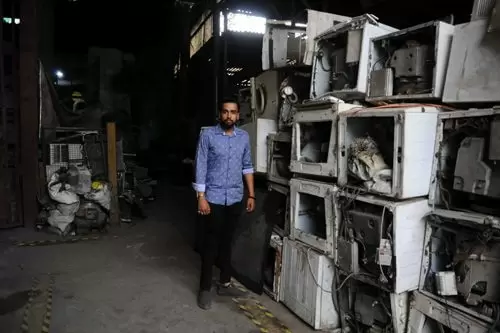 Akshay works with a team of 50 employees

"It was a difficult and time-consuming process to get everything together as our government doesn't function as smoothly as some international governments…" smiles Akshay. "But once the company was registered, the government has been very supportive of all the efforts. We do workshops in schools and awareness campaigns in corporate offices and residential areas to make people aware of the hazards of e-waste."
The company had a turnover of Rs 30 lakh in the first six months of operation, and in 2016-17, after they had connected with collection centres across India, the turnover rose to Rs 4.5 crore. In 2017-18, their turnover was Rs 8 crore and this year they have made Rs 5.5 crore in just three months. Akshay is now eyeing Rs 25 crore for 2018-19.
Akshay ensures the safety of his 50 employees by installing pollution-control machinery, masks for all, as well as safety gear for men working on the machinery.
With plans to set up two more recycling plants in West and South India, Akshay has no time to stop and rest. He works to a schedule, sleeps on time and wakes up early, and is on the job 24/7.
They say there are no alternatives to discipline, dedication, and hard work, and his success is a testimony to that.
This Article is Part of the 'Super Startups' Series
MORE SUPER STARTUPS
Avijit Sarkar and Abhijoy Sarkar, Regularli Technologies

Trending Now: