Young Kolkata Entrepreneur's Attendance App Finds Global Customers
Gurvinder Singh
&nbsp | &nbsp Kolkata
05-July-2018
Vol 9&nbsp|&nbspIssue 27
They own a small company but harbour big dreams. Avijit Sarkar and his cousin Abhijoy Sarkar have launched an app that has changed the way companies maintain attendance records – and they are now working on it to become a one-stop HR platform.
Regular.li, an attendance app, was launched last year and already has 5,000 active users a day. The app records the check-in and check-out timings of the employees. The GPS-enabled app takes a selfie and it shows the employee's location as well.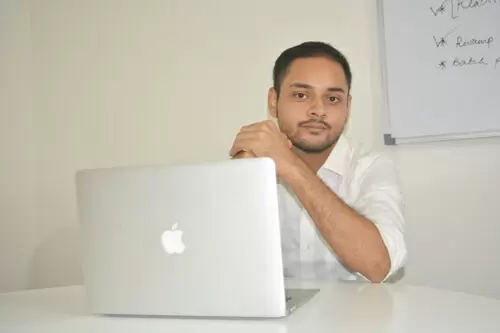 Avijit Sarkar set up a BPO when he was in college, and then converted it into an IT company. In 2016 he launched Regularli Technologies along with Abhijoy (Photos: Samir Verma)

The company offers different packages depending upon the number of employees in an organisation, and charges an average of one USD per employee per month.
"Right now we want to popularise our product so we offer discounts and freebies. We also offer trial packs. Half of the 5,000 users are still being offered free services. Still, we are doing a monthly turnover of around Rs 80,000," reveals Abhijoy, co-founder, Regularli Technologies Private Limited.
The app was developed by Avijit, 25, who loved computers from a young age. "My mother bought a computer for me when I was in Class three. I preferred to spend time on the computer than going out to play with my friends!" he says. He had no siblings so he spent hours on the computer daily.
Avijit did his schooling from South End School in Kolkata and started earning from the time he was in Class seven. "I remember making Rs 100 by designing visiting cards. It was my first income," he says with a smile.
The young entrepreneur attributes his success to not depending on his parents for pocket money. "I come from a middle-class family and saw my father toiling hard to earn money. I learnt the value of money and wanted to take care of my own expenses quite early in life," says Avijit. In 2011, he enrolled for computer science engineering at GMIT College, on the outskirts of Kolkata.
During this period, he worked in a BPO for one month to gain experience in the industry and later started his own BPO. "I and a friend got together and assembled two computers in the small kitchen of my house. We then contacted clients in the US for doing surveys," he says, adding, "We managed to receive some orders and earned Rs 20,000 - Rs 30,000 within a couple of months."
In 2012 he started Avifa Infotech, a BPO company, when he was still in college, from a 200 sq ft flat in Tollygunge. He took a loan of Rs 25,000 from his mother. "The space belonged to my parents for which I only had to pay power and maintenance charges. I rented computers and hired 15 people, and the turnover reached to Rs 12 lakh within a year."
This is also the time that the idea of Regular.li was born. "During the day I used to attend college and get to work only in the evening," shares Avijit. "I found that my employees were coming and going randomly in my absence.
"I began to think of an app that could register the time they spend at work. It was too tedious to maintain a worksheet. I developed an app, which was initially just for our internal usage. The prototype was very simple in the beginning. Employees needed to download the app and sign in. The GPS would show their exact location. The app would also show the time of entering and exiting the office."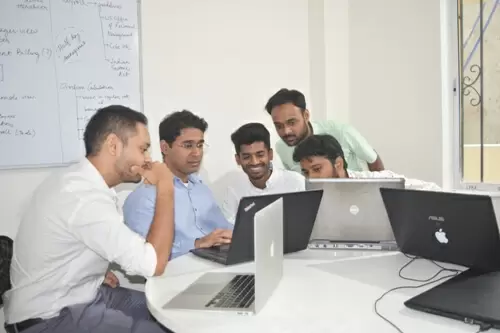 Avijit with his team members at their Kolkata office

In 2013, he shifted to IT services, and got into website designing and app creation. "We had to remove the BPO staff and hire three new persons. The company started growing and we began receiving orders both from domestic and international clients," he says.
The app was still being used internally when he suddenly decided to commercialise it. "We thought that more people would need such a service," says Avijit. "We had to make several modifications to make it a saleable product. It was finally available at Google Play Store by the end of 2016."
In the beginning of 2017, Avijit's cousin, Abhijoy (29), joined him. Abhijoy was working as a manager in commercial business banking at Yes Bank in Kolkata but he had faith in his brother's vision. "I had an annual package of Rs 20 lakh but was so impressed with the app that I decided to quit," says Abhijoy.
Abhijoy is a graduate from IIM Ranchi and he pumped in Rs 7 lakh into the company. The duo formed Regularli Technologies Private Limited in August 2017.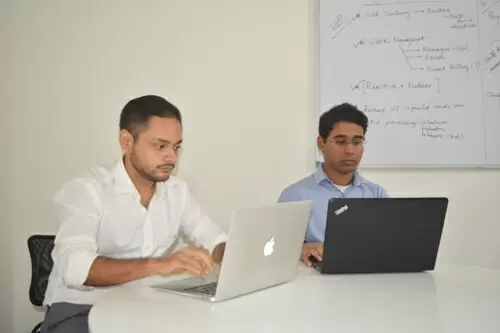 Avijit and Abhijoy (right) engrossed in work

They know they have competitors in the market but claim that the simplicity of the app gives them an edge over the others.
"We now have 75 companies across the globe, including countries like Indonesia, Poland, and South Africa, who are using our app. We work with fashion brands, universities, as well as small and micro businesses," says Avijit, whose IT company Avifa Infotech Private Limited, is still functioning with an annual turnover of Rs 20 lakh as of 2017-18.
The duo is now working to make the app a complete HR platform by adding new features like payroll, leave and work management. Their ultimate aim is to reach 1 million users that would roughly translate into a revenue of US$ 1 million.
Their advice for young entrepreneurs: Start early because life is short. Failures are the pillars of success.
This Article is Part of the 'Super Startups' Series
MORE SUPER STARTUPS
Sindura Borra, Founder, Cleanse High

Trending Now: