How Four Engineering Graduates Went Back to School to Start a Roaring Business
Pranita Jonnalagedda
&nbsp | &nbsp Hyderabad
28-June-2018
Vol 9&nbsp|&nbspIssue 26
When Manish Sevlani (28), Swapnil Tamgadge (28), Ashish Kumar (27), and Rohit Jain (27) left their well-paying jobs and budding careers at MNCs to start off their own venture, all they had was a strong belief in their idea. Only 1.5 years later after an official start, their startup, Dhundhoo, already has a turnover of Rs 70 lakh.
Dhundhoo is a GPS based vehicle tracking system that is helping several schools in the country not just track their buses and driving patterns of drivers but also is making it possible for parents to track their children's commute.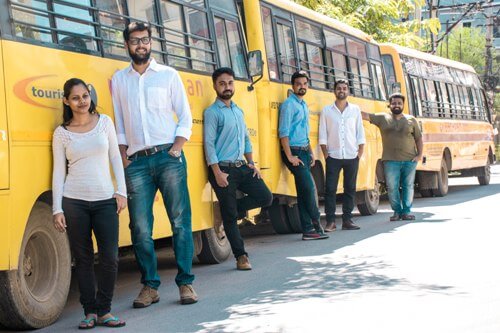 Dhundhoo founders Manish Sevlani, Swapnil Tamgadge, Ashish Kumar, and Rohit Jain graduated from NIT Warangal in 2013 (Photos: Vijay Yadav)

Almost 80 per cent of their clients today are schools across the country, such as Pebble Creek Life School (their first client), World One School Vignan, TIME School, Ajmer Presidency School, Paramount Public School, Bachpan and several others who are now using their services.
The seeds for their venture were sown in 2014, when Manish quit working after six months at an MNC and joined his father, who was into the business of wholesale retailing of kitchen appliances in Nagpur.
"I grew up watching my father doing business and it was a natural instinct for me to follow that route," says Manish. "In fact, even in my school days, I tried to assist him at work. I could have always continued doing what he did but I didn't want to miss out on the learning process that would happen only if I worked on something of my own."
And that's the reason he simultaneously pursued several ideas. "While trying out different things, I met one of my father's friends who had a fleet of around 200 vehicles. He was looking for a solution to manage and track these vehicles that went out for deliveries. That's how the GPS tracking system became our mainstay," explains Manish.
Work on the company officially started in mid-2016, with the company being registered in October of the same year as Trackula Services Private Limited.
How the four members came together is a story fit for a Bollywood buddy movie. All of them hail from different cities but bonded on the campus of their alma mater NIT Warangal where they all pursued engineering from 2009 to 2013.
While Manish (CEO; Business Development/Sales) and Swapnil (CTO; Product Development) are from Nagpur, Ashish (COO; R&D/Operations) is from Lucknow and Rohit (CFO; Finance/Strategy) from Bhopal.
Dhundhoo has grown into a eight-member team now

"We all kept in touch even after we eventually worked in different companies. We met often and discussed ideas, as all of us had a keen interest in developing new products. This resulted in Dhundhoo," explains Ashish, who reveals that all of them had made their own different attempts at entrepreneurship before Dhundhoo happened.
"None of those worked out," says the Navy kid who had lived in several towns across the country before making Telangana his home, just like his partners. All of them live in Hyderabad now.
Manish, meanwhile, was involved in thorough market research and even visited China to explore the prospects of his GPS tracking system. "In 2016, I was able to show them the big picture so that they can leave their jobs and join me. Ashish and Swapnil joined full time in October 2016," he shares. Rohit joined in mid-2017.
Now, interestingly, all of them stay together in a villa that doubles as an office to them.
Each of them had their own personal challenges, along with the collective pressure of building something new from the scratch. For instance, Swapnil had the responsibility to support his family after having lost his father when he was in college. But the risk, he felt, was worth it.
"When you start something new, there are definitely going to be challenges but you have to move ahead and solve those problems. I was lucky to have my family's cooperation and they went out of the way to manage finances with extreme care to ensure we can survive longer with the available funds," shares the entrepreneur who's set to tie the knot soon.
Eventually, Manish came up with the idea to have schools as their client base. It has been quite a challenge for the team though, since any business with schools is based around the academic year.
"This means that even if we are in talks with a school to try our product, we can begin only when the academic year starts off. So the initial few months of this year were busy with demos and trial runs," explains Rohit, whose father is a retired Mechanical Engineer.
In fact, in their first year, they had a turnover of only around Rs 10 lakh only since they were new in the market and had to convince people of their credibility and quality.
Over the next year, however, not only have they expanded to several other schools but have also moved on to fleet management for other businesses with logistical services.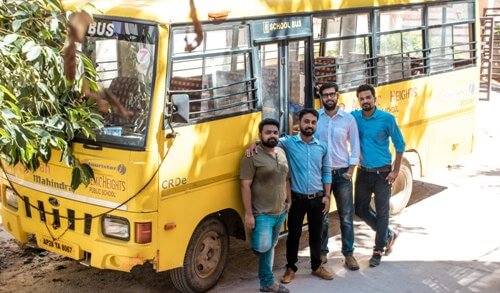 Dhundhoo has clients in Hyderabad, Nagpur, Bengaluru, New Delhi, Visakhapatnam and Ajmer (From left to right: Swapnil, Manish, Rohit and Ashish)

Individual tracking has also become a part of their expansion plans, owing to the increasing demand for GPS tracking-based services that use the Internet of Things technology, the latest topic of conversation in the technological world and also the defining factor of Dhundhoo's work process.
The team expects that soon their ratio of schools to other clients will be 50:50. Manish confirms, "Within a few months, we expect to have several new clients for delivery tracking."
Rohit, who is actively seeking investment for the firm, says, "Our devices are configured and manufactured in India. Most of the other companies providing similar services outsource both the software and GPS devices from a third party.
"However, since we do it all in-house, the biggest advantage for our clients is that problem solving happens immediately and also customisation is possible to a higher degree. For others, this will not be an easy task."
As they deal with client after client, they have built a solid team of eight full-time employees (including themselves), apart from task-based freelance help.
"At the moment we have only two employees who receive salaries. The rest six of us work on almost no salaries," shares Manish. "We are slowly building things up and we are progressing well. We are hoping this will be quite a good year for us; the growth curve has become more evident."
Dhundhoo is today incubated in the T-Hub of the Telangana State and is accelerated by NASSCOMM 10,000 Startups, who facilitate and nurture their work. In fact, they were instrumental in helping Dhundhoo get US$ 100,000 from Amazon and Google for their servers.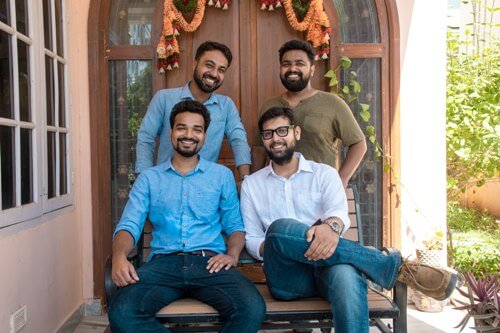 Dhundhoo founders say they are likely to start operations in the US by end of this year

The firm was even selected amongst the top 400 companies in the country in the prestigious Smart 50 event conducted by the Government of India in collaboration with IIM Kolkata earlier this year. One of the recent developments on their end is the association with leading school management software service MyClassBoard, which will increase their visibility and help them reach over 1,700 schools.
It has been quite a journey of ups and downs for these youngsters. Starting off with an investment of around Rs 30 lakh bootstrapped from family and friends (Manish's father was a key source, helping as and when needed), they are presently at a self-sustainable stance. They've expanded their work to cities like Nagpur, Bengaluru, New Delhi, Visakhapatnam and Ajmer.
The team is now working towards expanding their services to the US where they are likely to start operations by the end of this year.
This Article is Part of the 'Super Startups' Series
MORE SUPER STARTUPS
Sindura Borra, Founder, Cleanse High
Deep Bajaj, Founder, Pee Buddy

Trending Now: