Dirty Toilet Seats Birthed a Business Idea, Which Has Now Turned into a Successful Start-up
Sofia Danish Khan
&nbsp | &nbsp New Delhi
18-April-2018
Vol 9&nbsp|&nbspIssue 16
Women do multiple things to avoid the menace of using public toilets while men have it easy. The difference being: men don't have to touch any surface.
PeeBuddy, a simple urination funnel-like device that enables women to go while standing has come as a merciful and much-needed solution.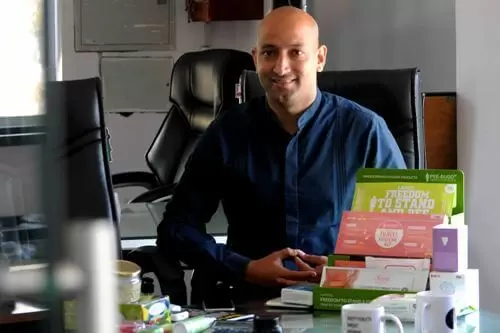 Deep Bajaj developed Pee Buddy to help women avoid dirty toilet seats in public spaces. It is easy to use, made of environment friendly material, easy to carry in a purse and can be easily disposed after use (Photos: Navnita)

Helmed by 34-year-old entrepreneur Deep Bajaj, PeeBuddy has been nothing short of a sensation among women, especially athletes and those who have to be in the great outdoors for long hours.
PeeBuddy Private Limited reported a turnover of Rs 1 crore in 2016-2017 and is poised to finish at around Rs 2.5 crore in 2017-2018.
Besides PeeBuddy, the company has now started making products like wet wipes, underarm sweat pads, menstrual cups, tampons, and herbal pain relief patches. All in all, these products have been created keeping in mind the personal needs of women.
A Delhi University graduate, Deep went on to complete his Masters in Marketing from Australia in 2006. The idea for PeeBuddy came to him in 2013 when he was on a road trip with his wife Rashi.
Before that, however, he had tried his hand at various other things. "I was a very active student in college and was always organising one or the other event in DU.
"Once I came back home after completing my education in Australia, I turned my skills into my profession by starting an event management company. After a successful run, I sold my stakes in the company in 2010," he shares, talking about his early career.
He got married to Rashi Chaudhary in 2009. She is a carpet designer and both of them started Carpet Couture, a manufacturing cum supplying company of designer carpets, mainly supplied to hotels. The business is running profitably.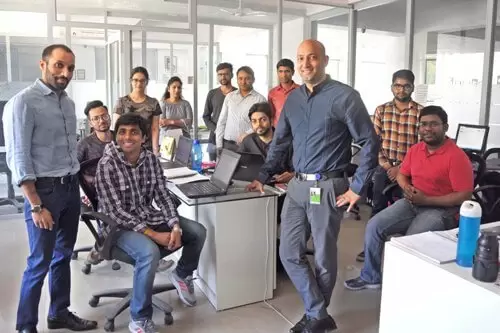 Pee Buddy currently employs 28 people

Talking about the inspiration behind PeeBuddy, he says, "Rashi and I went for a road trip from Delhi to Jaipur in 2013. After she complained of dirty toilets at every stop, I realised how grave the situation is.
"Then when Rashi got pregnant, she had to go to the toilet every once in a while. It becomes problematic to bend up and down every time, especially if the person has to use Indian toilets."
Another segment of women who have problems bending down even to use a western loo are women who suffer from arthritis. PeeBuddy is easy to use, made of environment friendly material, easy to carry in a purse and can be easily disposed after use – a great solution for all these situations.
Deep researched about urination devices and realised they have been around since 1919, yet India had still not opened up to the idea.
His brother Mohit Bajaj joined in during the design formation stage and now handles accounts, finance and production while Deep handles sales, marketing and PR.
The brothers got the design patented in 2015, and formed the company PeeBuddy Private Limited in July 2015. For two and a half years they sold the design on a pilot basis, amongst friends and family for testing the device and to see if it served its purpose well.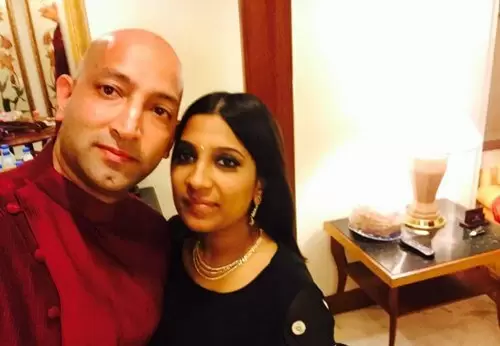 Deep with his wife Rashi

"Initially, men were reluctant to sell the product as the concept of female urination device was thought of as a taboo topic, so we connected with doctors who recommended the product to their patients who could not bend down easily," says Deep.
"And once the reviews started coming in we knew we were on the right track. We realised that marketing the product at local kirana (grocers) shops will not be a good idea. So we tied up with departmental stores where women shop for leisure and have the time to see the features of a product peacefully."
They now have a B2B tie up with Flipkart, Amazon and Religare among other online retail stores to reach out to potential clients.
Since distribution chains take 50 per cent of the profits, and delivery charges are high, they are now keen on promoting their products on social media and selling it directly to customers. For brand awareness, they tie up with event organisers who give the product to their female guests for free.
Deep invested Rs 80-90 lakh in the company over a period of two years. Some friends also pitched in with the money because they saw great potential in the product.
Deep also participated in CNBC Young Turks Tie the Knot competition for start-ups, which he won in March 2017. After that, India Angel Network (IAN) invested Rs 2.96 crore in their business, evaluating the potential of the business at Rs 15 crore. IAN now owns 20 per cent stocks of the company, while the remaining stocks are owned by Deep and Mohit.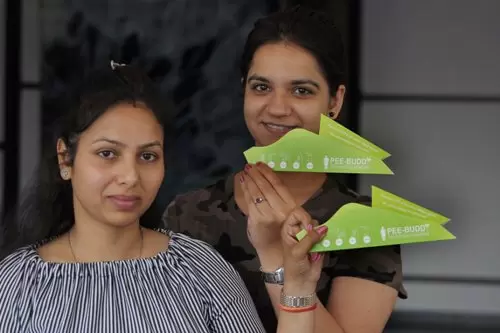 Women find Pee Buddy easy to carry and easy to dispose of after use

They have also created Employee Stock Options for their 28 employees, friends and advisors who help them in promoting the product, and who believed in them and invested money when they needed it the most.
"We have sold 10 lakh units till date so I believe the business is already on its way to success," says Deep.
Right now a pack of 20 costs Rs 370. They are trying to get the government to subsidise it so that it can reach more women. "The biggest challenge for the company is creating awareness for PeeBuddy, which we are tackling step by step," shares Deep.
With Deep's remarkable positive attitude and his constant efforts to try and get his product to reach and help maximum number of women, that should not be tough to achieve.
This Article is Part of the 'Super Startups' Series
MORE SUPER STARTUPS
Suresh Chinnaswamy, Founder, Samy's Dosakal
Wish to share your story?
Trending Now: