Smart Age Toy Maker Aims at Educating Children and Sets the Cash Registers Ringing
Sofia Danish Khan
&nbsp | &nbsp New Delhi
18-May-2018
Vol 9&nbsp|&nbspIssue 21
In this age of technology, it is next to impossible to keep children away from screen-time and yet every parent is constantly trying. The co-founders of Delhi-based startup, Smartivity, Tushar Amin, Apoorv Gupta, Ashwini Kumar and Rajat Jain have tapped into that need in the market by coming up with an innovative range of offline products for children.
Launched in January 2015, the products promote STEM (Science, Technology, Engineering, and Mathematics) learning. "Smartivity products are toys, games and puzzles based on augmented reality to help children develop an understanding of different STEM concepts, and to encourage logical thinking," explains Tushar.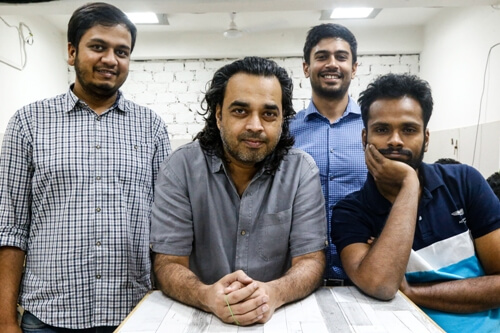 Tushar Amin (second from left) tapped the market demand for a useful substitute for children glued to the computers. In the photo Amin is seen with the co-founders of Smartivity, Apoorv Gupta, Ashwini Kumar and Rajat Jain (Photos: Vinayak)

It all started when Tushar and Apoorv met at a friend's child's birthday party in 2014. "We were among the few adults there," says Tushar. "We noticed how all the kids got excited every time a gift was opened, but left it soon only to open a new box. The attention span was very short and by the end of the party they were back to their digital entertainment."
Tushar, 42, was media head of Worldoo, a children's website, and Apoorv, 28 and an IITian, was working with Detroit India at the time. They both left their jobs and initially started making arts and crafts educational toys for children made of cardboard and colour paper in 2014 under the brand name Yuhoo. They sold the toys online.
Apoorv roped in his flatmate Ashwini who had done his B Tech in Electrical Engineering from IIT Delhi and was working with Energo. He also brought in Rajat, his batchmate at IIT Delhi, where they both had done B Tech Industrial Production.
Rajat's father already owned a toy business and his knowledge in the field helped them. "We decided that instead of concentrating on online sales, we would focus on retail selling," says Tushar.
"We collaborated with six retailers who allowed us to come to their store and promote Yuhoo boxes. We gave them a share in the profit we made," shares Tushar. "We spoke to parents who visited the outlets, and explained how Yuhoo was good for their children. Since it was coming from IITians, they listened!"
Selling directly also meant they were got direct feedback from customers on their product. The shopkeepers wanted them to redesign the boring brown packaging, while the parents thought it was not enough to distract children from electronics.
After six months of direct selling, they took the feedback, went back to the drawing board, and came up with Smartivity range of smart toys, which was well received by parents. Divided into three broad categories – ages 3-6, 6-8 and 8-14 – the products became popular gifts and return gifts at children's parties.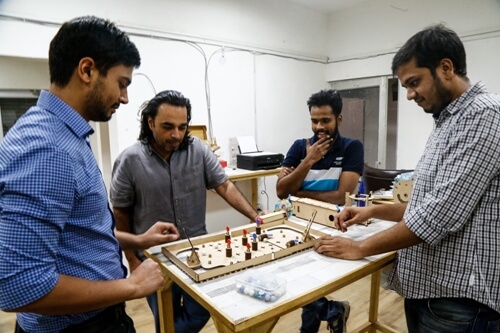 The Smartivity team went back to the drawing board to reinvent their range of products, incorporating elements such as augmented reality based on feedback from customers

To promote the product, the founders conducted workshops for kids at birthday parties to teach them about the various fun games they were offering. At one such party, they met the wife of Himanshu Gupta, MD of S Chand & Company, a well-known publisher of educational textbooks in the country. That meeting led them to secure seed funding of Rs 84 lakh from S Chand in 2015.
"We then employed six people, including sales people, who promoted Smartivity products at 1,500 stores across the country," shares Tushar. "Since the demand scaled we rented a warehouse in Kishangarh near Vasant Kunj. Until then we were working out of the apartment which Ashwini and Apoorv shared in Vasant Kunj, Delhi." They also shifted to a proper office – a 2,000 sq ft space in Saket, Delhi, the same year.
About 15 days before Diwali 2015, they got a call from Axis Bank in Mumbai with an order of 10,000 Smartivity gift boxes to give as prizes to winners of their annual colouring competition for children, which is held across 3,000 branches all over the country.
"It was a Diwali bonanza but it also meant we had to manufacture, pack, and ship the products within 10 days to all the different branches!" says Tushar. Taking it up as a challenge the team finished the job in time, also covering their three months' sales target in just 15 days.
Soon, they started getting emails from children, thanking them for the wonderful products. By end 2015, they launched augmented reality colouring sheets, which children used to colour and then see the coloured object come alive virtually using an app. The app would give information about the object and it helped children learn about new things.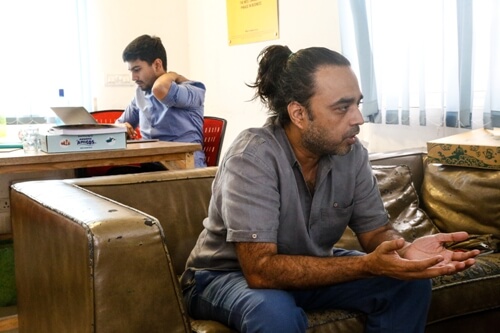 Tushar reveals that their products are tested with children to receive their feedback before they are ready to be marketed

The year 2016 was spent polishing their available products and consolidating from 1,500 stores to 850 stores, to focus on places that were generating better sales.
They raised US $ 1 million in funding in June 2016 through S Chand, AdvantEdge, CFG offshore, and few other investors. They also participated in a trade fair in Mumbai in September 2016, where they met a Canadian toy company owner, George Irvin, who instantly took to their product.
"He was so engrossed in the Smartivity puzzles and toys that he spent six hours at the stall!" shares Tushar. "He then invited us to the Hong Kong Toy Fair where we reached out to buyers from 95 countries."
Next stop for Smartivity was Nurembarg Toy Fair in Germany, and then New York Toy Fair.
"We started exporting to Europe, North America and Australia," says Tushar. "We shipped 85,000 boxes by September 2017."
Currently they are supplying their latest product Spello, a simple game that teaches kids how to spell, to 1,800 centres of Kidzee, a playschool brand across India.
They have also launched Virtual Reality-enabled lenses for Class nine and 10 science textbooks of S Chand. The children can experience, see and interact with various concepts in Physics, Chemistry, and Biology.
Smartivity has a workforce of 102 people

Smartivity's R&D procedure is rigorous as the four founders themselves ensure that instructions should be simple to follow, and games uncomplicated. Once a new product is designed and the in-house team is satisfied, they send the products to their partner day-care centres to test them out.
"A team of seven STEM Ninja Kids get to see and use the products even before it is launched in the market. They use them and then give their feedback. Only once they give a go-ahead are the products available in the market," explains Tushar. Smartivity products are in the price range of between Rs 299 and Rs 2,000.
Having sold 4.3 lakh boxes till date, their aim is to at least double the sales by 2018. They have grown from six employees to 102 and from a turnover of Rs 1.4 crore in 2015-16 to Rs 10.1 crore in 2017-18.
For a venture that was started with an investment of Rs 47 lakh, the growth has been rapid and the returns promising.
This Article is Part of the 'Super Startups' Series
MORE SUPER STARTUPS
Sindura Borra, Founder, Cleanse High

Trending Now: