Childhood buddies create Rs 10 crore turnover gourmet popcorn brand selling mainly in multiplexes
Sofia Danish Khan
&nbsp | &nbsp New Delhi
18-July-2018
Vol 9&nbsp|&nbspIssue 29
Sometimes a simple thought can turn into a big idea. Turning a mundane snack into a gourmet product worked out well for childhood buddies Chirag Gupta and Ankur Gupta, the duo behind popcorn brand, 4700 BC, now available in many multiplexes in Delhi and other cities.
The humble popcorn has changed the lives of the duo beyond imagination. From a single kiosk in Delhi in 2013 they now have 23 stores across four metros, Delhi-NCR, Bengaluru, Mumbai and Chennai, along with one franchise at the Delhi airport, and a registered turnover of Rs 10 crore in 2017-18.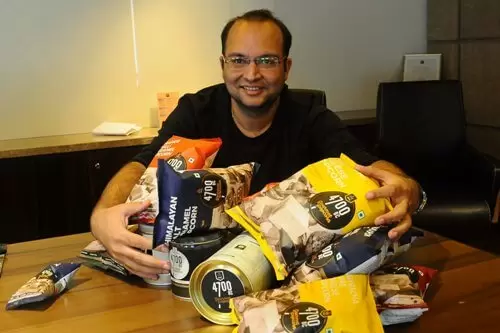 Chirag Gupta quit his high-paying job with Deloitte Consulting in the US and along with his friend launched 4700 BC popcorn brand in 2013 (Photos: Navnita)

"Our popcorn is unique not just because of the flavours, but the popcorn itself is made from imported corn," says Chirag, 33. "We do a careful segregation of the un-popped ones and the 1-2 per cent wastage is sent to the waste management department. Every piece that you eat will be of the best quality."
Leaving a comfortable job, and starting something which may or may not have worked with his hard-earned savings was not an easy decision for him, but it paid off in the end.
"With lots of innovation happening in the food industry, we zeroed in on that space," explains Chirag, who was studying and working in America between 2008 and 2012. "While in the US, I had eaten a variety of gourmet popcorn that weren't available in India, so we decided that was the gap we'll fill."
In 2012, Chirag returned to India to look after his parents. Bored with his job with Deloitte Consulting in the US, he had been toying with the idea of starting something of his own and, when he reconnected with childhood buddy Ankur, he realised they both shared the dream of being entrepreneurs.
Having completed his masters in computer science, Chirag was working as a senior consultant at an annual package of USD 100,000 and he could have landed a decent job in India – but the desire to run his own business made him take the jump.
The duo registered their company, Zea Maize Private Limited, in 2012 itself. "The brand name 4700 BC came from the fact that fossils of popcorn, along with popcorn-making utensils, have been found as early as 4700 BC," shares Chirag.
Once they decided on the idea, they made a trip to the US to carry back packets of popcorn as reference material. "We travelled the length and breadth of the country and spoke to people who could be remotely related to the popcorn industry.
"Once back at our base in Delhi, we hired a chef and did a reverse engineering process – we procured the ingredients listed on the pack and tried to experiment with different flavours," says Chirag about the initial journey.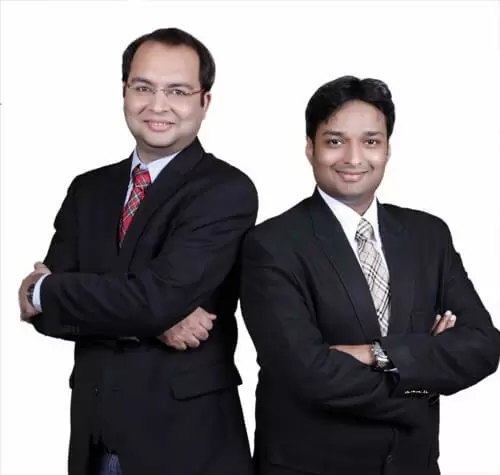 Chirag (left) with friend and business partner Ankur Gupta

To produce the popcorn at a large scale, they needed to import machinery and invest in a factory. "We pooled in Rs 1.5 crore from our savings for all this. We rented a 2,500 sq ft space in Wazirabad in Delhi and opened our first store – a kiosk at DLF Mall, Saket – in March 2013," says Chirag.
The packaging played a key role in making the product look special and gourmet. "Gourmet popcorn, in sweet and savoury flavours, can't always be finished in one go, so we created packaging with a zip-lock," says Chirag.
While Ankur took charge of production at the factory, Chirag takes care of sales, marketing and management. Soon after it launched, the product started gaining popularity and they registered a turnover of Rs 80 lakh by March 2014.
Things started moving faster after a successful deal with PVR cinemas in 2015. "Popcorn and movies go hand in hand and thus it made sense to tie up with them," says Chirag.
Now 4700 BC popcorn is available at all outlets of PVR cinemas. PVR invested Rs 5 crore into the business in 2015 for a 75 per cent stake, which enabled them to shift their factory to a 25,000 sq ft space in Sonepat, on the outskirts of Delhi, and increase the production manifold. They now produce 18 different kinds of flavours.
The following year they did excellent business and almost doubled their turnover, which now stands at Rs 10 crore as of 2017-18.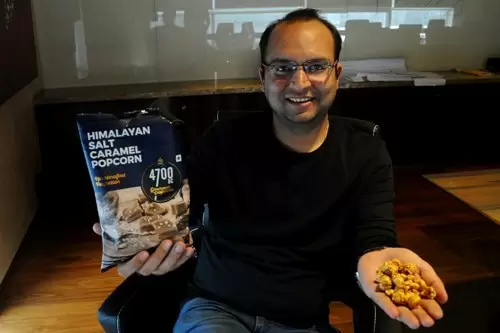 A BTech graduate, Chirag had worked at Infosys in Bengalaru as a software engineer before taking up a job in the US

Youngest amongst four siblings, Chirag did his B Tech in 2005 in Delhi from IP University and worked for Infosys in Bengalaru as a software engineer before leaving for America.
A self-confessed foodie who grew up in the by lanes of Chandni Chowk of Delhi, known for its mouth-watering street food, and where his father also ran a small business, it now seems obvious to him why he chose a career in food.
Talking about the early days of struggle, Chirag says, "There are days when you think of the salary, which used to come every month, in contrast to the slow early growth of the business and the struggle but you need to focus on the vision. We have a 10 year plan and are sure to get a humungous success."
Helming 170 employees at the factory as well as various stores along with the marketing and accounting team, they are working on a long term vision.
"One needs patience, persistence, the right branding as well as the right market for any product," explains Chirag. Priced from Rs 89 onwards, the brand has carved a niche for itself through its packaging, innovation and tie-ups.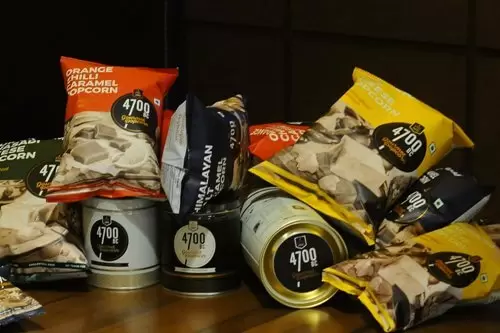 4700 BC offers 18 different flavours of pocorn

Talking of their market strategies, Chirag adds: "We have always believed in B2B connections and have come up with gift-packs for Diwali and New Year for corporates. Microsoft, Google and Lufthansa are our regular customers, who give out the stylishly packaged gift-packs in tin boxes to their employees on special occasions."
Their vision is to turn 4700 BC popcorn into a brand similar to Maggi or Pepsi, where the product and brand becomes significant instead of the people who founded it. This to him is the epitome of success.
Some would argue that by serving 10-13 lakh customers every month that vision has already come true.
This Article is Part of the 'Super Startups' Series
MORE SUPER STARTUPS
Akshay Jain, Namo eWaste Management Limited

Trending Now: