He had only an egg puff and tea for lunch in college, but now owns a Rs 5 crore turnover F&B business
P C Vinoj Kumar
&nbsp | &nbsp Chennai
11-August-2018
Vol 9&nbsp|&nbspIssue 33
Born into a family of modest means, Satish Chamyvelumani nurtured a king-sized ambition. He dreamt of building a Rs 1,000 crore turnover company while in college, at a time when his lunch comprised just an egg puff and a cup of tea every day.
"I could only afford that with the lunch money of Rs 5 I got from home," says Satish, founder of Frshly, a food tech startup that is creating ripples in the QSR (Quick Service Restaurant) industry through its automated food dispensing units.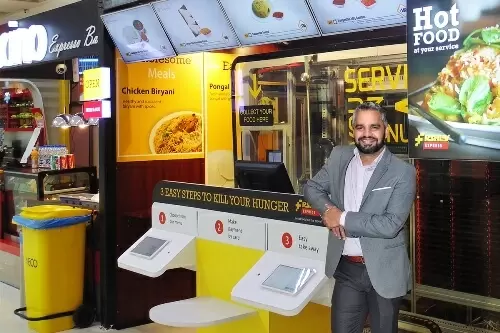 Satish Chamyvelumani, founder of Frshly, worked hard to rise from his humble beginnings (Photos: By Special Arrangement)

Operating on an IoT (Internet of Things) platform, the automated food unit developed by Satish in 2014 was tested at Chennai in three places including the central railway station over a period of two years. The outlets are now located at six places including the Chennai, Pune and Kolkata airports.
Frshly has tied up with several leading restaurants which deliver the food packets on specially designed trays to their outlets, which are loaded into the machine and available for customers who can avail it at the press of a button. There is one staff for each outlet. Frshly gets a share of the revenue from every sale at the outlet.
Each unit can serve up to 140 packs in an hour and has the capacity to store up to 300 packs at a given time. "The units are premade and we can set them up at a location in eight to 12 hours flat," shares Satish.
"We partner with five to six restaurants and offer 20 to 25 varieties of food. Like any retail unit we are open at the usual hours when customers are around. In a domestic airport we close by 11 pm and open early morning to meet the peak hour demand between 4 am and 7 am."
The first machine cost Rs 35 lakh to build, later it came down to Rs 14-15 lakh per unit, and now version 3.0 has dropped even further to an "affordable cost".
In FY 2017-18, the company's turnover was Rs 5 crore. In the current fiscal they hope to touch Rs 50 crore, a tenfold increase from the previous year.
"We are launching 12 outlets within the next month, including one at Mumbai central railway station," he says. "There are also plans to set up a fully automated pantry in one of the Uday trains."
Satish has come a long way from living in a 10 ft by 10 ft single room tenement in Coimbatore with his parents and three siblings, sharing a common toilet with ten households - which meant rising early and standing in queue with a bucket along with 40 others and waiting for his turn to use the toilet – and being offered only black coffee at home because the family could not afford to buy milk.
His family is originally from Palakkad in Kerala, and they were traditional carpenters. However, his father did not choose the profession but came to Coimbatore, where he worked all his life as a machinist and brought up his children as the sole breadwinner.
When he retired from his job in 1998, his salary was just Rs 4,000. The meagre salary meant the family of six lived hand to mouth.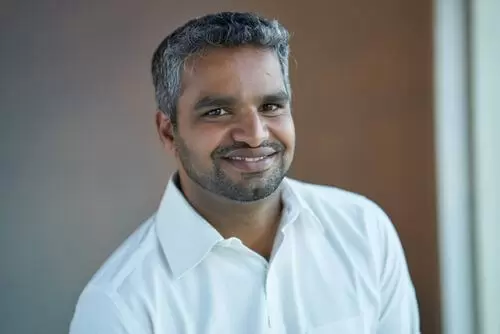 Frshly achieved a turnover of Rs 5 crore in 2017-18 and is aiming for ten-fold increase in revenue this year

"My mother was a housewife and she cooked for all of us with my father's small income," says Satish. "We managed with rice, curry, and dry fish mostly. But she was a great cook and made the tastiest food."
He remembers embarrassing moments when friends dropped in at home and his mother had just a small bowl of rice and curry to offer them, and another occasion when as a 12-year-old he asked his mother for 25 paise to buy a stick ice-cream from a hawker and she didn't even have that small change.
"That's when I realised how bad our financial condition was," says Satish, and shares that their home was fitted with a tube light and fan only when he was 12.
The family constructed its own small house a few years later with the retirement benefits of his father on the outskirts of the city and the situation improved a bit, though there was an interim period when the financial stress increased due to debt.
Satish studied in Tamil medium till Class 10. He switched to English medium in higher secondary and studied mechanical engineering at Kumaraguru College of Technology in Coimbatore.
His mother passed away when he was 19 and he had to take up more responsibilities at that young age. "We lost mom because we could not afford to do dialysis for her. I started cooking for the family besides attending college," he says.
However, no setback or difficulty could deter him from focusing on his studies. He went on to become the college gold medalist and university silver medalist from among 1500 students.
All along he was fired by his dream to build a 1000-crore turnover company. "I believed in the dictum 'whatever your mind can imagine, you can achieve.' I dared to dream because I had nothing to lose. I believe you need to first take the plunge into whatever you want to do and figure out the other things later."
For the next two years after his graduation, he worked in a couple of companies in Coimbatore - Elgi Equipments and Sharp Tools - but realised soon that he had to take some bold decisions to achieve his goals.
"My dream was to build a Rs 1,000 crore turnover company, but here I was drawing a salary of Rs 6,000. I knew I had to take huge leaps to reach my goal," he says, explaining his decision to do his MS in manufacturing engineering at New Jersey Institute of Technology.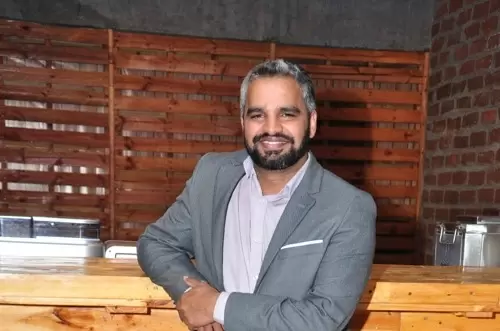 Satish washed dishes in restaurants while studying in the US to earn some money to meet his living expenses

With great difficulty he managed to arrange for the first semester fees of around Rs 3 lakh and left for the US. "It was a constant struggle for the next two years but I made it. I got the job of a research assistant in the same institution which made me eligible for a 50 per cent discount on the tuition fees.
"I also took up part-time jobs. I have cut meat, worked in restaurants, cleaned tables, washed dishes, done everything," Satish remembers. After his MS, he joined Cuno, a company that is into manufacture of filtration products, where he worked from 2002 until 2012.
"At 25, I bought my own house in the US," says Sathish, whose assets and savings were worth around Rs 5 crore when he decided to return to India in December 2012.
He started his business with USD 250,000 that he got from an investor and developed the food machine. Later, he raised around five million dollars as seed and pre-series A funding. Frshly is now owned by Owl Tech Private Limited, where he is one of the stakeholders.
Aiming at a 10-fold increase in turnover in the current year, Satish is confident of achieving his life goal of building a Rs 1,000 crore turnover company.
This Article is Part of the 'Super Startups' Series
MORE SUPER STARTUPS
Achitra Borgohain, Founder, Binbag
Wish to share your story?
Trending Now: