This real life hero built 8,500 public toilets which generate Rs 500 crore annually and provide jobs to 50,000 people
Gurvinder Singh
&nbsp | &nbsp Kolkata
29-January-2018
Vol 9&nbsp|&nbspIssue 5
Much has been written about Dr. Bindeshwar Pathak, who has dedicated his life to the fight against open defecation and manual scavenging, but few know how tough his struggle has been. The world-acclaimed social reformer was once on the brink of committing suicide.
Success, however, was in his destiny it seems. "When I was just two years old, my grandfather had prophesised that I would earn lot of name and fame in life," says the soft-spoken reformer. His grandfather, Shiv Sharan Pathak, was a renowned astrologer.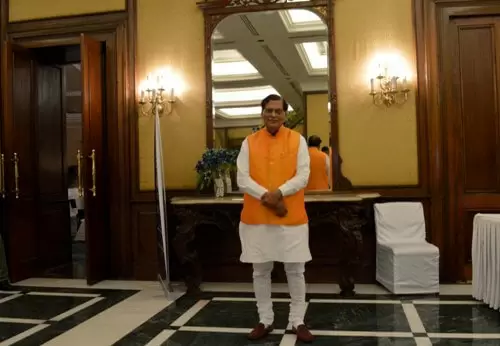 Dr. Bindeshwar Pathak, Founder of Sulabh International, was born into a Brahmin family, but chose to rebel against untouchability (Photos: Monirul Islam Mullick)

His prophecy came true. Starting in 1973, Pathak's non-profit Sulabh International has constructed over 1.5 million household Sulabh Shauchalayas (pour-flush toilets) across the country, with 20 million people using the facilities every day.
In August 1974, he built his first public toilet in Patna, with 20 bathrooms, urinals, washbasins, which had soap and clean water. Around 500 people used the toilet on the first day itself at the charge of 10 paise per user.
Today, Sulabh Shauchalyas generate around Rs 500 crore every year. Sulabh International maintains over 8,500 public toilets across the country and employs over 50,000 people. Over 10 lakh manual scavengers have been connected to the mainstream by jobs at Sulabh Shauchalyas, and their children have been provided education for a better future.
The social entrepreneur initially suffered so many setbacks on this journey that he had seriously considered ending his life… but his vision and commitment saw him through the rough patch.
Born on 2 April, 1943, in a Hindu Brahmin orthodox family at Rampur in Vaishali district of Bihar, Pathak was the second of six siblings.
His father, Dr. Ramakant Pathak, was an Ayurvedic doctor and the family was quite well-off but he recollects an incident from his childhood that left an indelible impression on his mind.
"I was around 5 or 6," Pathak recalls. "A woman, who happened to be a Dalit, used to come to sell some household items to our village. One day, I touched her to say something... All hell broke loose.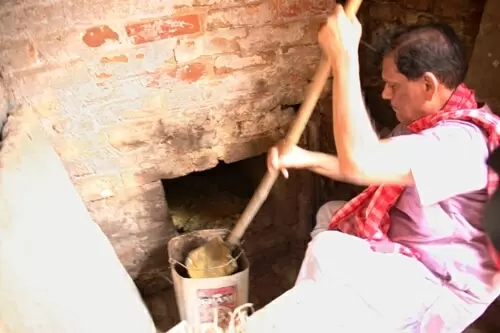 A younger Pathak cleaning a dry latrine, the job assigned for manual scavengers (Photo: Special Arrangement)

"My grandmother not only berated me but also made me eat cow dung, drink cow urine and poured Ganga-jal on me to 'purify' me. The incident left a scar. I began to wonder why Dalits were treated inhumanly even though they have the same flesh and blood like us. I vowed to do something for them when I grew up."
He studied in a government school and went to RDS College in Muzaffarpur, about 60 km away from his hometown, for a year, before shifting to Patna, the state capital, where he took admission at Bihar National College and studied Sociology.
The sociologist shares an amusing anecdote: "I was too shy and introverted in those days. I still remember standing in a queue for admission in college and pulling out every time I reached the gate and then standing in queue again… The gatekeeper eventually caught me and forced me inside the Principal's office!"
He topped the first year with 54 per cent marks and was awarded a scholarship of Rs 14 per month.
"My father used to send Rs 25 every month for additional expenses," says Pathak. "I used to stay at my uncle's house in Patna who took care of my food and accommodation. My friends were nice and took me to movies."
He remembers wearing dhoti and kurta in those days. "Some students wouldn't talk to me because of my rural looks," he says, adding that he started wearing shirt and trousers after the first year.
In 1964, he completed his graduation and returned to the village where he joined Gandhi High School as a temporary teacher at a monthly salary of Rs 80.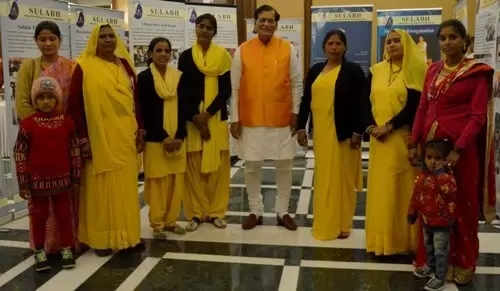 Pathak with some of Sulabh's employees, many of whom are rehabilitated manual scavengers

In July 1965, he got married to Amola, a resident of Mehnar in Vaishali district. The couple has three children.
He quit the teacher job and joined as account assistant at a thermal power station at Patratu in Ranchi (now in Jharkhand) in August 1965, at a daily wage of Rs 5.
"Slowly, thoughts of making a name for myself started entering my mind around that time," says Pathak. "I had no idea what to do but I quit my job in 1966."
His father, meanwhile, had shifted to Muzzafarpur and had opened a pharmacy. He returned and began to assist his father in supplying medicines but somehow he didn't like the intricacies of business and decided to quit that too.
The life changing moment came in 1968, when he joined the Bhangi-Mukti (scavengers' liberation) Cell of the Bihar Gandhi Centenary Celebrations Committee at Patna. He was first made a translator and then appointed as publicity in-charge at a monthly salary of Rs 200.
"The Committee was mainly involved in spreading the ideas of Gandhiji and to liberate manual scavengers from the ill practice," explains Pathak. "I slowly began to get attracted to the ideals of Gandhiji. My whole life changed."
He was then sent to stay with manual scavengers and try to connect them with mainstream society. "I was initially reluctant to stay with people considered 'untouchables' by society because I was a Brahmin," admits Pathak, "but it was my job so I agreed. However, soon I was very moved to see the state of manual scavengers… cleaning human waste from the pit latrines and carrying it for disposal."
He was so moved that he decided to do something more.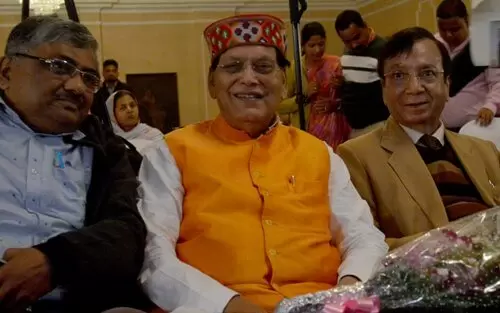 Pathak has received various awards for his service to eradicate manual scavenging

On 5 March 1970, he took a personal loan of Rs 50,000 and founded Sulabh Svachchh Shauchalaya Sansthaan (the clean toilet institute), his non-profit, and came up with his now famous innovative concept of the two-pit ecological compost toilet.
In this technology, there are two pits. One is used at a time and the other is kept as a standby. When the first pit gets filled up, the human excreta get converted into bio-fertilizer with the help of bacteria present in the soil. It requires only one litre of water per use to flush.
He hired 7-8 people and the office was set-up at an area of 200 sq ft at Patna. Later, he started getting CSR fund support from corporates like State Bank of India, ONGC, Maruti, HDFC, Bharti Foundation and others. The non-profit became Sulabh International in 1980, to have a more simplified name for the international network.
His work, predictably, attracted anger and protest from his community. "My parents and in-laws, along with the society, were angry with me because they found it derogatory for a Brahmin to work for the lower caste," he says. "But I was out to achieve the dreams of Gandhiji."
The 75-year-old says that the initial years were disappointing as he didn't get work to build toilets from anywhere. "The non-profit needed money to run but there were no orders for toilets," Pathak recalls. "The situation reached such a point that I had to sell my mother's and wife's jewellery to run it."
The economic conditions were so adverse that Pathak thought of committing suicide… "I was nearly bankrupt and had lost all hope," he says. "I had taken money from people but couldn't repay them."
But destiny had other plans for him.
He got an order to build two private toilets at Arrah district in Bihar and received Rs 500 in 1973.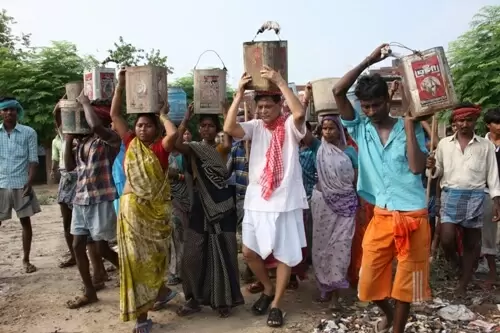 Pathak carrying human waste from a dry latrine along with manual scavengers during his earlier years of activism

Slowly, his technology started becoming popular and spread to other districts of Bihar, with almost 500 toilets in a year.
The rest, as they say, is history.
Sulabh means easy access – and they have provided access to clean toilets to millions. Their work has now crossed over to Afghanistan, Nepal, South East Asia, Africa and Latin America. Besides this, the NGO is also involved in philanthropic activities and has been giving stipends to widows and educating children from Dalit communities.
A Padma Bhushan recipient, Pathak has won several domestic and international awards, most recently the Legend of Planet award from the French senate in Paris, ahead of World Environment Day in 2013.
His mantra for success: Work with a mission, vision, morality and always be honest. "You will have infinite power if you are spiritual and never be arrogant of your success," says Dr Pathak.
Well said, sir.
This article is part of the 'Inspiring Indians' series
More Inspiring Indians
Dr. Rajalakshmi S.J, Bengaluru

Trending Now: