The Dentist Who Is Also a Disability Rights Activist, Motivational Speaker, and a Showstopper
Bhumika K
&nbsp | &nbsp Bengaluru
29-November-2017
Vol 8&nbsp|&nbspIssue 48
She is just 31 and is a motivational speaker, has given TEDx talks, regularly conducts free dental camps and free consultations, works on education and job rights for the differently-abled, and has even organised a beauty pageant for them.
Dr. Rajalakshmi S.J., a wheelchair-bound orthodontist from Bengaluru, who is back from winning the Miss Popularity title at the Miss World Wheelchair 2017 in Poland this October, believes all she is doing is living her life to the fullest.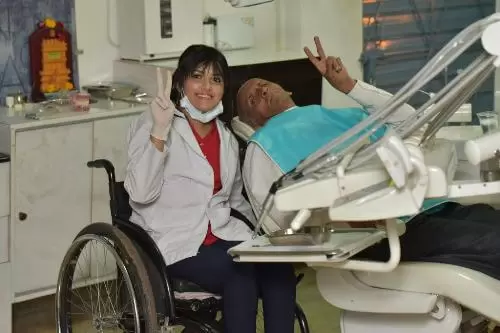 Dr. Rajalakshmi S.J attending to a patient at her clinic in Bengaluru

On a lunch break between her morning and afternoon consultation sessions at her clinic, S.J. Dental Square in south Bengaluru, where she has been practicing for the last four years, the petite young lady shares her story with me.
In 2007, a road accident in her college days left Rajalakshmi with a spinal cord injury, which paralysed her from waist down. The first six months were a blur, spent in trying to physically recoup, going through two unsuccessful surgeries and endless hours of exhausting physiotherapy.
"Initially, I couldn't even sit up without being completely supported and propped up with pillows, or even hold a phone in my hand," recalls Rajalakshmi.
"For the first one year I still thought I could walk, and kept trying, rejecting the wheelchair. Today my wheelchair is my best friend. I eventually realised that if I don't accept the reality, I will get stuck."
She not just accepted but embraced this new challenging phase of her life, going on to drive herself in her specially modified car and travelling India and the world on her wheelchair; she did a south and north India tour and has been to 13 countries, either on vacation or work.
Despite the accident and going through the trauma of dealing with her sudden disability, she completed her BDS in orthodontics and community dentistry with a first rank at Oxford Dental College, Bengaluru, in 2007.
But Dr Rajalakshmi did become a champion for the rights of the differently-abled, as she went on to fighting for rights of the disabled to education in the courts to be able to finish her MDS, and in the process getting the 3% reservation policy for the disabled implemented nationwide successfully in 2010.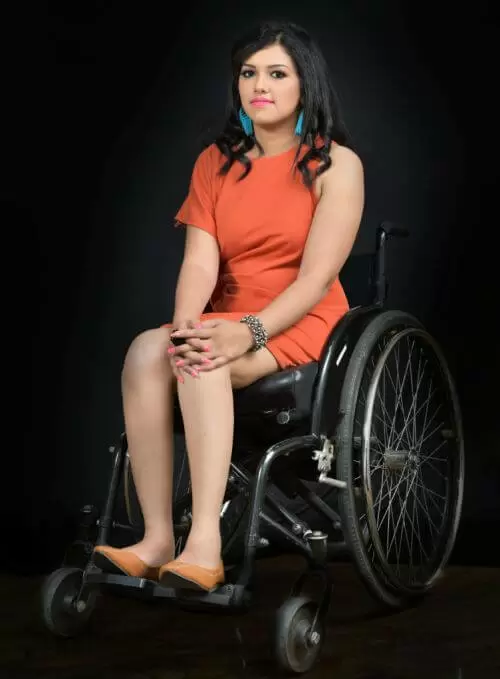 Dr Rajalakshmi won the Miss Wheelchair India title in 2014

That was the first of her battles as far as fighting for the rights of disabled persons is concerned. She continues to do that through the SJ Foundation she established later in 2015.
Rajalakshmi then went on to do her MDS at Government Dental College, Bengaluru in 2010, winning the gold medal for Karnataka state in orthodontics. The three years were a rigorous schedule on wheels - of going to the college clinic, attending labs, heading home to work on assignments and case presentations.
In the middle of all this, the enterprising young woman also studied fashion design because she had always loved fashion, and did two other courses in psychology and Vedic yoga during her recovery period between 2007 and 2008.
"When I first had the accident, every person who came to see me would encouragingly say that I must overcome my situation and become a 'role model' for disabled people," says Rajalakshmi.
"What they didn't realise was that I was just a 21-year-old girl who wanted to live life like all girls my age - I wanted to travel, see the world, build a career, get married... For me this part of my life was never about showing people what I can do or was capable of. I just wanted to live my life."
Always an outgoing person, trained in dance and tennis, and with an eye on modelling, in 2014 she participated in the Miss Wheelchair India 2014 pageant and won the crown.
"It was both a mental and physical challenge to deal with disability," says Rajalakshmi. "Physical wounds heal with time. But mental adaptation is harder and more important."
Fighting for rights of the disabled, Rajalakshmi also delivers motivational talks (Photos: H K Rajashekar)

Born to doctor parents, modelling was always a passion for Rajalakshmi, and she continued to pursue that passion by participating in beauty pageants. She even went on to organise Miss Wheelchair India 2015 in Bengaluru through the Foundation that she set up.
Now the Foundation is concentrating on fighting for the rights of the disabled in finding jobs. She argues that disability in India is not viewed holistically.
"Certifying a person's degree of disability varies, and has not been standardised," explains Rajalakshmi. "My appeal is that physical disability should not be the only thing considered for assessment, but one should factor in a person's socio-economic condition as well."
She talks of how crucial her family's support was for her to be able to come this far, specially her mother's, whom she calls a "lonely successful woman" after her father died when she was in Class 10.
When you speak to Rajalakshmi, you see how optimism comes naturally to her - she's always looking at the silver lining while everyone else is looking at the dark clouds.
"I find others, who are seemingly normal, inspiring. Many of their 'disabilities' are not visible. I see so much emotional disability around me and I find their problems are bigger than mine," says Rajalakshmi.
Her patients do not see her as a disabled doctor; they simply come to her for the quality of treatment she offers. "I have earlier had instances where first-time patients have walked into the clinic and asked me, 'Can I meet the doctor?'" she laughs.
She also argues that while accessibility for the disabled in public spaces is a hugely debated topic, it's not just a unidimensional issue about having ramps and flat areas.
"It's also so much about the human resources and support systems," says Rajalakshmi. "While you can't compare what's in India and abroad, our culture makes it easier for us here. Today I went to the temple alone, and the security guard very willingly helped me around. But abroad people hesitate to help because culturally they are cued in to respect your space."
At the Miss Wheelchair World 2017 she felt she had no disability at all, because "there were participants there who could move nothing but their eyes. It gives you perspective."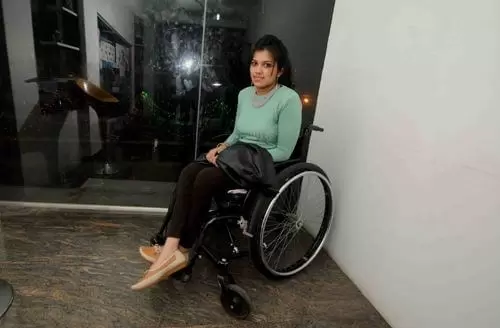 S.J. Dental Square will soon have a second branch in Bengaluru

Rajalakshmi has desisted from using a remote controlled wheelchair because she says she needs at least that much exercise. When she went to the pageant in 2014, she had exercised and dieted to keep in shape. Now she is busy setting up the second branch of her clinic and is shuttling between two places.
She also has her commitments to keep as a certified wheelchair service peer trainer where, through the World Health Organisation (WHO), she helps and trains the disabled, donors, and physiotherapists to identify and acquire the right kind of wheelchair for the disabled person.
She is also busy with the numerous free dental camps she conducts in schools, colleges, and at her dental clinic.
This December she's lined up something different. "December 3 is International Disability Day and I want to do a free consultation month, with free dental check-ups, on behalf of the disabled community for everyone," she reveals her plans.
She is a truly gutsy, inspiring, and original lady.
This article is part of the 'Inspiring Indians' series
More Inspiring Indians

Trending Now: