Bengaluru Oncologist Develops World's Cheapest and Possibly the Best Voice Prosthesis at Rs 50
Usha Prasad
&nbsp | &nbsp Bengaluru
22-September-2018
Vol 9&nbsp|&nbspIssue 39
It is a traumatic experience for stage four throat cancer patients when the larynx or the voice box is removed and they lose their ability to speak.
Till a few years ago, such patients used expensive imported voice prosthesis – costing between Rs 15,000 and Rs 35,000 - to be able to speak again. Those who could not afford the device remained voiceless for the rest of their lives.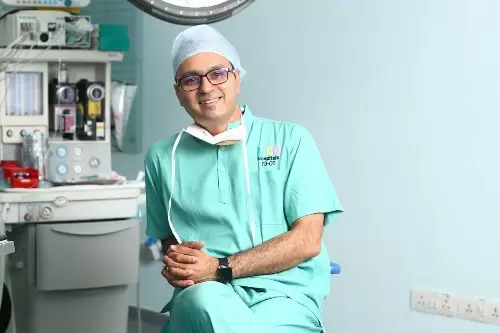 Dr. U.S. Vishal Rao, 40, developed a voice prosthesis for throat cancer patients that costs less than a dollar and is the cheapest in the market (Photos: By Special Arrangement)

But not anymore, thanks to Dr. U.S. Vishal Rao, a Bengaluru based oncologist, who has developed an incredibly low-priced voice device called 'Aum Voice Prosthesis.'
Priced at Rs 50, the $1 (one dollar) device as it's come to be known, has given voice to around 200 patients in the last two years, and is set to reach thousands more in the coming years.
"The global market for voice prosthesis was in the hands of two companies, one American and one European. Now ours is the third company, from India," shares 40-year-old Dr Vishal, who wants to make the device available to throat cancer patients around the world.
The WHO (World Health Organisation) and nine other countries have already expressed interest in the product.
"Government of India is in talks with me and has assured support to make this product sustainable and reach it to everyone," says Dr Vishal, who is the head and neck surgical oncologist at Health Care Global (HCG) Cancer Centre, Bengaluru.
Dr Vishal fits the device at the same cost on those who undergo surgery at HCG and also on patients who come to him solely for the voice prosthesis. "The pain of cancer is the same for all, whether one is rich or poor," reasons Dr Vishal.
He recalls an incident when a patient from Durgapur, Kolkata, who had undergone a surgery and lost his voice, came all the way to Bengaluru on hearing about his device.
"The patient could not afford the expensive prostheses. He was so poor that he didn't have money to even pay the registration fee at the hospital. All that he said was, 'I have heard that they put a voice box here for Rs 50 and I have come to try it out.'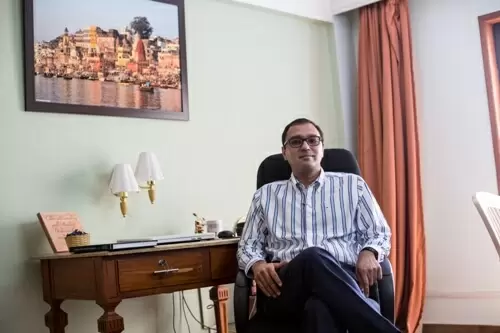 Prior to developing Aum Voice Prosthesis, Dr Vishal donated the expensive imported voice devices to needy patients and raised the money for his charity through his trust

When the man got his voice back the same day after Dr Vishal fitted the device, he turned emotional and thanked him profusely. "He hugged me and touched my feet and said he had never imagined he would get back his voice so quickly," says Dr Vishal.
Other patients are equally happy. Take the case of the sexagenarian Sudhindra Babu, who had an imported voice device fitted in 2015 after his larynx was removed. He had spent Rs 23,000 on it, but the device gave frequent trouble. A year later, he decided to try Dr Vishal's device.
Two years have passed since then, and he has faced no problem. "As a businessman, I travel a lot... My voice is very clear and I find no difficulty in communicating with others," he testifies. "I am very happy with Dr Vishal and the care he gives to his patients."
Dr Vishal developed the device after extensive research and trials for over two years along with his friend Shashank Mahesh. The bootstrapped venture was launched by the duo with an investment of Rs 10 lakh.
Prior to developing the Aum device, Dr Vishal used to help needy patients by providing them imported voice prosthesis free of cost. He raised money for the charity by organising fundraising programmes through his trust. One day Shashank threw the idea of developing their own product.
"Thus began our journey in developing the Aum Voice Prosthesis," reminisces Dr Vishal.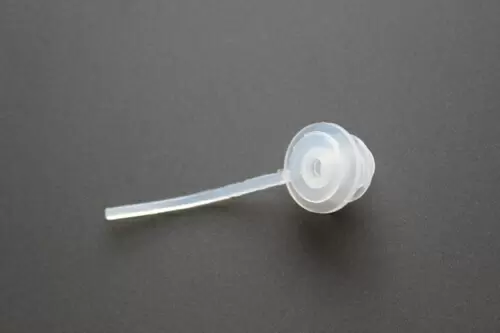 Aum Voice Prosthesis weighs 25 grams and measures 2.5 cm in length

Shashank, who is the managing partner and CEO at Innaumation Medical Devices, which makes the Aum Voice Prosthesis, is into synthetic rubber business and offered to help.
"Vishal would get deeply moved seeing the plight of his patients, who are from the lower economic strata. He would always struggle to organise funds to get the imported voice prosthesis fitted on them. That's when I encouraged him to develop something on his own, which is affordable," says Shashank.
"When we both decided to give it a try, we worked day and night for over two years. I got into R&D and tried to reverse engineer on the imported products and make it sustainable and affordable. I am happy that I am a part of this initiative."
Dr Vishal explains that their mission was to develop a high quality device. "We believed a poor man genuinely deserves the best, so give him the world's best."
With this vision, they used imported platinum-cured medical-grade silicone and other materials to develop the tiny Aum Voice Prosthesis, which weighs 25 grams and measures 2.5 cm in length.
Dr Vishal, who hails from Mangaluru, completed his MBBS and MS from KLE College - which was then called Jawaharlal Nehru College - in Belgaum, and later underwent oncology training at Tata Memorial Hospital in Mumbai.
He is also a visiting scholar at the Department of Otolaryngology in University of Pittsburgh School of Medicine, USA, a Consultant at the Institute of Public Health and a Director of the Cancer Prevention and Tobacco Control Project with W.H.O Tobacco Free Initiative Partners.
Dr Vishal is now training other doctors in the country to use the device. "Right now, the team is ingeniously doing the boxing, packing and sterilisation of the product when it is sent across the country. When it comes to mass scaling, the government support becomes inevitable. However, the whole idea is that the one-dollar initiative will continue," he says, adding that however small be the support from the government, he will still have the charity component open.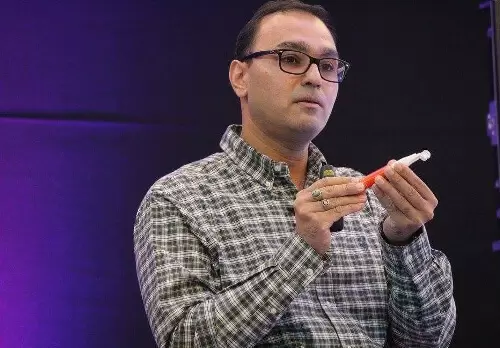 Dr Vishal wants to make his Aum voice prosthesis available to patients around the world

Innaumation Medical Devices is hoping to deliver the device pan India by the end of 2018 and cover at least half of Asia in the next one year. With the manufacturing process getting simplified, Innaumation can manufacture 100 pieces in an hour now.
Dr Vishal's family is very supportive and proud of his work. "They feel that somewhere they too become a part of the blessings I get from my patients," he says. His wife Megha, who is a corporate lawyer, has been a massive back-up for Dr Vishal, because of whom, he says, he has been able to achieve all this. The couple have a three-year-old son Aayan.
Dr Vishal remains grateful to the support he receives from Dr Ajay Kumar, chairman of HCG Cancer Centre, who is also an oncologist. "He encouraged me to develop 100 such things!" he shares.
An anti-tobacco activist, Dr Vishal blames smoking and consumption of ghutka as primary causes for throat cancer. And his mission in life is - 'Let's not sell more prosthesis but reduce tobacco'.
This article is part of the 'Inspiring Indians' series
More Inspiring Indians

Trending Now: