He stands out in the murky waters of political chicanery as a shining star

Kavita Kanan Chandra
&nbsp | &nbsp Mumbai
02-August-2013
Vol 4&nbsp|&nbspIssue 31
In the murky world of Indian politics Balasaheb Darade shines like a star with his credo of developmental politics.

A member of the Buldhana Zilla Parishad (District Council) in Maharashtra, the 29-year-old was a successful entrepreneur in the US before he returned to India to work in the villages.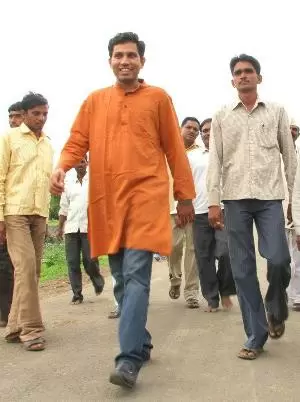 Balasaheb (in the foreground) won the election from Pangra Dole, a Shiv Sena bastion, without doling out money, alcohol or using money power
Balasaheb was elected as councilor from Pangra Dole last year and secured more than 50 percent of the votes polled, defeating opponents from powerful political parties in the process.

His vision is to be a role model for the youth of the country to encourage them to enter politics and clean up the system.

"The system is riddled with corruption and unless role models are created, young educated people may hesitate to be a part of the system," he says, explaining his decision to enter politics.

He believes that good people should enter politics to be the change they want to see, rather than being merely spectators and critics of the system.

An honest Zilla Parishad member can ensure that funds meant for development are not siphoned off but reaches the beneficiaries, he reasons.

As an elected representative he is now more aware of government schemes and has released funds for several infrastructural projects.

He has realized that being a social worker - a role that he had donned before his plunge into politics - has its limitations but as a socially conscious politician one could do better work for the people.
Balasaheb contested the elections from Pangra Dole, a Shiv Sena bastion, without doling out money, alcohol or using money power, the usual strategies that other political parties adopt.

His rallies too had been refreshingly different with meditation, folk songs, and issue-based debates and discussions.

"The power of democracy is creating awareness, and elections provide a great opportunity for that," says Balasaheb, who had grown up in one of the villages in his constituency and went on to acquire an engineering degree from Jawaharlal Nehru Engineering College in Aurangabad.

This son of a farmer and highly respected social worker, Shankara Darade, made education his tool to stretch his wings beyond borders.

He did his masters in electrical engineering and nanotechnology in the US from University of Cincinnati.

Later, still in the US, he founded an IT company, 'Relations Bridge Innovations', which became a successful venture.
However, inspired by APJ Abdul Kalam and the call of his inner voice, he took a U-turn, and returned to his roots in 2011 to commit himself to social work and grassroots politics.

Having started the 'India against Corruption' chapter in Cincinnati, he joined Anna Hazare's team in India in August 2011.

He then founded the Shankara Rural Transformation Project with the aim of creating model villages by addressing issues related to girl rights, farmer suicides and development of infrastructure.

"People who are going through problems come up with the best solutions, what they need is hope, vision, leadership and direction," says Balasaheb. His strong belief in the power of people to bring positive change led him on awareness campaigns.

His motto is 'Ata Badal Nischit' (now change is certain). A follower of Sri Sri Ravi Shankar, he uses spirituality and yoga to dissuade people from alcohol.

He built unity among people, and generated energy through events like sports, medical camps and educational talks.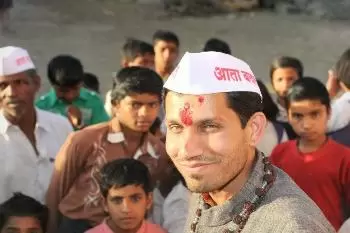 Balasaheb believes people are capable of solving problems themselves if they are properly motivated
Working towards his goals of rural development, and youth empowerment, he set the ball rolling through the model villages he envisioned.

He motivated local youth to take leadership roles in their villages. They studied several model villages, including Hazare's Ralegan Siddhi village, and tried to implement the best practices from other places.

Balasaheb talks about a tribal village 'Madhi' that had no connectivity. There were no roads for miles and many sick people had died before they could be rushed to the hospital.

Teaching them not to depend on the government, he had inspired the villagers to build roads through 'sharamdaan' (voluntary work).

"People are capable of doing things themselves, it is important to ignite minds," says Balasaheb. Many youth were motivated into social work, leadership roles, and some have been elected as sarpanchs (head of Panchayats).

Balasaheb is doing his best to develop villages in the region. He is introducing e-learning and computers in schools, and plans to introduce tablets as well in the future.

He is promoting eco-tourism in Lonar Lake – a UNESCO world heritage site - and tribal villages, and training local youths for it.

Trending Now: