He Refused to Accept 'Permanently 100 Per Cent Disabled' Label and Became an Epitome of Courage and Resilience
Sofia Danish Khan
&nbsp | &nbsp New Delhi
24-November-2018
Vol 9&nbsp|&nbspIssue 48
For a man who was declared 'permanently 100 per cent disabled' at the age of 22, following an injury he had sustained during his final days of training at Indian Military Academy, Navin Gulia, is an epitome of courage and resilience.
Doctors told him that he would need two attendants to look after him and he won't be able to do anything on his own for the rest of his life.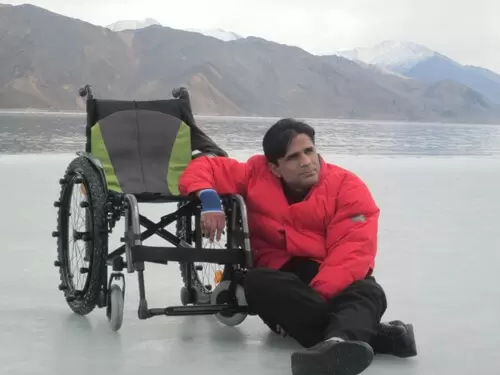 Navin Gulia drove a modified car with a hand-operated accelerator and brake, and reached the top of Marsimik La, the highest motarable mountain pass in the world in 2005

Navin refused to live by those words. He learned to move around on a wheelchair by himself, started driving a modified car with a hand-operated accelerator and brake, and in 2005 drove all the way from Delhi to the top of Marsimik La, the highest motarable mountain pass in the world at 18,632 feet.
He covered the distance of 1110 km from Delhi to Marsimik La in 55 hours, driving almost non-stop, in life threatening conditions. 'Marsimik in Tibetan means death trap," says Navin, who is now a motivational speaker and social worker. His Marsimik La expedition got him an entry into the Limca Book of World Records.
Navin, now 46, is mostly involved in the activities of ADAA (Apni Duniya Apna Ashiana – which means Our World Our Home), an NGO he founded in 2007.
"Adaa also means grace in Hindi," says Navin. "We work in Barhana, a village - located about 53 km from Delhi - in Haryana, with the children of brick kiln workers. The village has the worst sex ratio of 327 females for every 1000 male children."
The female children face a lot of discrimination in the village. "If a girl child falls ill, she won't be given medical treatment, but a male child will be immediately rushed to the hospital," he says, citing an example of the prevailing biases. "The other problem is early marriage of girl children. By the time they turn 16, they are married off."
ADAA is making sure that the girls complete their education and pursue their interests. They work with the families of the children and also with the local government school where most of the children study.
The situation in the village has improved after ADAA's intervention programmes. "The children are regularly going to school and also active in sports. Two girls from the village have won gold medals at the state level wrestling competition and are now aiming for the nationals," says Navin. "We focus on training the boys and girls in various sports. Most of them are truly talented and put in great amount of hard work during the training."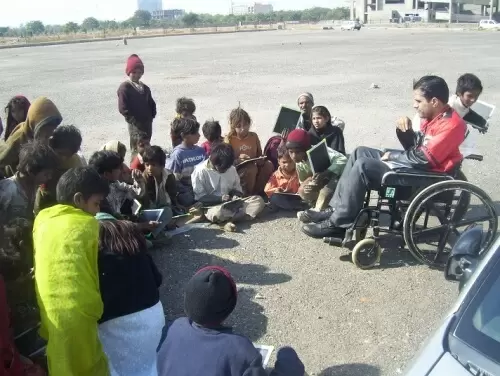 Navin's NGO, ADAA, works with children in a village in Haryana near Delhi

They have two teachers at the ADAA centre in the village. One of them is a retired government school teacher. He volunteers at the centre, teaching English to the children, and also maintains their small library there.
The other teacher is a paid employee, and he helps the children in doing their home work. The NGO also supports the sports teachers at the school who train the kids in various sports.
ADAA also donates stationery and school uniforms to needy children. "We provide a small support of Rs 500 to meritorious children, buy them sport equipment, and have even given things like wheelchairs, artificial limbs and so on. We have impacted around 1,000 children, including both boys and girls," says Navin.
The NGO is transforming lives. Take 19-year-old Sunny. He was born without one hand and one leg, but is now able to walk with an artificial limb and is studying in one of the reputed colleges of Delhi University.
A Srinagar based disabled boy who could not even walk, learned to drive a modified car with the help of ADAA and is running his own automobile workshop today.
Navin on top of Marsimik La

In another case, three sisters were left to fend for themselves after their father deserted them and the mother went to jail. "We supported the children," shares Navin.
"Now the eldest sister is a police constable, while the second one is on the verge of becoming one as her training will be over soon. The two sisters are now self- sufficient and taking care of the youngest sibling."
So, if you are wondering how ADAA sustains itself, Navin's fund come mainly through Facebook where the organization has a page with around 16,000 loyal followers.
He posts about a need like warm clothes for approaching winters, or books for the children or training gear for the girls, and the Facebook community pitches in.
One of them sponsored the artificial limbs of the kid who is studying in Delhi University and another sponsored solar lights worth Rs 2.5 lakh, which were installed at the study centre in Barhana. More lights are being set up in a play ground so that children can train in the night as well.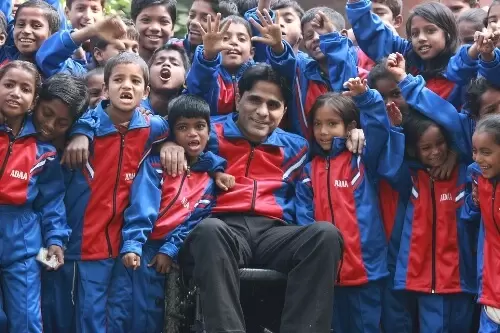 Navin's NGO is supporting around 500 children annually in different ways

Navin keeps his overhead costs low by not creating infrastructure likes offices or buildings for his NGO. "This way we are able to help a large number of people. We have just one caretaker at the Barhana centre," shares Navin.
"We usually need about Rs 1 lakh per month to meet the needs of around 500 children we are taking care of. If we aren't able to collect sufficient funds during any month, we adjust from our reserve." Navin receives a monthly pension of Rs 1 lakh from the army and spends a portion of it on his social work as well.
Navin is the only surviving son of Narain Singh Gulia, a retired army colonel, whose elder son passed away in a road accident. Following in his father's footsteps, Navin joined the National Defence Academy in 1991 after his schooling.
After completing the NDA course, he was training at Indian Military Academy in Dehradun in 1995 when he met with a freak accident during an obstacle competition and broke his neck. His entire body was paralysed and he was airlifted to Pune military hospital, where he underwent treatment for the next two years.
The spirit of adventure and to do the impossible is in Navin's DNA

In the process of pulling himself back into mainstream society, he worked as a school teacher in a central school in Delhi during 1997-98 and set up their computer centre. He also worked with an NGO for disabled children and disabled soldiers between 2001 and 2004.
In 2004, he married Khushi, who hails from Goa. She practices tribal drawing arts and teaches at various NGOs. "I always encourage Khushi to do what she loves doing," says Navin. Khushi takes tribal art classes for the children in Barhana once a week
Navin is a positive person and his persona leaves a deep impact on you. In 2012, he published his memoirs, 'In Quest of the Last Victory' and wishes to carry on with his life mission of writing, delivering motivational speeches and changing lives.

You might also like
The primary school in Kandhadu village is more than a model government institution due to a teacher

Wish to share your story?
Trending Now: