Some call him 'slum dweller', some 'toilet man' but he gives dignity to the downtrodden

Kavita Kanan Chandra
&nbsp | &nbsp Mumbai
03-January-2015
Vol 6&nbsp|&nbspIssue 1
He takes pride in calling himself a slum dweller and accepts with the same felicity when he is referred to as the `toilet man.' For Jockin Arputham, 68, the mission is to give dignity to the residents of ghettos across 37 countries.

Redeveloping slums, providing them access to water and sanitation, and forming savings groups are some of the many initiatives he has been undertaking - all with the participation of the community and cooperation of the state machinery.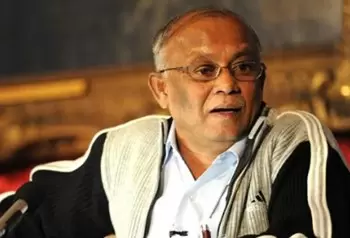 Ever since Jockin Arputham made Mumbai his home he has worked for the people around him
The visible transformation especially in the ghettos of Mumbai, where he is based, is a testimony to his tireless work which earned him a nomination for the Nobel Peace Prize 2014, which eventually was shared by fellow Indian Kailash Satyarthi and Malala Yousafzai from Pakistan.

Stepping out of Mahim station and walking towards east, it is difficult to miss the glaring demarcation between the haves and have-nots in the country's commercial capital.

A walk down the dusty and crowded market across the main road leads to Dharavi, Asia's largest slum. Amidst the dingy and meandering lanes is where Arputham's office is situated.

Years ago Arputham too was shocked by the huge urban slum and its filth when he migrated to Mumbai from Tamil Nadu for greener pastures. But the youngster, just 18 then, could find a home only in the slums of Janata colony.

He started with sundry carpentry work and then managed to obtain a sub-contract at the nearby Bhabha Atomic Research Centre (BARC).

Later, he began an informal evening school for kids as his first service project for the community.

And when the garbage menace in their locality became intolerable, he simply took the municipality head on. It all started with his students, on his direction, dumping packets of trash wrapped in newspapers near the municipal office in Chembur.

When the police were called, he had fearlessly said the act would be repeated until the garbage was cleared. The civic body was forced to act.
Arputham's maiden proactive protest fetched a positive reaction and then there was no stopping him. He took every civic issue plaguing the colony in hand and set a precedent by cleaning the toilets himself.

His leadership came to the fore when he mobilized 70,000 inhabitants of Janata colony against an eviction drive in 1976.

Arputham escaped arrest several times during the Emergency for spearheading protests. Later he moved to Dharavi and founded the National Slum Dwellers Federation (NSDF).

Jockin sir, as he is fondly called, is seen indulging in a convivial chatter with the community members as this correspondent enters the NSDF office in Dharavi.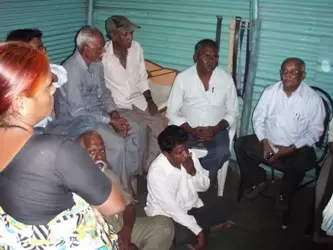 Arputham listens to the grievances from people and tries to help them
The citations of Ramon Magsaysay award (2000), Padma Shri (2011) and an honorary Ph.D from KIIT University, Bhubaneswar (2009) adorn the sparsely furnished office.

Arputham, a recipient of 2014 Skoll award for social entrepreneurship, is working in 37 countries through Slum Dwellers International (SDI), a global movement that has benefitted thousands of people living in ghettos across 453 cities.

According to SDI, around one million people have benefitted from the 15,000 slum dwellers-managed saving groups. The movement is said to have secured land rights for 1.28 lakh families, built over 20,000 toilets, and one lakh houses.

Slums may remain an eyesore but the harsh reality is that a demolition drive would render thousands homeless. "These people are the human resources that make a city livable," points out Arputham.

Many are finding better housing, thanks to the rehabilitation projects. "Now that I reside in the slum rehabilitation building in Mankhurd, I shudder to think how a decade ago we lived amid filth along the railway line in Ghatkopar," recalls Malti Amre.

She recounts her harrowing experience of shifting with toddlers to a congested transit camp in Kanjumarg locality after being driven out from Ghatkopar.
Today, she is a social worker and her educated daughter Archana too assists her in `Mahila Mandal'. "We also get to earn some stipend as we hire labourers in slums for toilet construction and oversee the work," she says.
The NSDF has rehabilitated more than 60000 families in Mumbai alone. "It is an ongoing process and we are currently working on housing projects to rehabilitate the slum dwellers from the Bombay Port Trust land and near Tata Towers," says Arputham.
He firmly believes that women empowerment goes a long way in mobilizing the community. Mahila Milan is a meeting point for slum women and it was started primarily to help women with small savings.
"I started saving Rs. 5-10 a day with Mahila Milan and at the end of the month I had enough money to pay my children's school fees, and the electricity bill," says Janabai Kamble.

The women utilize several benefits like availing small loans of up to Rs 1000 sans interest. Some have set up small enterprises with the loans offered. When the doors of the banks are shut for poor and usury eats up their lives, Mahila Milan has come as a boon for them, the women beneficiaries say.
When Arputham started NSDF, his primary concern was housing to the poor and elimination of open defecation.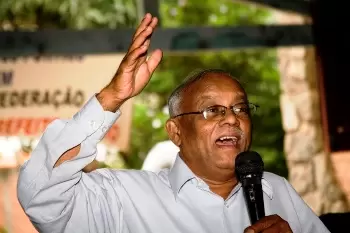 Arputham's leadership came to the fore when he mobilized 70,000 inhabitants of Janata colony against an eviction drive in 1976
"I did not receive any concrete help in building toilets for slum dwellers but Prime Minister Narendra Modi's cleanliness drive has made Brihanmumbai Municipal Corporation (BMC) responsive," he says.
BMC funds their ongoing toilet projects and the community maintains the facilities. Earlier, when BMC awarded tender to private parties, the toilets became defunct due to poor maintenance.
"The community should fend for itself without depending on the Government or anyone else," Arputham insists. His underlying principle of putting the onus on the community and creating a demand-driven system has been highly successful.
Police panchayat is another novel initiative started under his leadership in 2004 replicating IPS officer A.N.Roy's successful concept implemented in Pune.

"A petty matter like fetching water from the community taps ends up in serious squabble among the people in slums. Finally, they end up paying fine to the police besides wasting their time and energy. In matters like this police panchayat has a constructive role to play," says Jeenat Aziz Mirza, a local.
The police panchayat resolves minor disputes within a community of 800-1000 families. Each panchayat has ten members consisting of three men and seven women, whose verification is duly done by the police.
Arputham is all praise for the police panchayat. He cites a recent incident wherein a teenage girl was raped and killed in Baiganwadi slum by a local tailor who had conveniently wrapped the dead body in a 'chatai' (mat) and dumped it in a garbage bin.
The police panchayat women recognized the 'chatai' and the shreds of cloth found in his shop clinging on to the dead body, which pointed the needle of suspicion to the tailor. The tailor was cornered and he admitted to committing the crime.

Whether Arputham being proposed for or even awarded the Nobel Peace Prize does not have a bearing on the slum fraternity among whom he stands tall for his unrelenting commitment to ensuring them a decent and dignified living.

Arputham, true to his name (which translates to Miracle in Tamil), is indeed a marvel for the slum dwellers of the world.
Wish to share your story?
Trending Now: