Streets India, just one of the many business ventures with a heart

P C Vinoj Kumar
&nbsp | &nbsp Editor | TWL
24-December-2010
Vol 1&nbsp|&nbspIssue 17
Wonder how many of you have tasted street food? I have; many times at that, and each time it's been an enjoyable experience. As a reporter, I have often landed in small towns and cities at unearthly hours, hungry and tired, scanning the roads for a restaurant, but only to see all of them shut down. Not the one to easily skip a meal, I end up at some street food joint near a bus terminus or a railway station.

There have been occasions when kind-hearted vendors have made dosas or parottas especially for me, lighting up their stove in that odd hour, with no sign of irritation, but wearing a thousand watts smile on the face, and chatting with me, enquiring kindly what I do, and why I am in their town.

Sitting on a stool under a street light, I have tasted the food in the stillness of the night, often in chilly conditions, under an overhanging mist. When I think of those times, I get goose bumps. I am scared I will never experience such moments again.

I am not sure if Tanishk Shyamya has been a fan of street food, but her social enterprise involving the street food vendors in Ranchi is a fine success. After graduating in mass communication from St. Xavier's College, Ranchi, and later doing a diploma in entrepreneurship in IIM (Bangalore), Tanishk, realised her childhood ambition to transform the lives of poor people by establishing Streets India.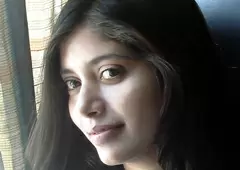 The Weekend Leader's Person of the Year, Tanishk Shyamya has transformed the lives of about thirty street food vendors of Ranchi, who are making more profit these days
She has been able to improve the living standard of about thirty vendors in Ranchi by providing them with designer food carts, and training them in preparing the food in hygienic conditions. Streets India is a unique business model where both the benefactor and beneficiary reap benefits – a classic example of a successful social enterprise.

Some of the beneficiaries have seen their profit increase by about 35 percent after associating with Tanishk. She has plans to extend the project to Delhi and Jamshedpur now.

The Weekend Leader's Ranchi reporter Santosh H K Narayan told her story in our inaugural issue dated 3 September 2010. The story was carried under the headline, 'Blending business acumen and hygiene with street food.'

The Weekend Leader has been devoting considerable editorial space to profile the works of change agents such as Tanishk. As part of our broader policy of engaging in Positive Journalism, - which partly means being proactive in identifying and encouraging social enterprises that lead to a better and equitable society - The Weekend Leader will honour one such change agent we profile as Person of the Year.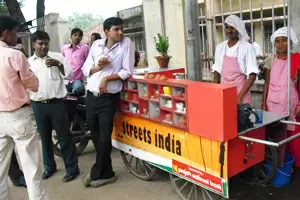 Streets India now plans to extend its operations into Patna and Delhi
This year the honour goes to 22-year-old Tanishk Shyamya, the Ranchi girl, who dared to dream of bringing a change and did not stop with it, but took the bold step to execute the dream. The Weekend Leader wishes to see many more young people following in the footsteps of Tanishk in the months and years to come.

Our yearend special issue is dedicated to the spirit of such young angels, who stand out in a largely self-centred society. Each article in the issue explores a different facet of social responsibility, with even one on the recently crowned Miss Earth Nicole Faria and her plans to serve society.

Senior journalist Amit Sengupta, like me, a great fan of street food, tells you of the fantastic fare he has tasted in the streets of Delhi and about the people who make them.

Before I sign off, here's wishing our readers, all our friends, well-wishers and supporters a very Happy New Year. We will be back, after a short year-end break, on January 7. Happy reading!


Trending Now: