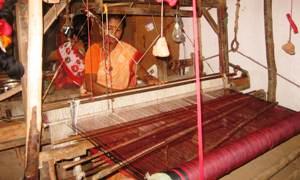 Weaver's dream
Sekhar is going bananas. The weaver in a Chennai suburb, with the know how to make clothes from banana fibre, wants to bring prosperity to his community but lacks the wherewithal. P C Vinoj Kumar pledges TWL support to the harried weaver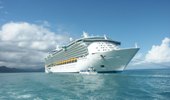 Coastal cruiser
India, with its 7000 km long coastline, which is dotted with several historic spots and major ports, is all set to introduce world class cruises along them within a year. A report from London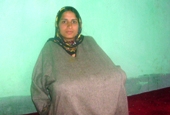 Courageous women
In conflict-ridden Kashmir, amidst the booming of guns, there are women who bring hope for a change in the valley. Aditi Bhaduri meets a few bold women candidates for the panchayat elections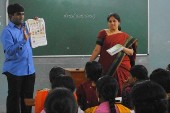 Ignited mind
By igniting young minds, Kiran Sagar founded Yuva Bengaluru to help the underprivileged. Marianne de Nazareth meets the youth who wants to create a peaceful, prosperous, progressive society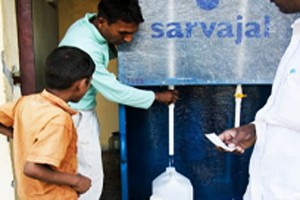 These young ones
Paying kudos to all those youth who are into social entrepreneurship, Rishabh Kaul takes a critical look at Sarvajal, the organisation that aims at providing pure water at rock bottom prices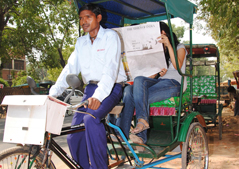 Hope on Wheels
It is a dream that gives hope to those who do not dare to dream. Roohi Saluja Sehgal tells us how rickshaw pullers in Delhi have benefited because some students dared to dream.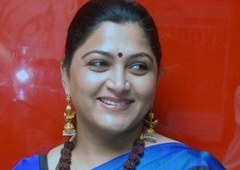 Looking ahead
The Weekend Leader has been evolving since it was launched. Though our focus remains the same on presenting positive stories, we have gone for a makeover in design. Along with that, we have roped in a celebrity known for her courage: Khusbhu

Quiz of luck
It was a windfall for Rahat Taslim, winning the TV game show KBC. Santosh H K Narayan quizzed the crorepathi and learned that she was thrilled to meet her childhood icon, Amitabh Bachchan

Autumn glow
To fill in the gaps in the lives of the elderly in cities, whose children work elsewhere, a Pune-based woman started a service called Maya Care. R Savitha checks out what it is all about

Girl power
He started with teaching English. But today he has produced a national woman football player. Santosh H K Narayan meets Franz Gastler, who never touched a football before coaching some girls

On target
A 16-year-old girl brings fame to an obscure village, Ratu, by remaining focused on her passion. Santosh H K Narayan meets Deepika Kumari who hit the bull's eye to win two golds at the CWG

Homing in
She was part of the Intel team that changed the face of computers. Now she brings innovative minds together to script success stories. Marianne de Nazareth tells us Lakshmi Pratury's story

Musical dreams
Twin sisters making a musical pair is old hat. But since Shruti and Gore Bhatla share an incurable genetic disorder besides a passion for music they are remarkable, feels Abhishek Pandey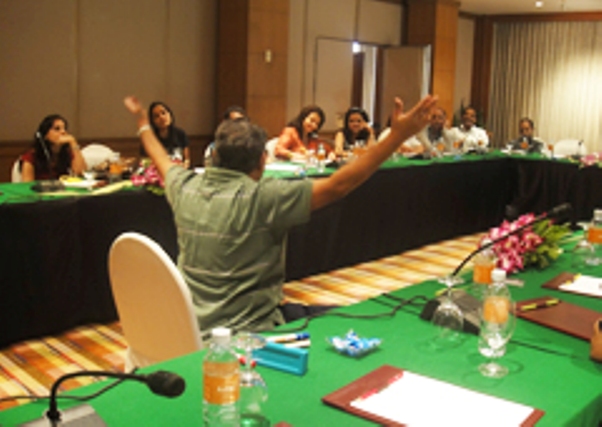 Fulfilling others' desires
When 16 strangers go on a three-day voyage, they depend on a master to reach their common destination: Realisation of dreams. Kavita Kanan Chandra reports on the odyssey with Ujjwal Uke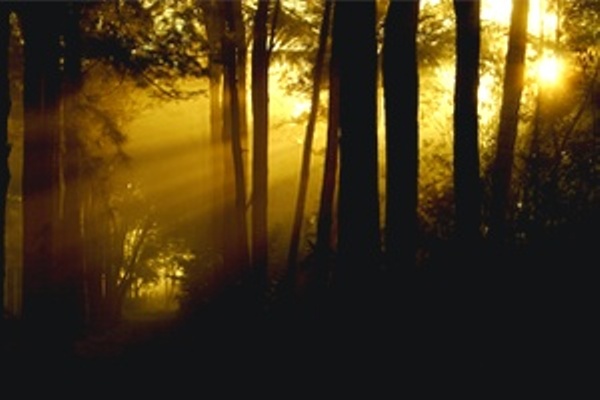 Taking wings
Like a colourful butterfly breaking out of the cocoon, The Weekend Leader takes wings. As it flutters in cyberspace, it just seeks to capture your imagination. P C Vinoj Kumar goes back to the birth of the idea and also looks ahead.