Through 'Untold stories' she wants to give back to India

Marianne de Nazareth
&nbsp | &nbsp Bangalore
15-October-2010
Vol 1&nbsp|&nbspIssue 7
When computer giant Intel changed the perception of the personal computer from a 'boring machine' to a desirable 'cool' object, Lakshmi Pratury was part of the team that brought about the makeover. Now she is in India with a bigger dream. From December 12, she will be organizing a three-day conference at Lavasa hill city near Pune on the theme 'Untold Stories', in which she would be bringing innovative minds together to help script new success stories.

Years ago she landed in the US after completing her MBA from the Bajaj Institute in Mumbai – she is one of rarest of rare kind to drop out of an IIT as she 'did not enjoy it' – when Intel offered a job and she stayed on for two decades, becoming part of corporate America.

It was indeed a giant leap for Lakshmi, who did her schooling in Telugu medium at the Madapati Hanumantha Rao Girls School in Hyderabad. But success in the corporate world could not hold her back in the US for long as she wanted to return to India. She felt the first stirring to reconnect with India when her father, 'Padmabhushan' Dr P Tirumala Rao, a renowned paediatrician in Andhra Pradesh, died in 1997.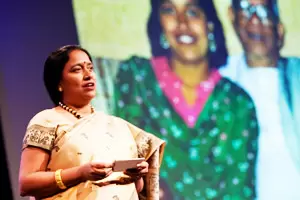 Lakshmi wants to create more achievers through the INK (Innovation and Knowledge) conference to be held at Lavasa in December
Subsequently, she launched the India chapter of the non-profit Schoolsonline.org. "Clarence Chandran, then COO of Nortel, gave us our first half a million dollars for the project. In one year, we set up internet labs in 50 schools that served underprivileged children from six states across the country," she says.

In 2001, in the wake of the Gujarat earthquake, when former US President Bill Clinton started the American India Foundation, Lakshmi joined in and implemented programmes that raised over 30 million US dollars, which was disbursed to the remotest of villages in India.

In November 2009, Lakshmi co-hosted TEDIndia, along with Chris Anderson, the curator of TED - an acronym for Technology, Entertainment, Design. TED started out by bringing together people from the three different worlds, to share their achievements. It now includes people from across various disciplines. This December, Lakshmi is hosting the INK (Innovation and Knowledge) conference in association with TED in Lavasa.

"I believe that success encompasses much more than just money or power and I hope the INK Conference will be able to communicate this to India. Success is multi-dimensional and hopefully the speakers - author Jennifer Aaker of Stanford, entertainment icon James Cameron, the world's youngest headmaster Babar Ali, prolific author Deepak are some of them - can help ignite the passion in the minds of the participants," she says.

Lakshmi, who came back to India because she wanted to give back to the country that taught her a lot, says that her teachers in school were a great source of inspiration to her besides her father. Dr Rao had brought her up and other children alone after her mother died soon after Lakshmi was born. He firmly believed that all children, whether girl or boy, needed a good education. Well, that was the beginning of Lakshmi's success story.
Wish to share your story?
Trending Now: