The challenges of selling cheap water to villagers and making a profit

Rishabh Kaul
&nbsp | &nbsp Pilani
24-December-2010
Vol 1&nbsp|&nbspIssue 17
There is evidence of a positive trend across India. Several youth, in their twenties, have been leaving the comfort of a recurring pay check and working on ideas that make an impact on society. They have provided the inspiration for several others to take the same path. At last there seems to be hope for all-round growth and development in the country.

It is not just Tanishk Shyamya, The Weekend Leader's person of the year, who after doing a course on Women Entrepreneurship from IIM-B went back to her homeland in Ranchi and created "Streets India" to formalise the informal street food industry, there are other organizations like Ashoka Youth Venture Unltd and Villgro that are working at the grassroots level. Grassroutes, another such organisation in which I am a member, helps young college graduates intern/work at select social enterprises.

Yet another organisation Sarvajal, with which I spent my last summer, is also doing remarkable work. A for-profit social enterprise working in the water sector, Sarvajal, aims at creating a water brand in rural India.

Though the definition of social entrepreneurship is a rather subjective and long debated topic, on a broad level, it is agreed that enterprises with a clear social mission, often clubbed with a business model that focus on the double/triple bottom lines, come under the realm of social enterprises.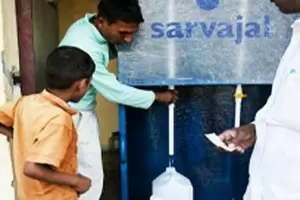 Sarvajal sells pure drinking water in villages at a low price, but it has to go a long way to make the venture profitable
Sarvajal wants to build an image for its logo – a blue drop - so that the moment someone sees that blue drop on the wall, they know that the water sold is of the highest standard offered at the lowest price. At the same time Sarvajal is creating jobs via their model, by giving large Reverse Osmosis (RO) machines on lease to the villagers who then are trained to operate it. Today 119 such "water franchises" serve around 70000 people. All this is very inspirational for a nation where a huge majority doesn't have access to clean drinking water. And places where there is clean purified water, it's sold at rates which are exorbitant.

But then, I feel that Sarvajal needs to face certain realities and change in some ways. Sarvajal is backed by investors who demand timely returns on their investment. They are willing to wait longer than traditional investors, but it still just gives Sarvajal few extra years to yield high returns.

Water is a cyclical business. Sarvajal has to get a booming summer customer base to make up for the winter when water consumption goes down.

Ultimately, they have to overcome the traditional mindset of the superstitious folks in the villages who believe that since they have been drinking the same water for ages, – and that water if for free - they don't need purified water.

Having said all that, it is critical for these enterprises to succeed. Using market based mechanism ensures some financial stability to the families that are directly employed due to this venture. These enterprises often provide services to the villagers which they otherwise wouldn't have access to. The bottom of the pyramid is slowly getting their hands on some disposable income and if given value for their money, they will spend. It is enterprises such as Sarvajal that are doing just that.

Rishabh Kaul is an economics and engineering undergrad at BITS Pilani.

Wish to share your story?
Trending Now: