A struggle to keep the creative legacy of Anakaputhur's weavers continues

P C Vinoj Kumar
&nbsp | &nbsp Chennai
01-July-2011
Vol 2&nbsp|&nbspIssue 26
Anakaputhur is a 15-minute drive from the Chennai airport. The roads here are narrow and congested. Like any other suburb, this place seems to be bursting at its seams, unable to cope up with the rapid urbanisation consuming it.

But Anakaputhur is not just another suburb that is the inevitable extension of a burgeoning city, which has been devouring beach, swamp, and agriculture land to create new settlements.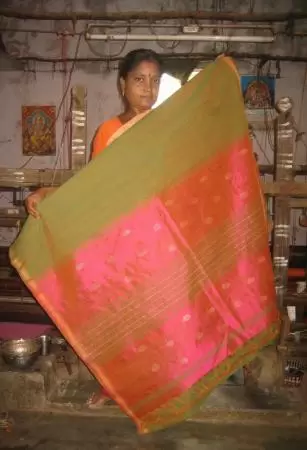 Go banana! Sekhar's wife is holding a sari made of 100 percent banana yarn
This place has got a history, a tradition, and a people, who are skilled at making beautiful hand woven saris, dhotis, lungis, and shirt fabrics.

Not too long ago, Anakaputhur used to be known as a quiet village, known for its handlooms. It may have completely lost its identity in the urban chaos that has subsumed it, but for one man, C Sekhar, who is bent on keeping the creative legacy of the place alive through the exotic banana fibre saris that he and his fellow weavers are now trying to promote.

If 48-year-old Sekhar's plans come to fruition, Anakaputhur will become world famous for its 100 percent banana fibre saris, shirts, and fabric.

"We have succeeded in creating yarn from banana fibre, which is extracted from banana stems. This raw material is available in abundance in many parts of the country. We have the know-how to make 100 percent pure banana fibre saris and have made and sold hundreds of such saris in last couple of years. There is great demand in the market for our saris, but we do not have enough yarn for large-scale production," says Sekhar.

According to him, they require about 500 grams of fibre to create one sari and each banana stem would provide about 150 grams of fibre. While banana stems are available in plenty, the manual extraction of fibres from the stems is labour intensive and time consuming.

The alternative is to go for machine production. Fortunately for them, three IIT students have offered their expertise to develop a machine that would produce continuous banana yarn.

"It would cost about Rs.60 lakhs to develop the machine, which includes both research and production cost," says Sekhar. But his pleas to several government departments for funding have fallen on deaf ears.

Private donors are seeking to exploit. Naming a couple of leading sari stores in Chennai, Sekhar said the owners of the stores invited him for talks and offered ridiculous deals.

"They were prepared to give any amount of money, but wanted the machinery, and infrastructure to be registered in their name. In other words, they wanted to run the operations and give us jobs as workers, with no stakes in the business."

But Sekhar's dreams are for the welfare of his weaving community, whom he sees as stakeholders in the banana yarn revolution.

He has united the small remnant of families in Anakaputhur still dependent on handloom under the banner of Anakaputhur Jute Weavers Association.

There are now about hundred families involved in weaving in Anakaputhur, and all of them look up to Sekhar to lead them out of the dire economic straits they are in.

The Weekend Leader pledges its support to Sekhar's cause.


Trending Now: