Inspired by Kalam, he inspired other youth to form Yuva Bengaluru

Marianne de Nazareth
&nbsp | &nbsp Bengaluru
18-February-2011
Vol 2&nbsp|&nbspIssue 7
Is a vibrant India emerging? Yes, if one were to have a glimpse of the work that Kiran Sagar is doing to underprivileged children in Bangalore through an NGO, Yuva Bengaluru. The 27-year-old IT professional, working for HP during the week, says: "I was inspired by three lines in a book by former President Abdul Kalam's book where he talks about Abraham Lincoln and how he played a major role in uplifting the US to its present position by inspiring its youth. Kalam urged individuals in India to contribute to making India into a global leader. That is when I decided I have to do something to be part of the solution and not the problem. I wanted a solution to all the major problems in our country like poverty, disunity, corruption and unemployment."
Sitting in Coffee Day, he discussed his plans with two friends. He did not want to do the usual charity of distributing gifts to an orphanage. "I realised that only if you are part of the problem can you find the solution and for me the education of underprivileged children was the first concern."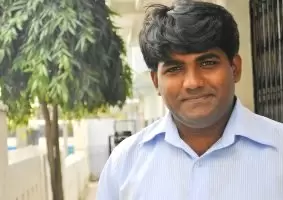 Young visionary: After reading Abdul Kalam's book, Kiran Sagar decided he needed to be part ofthe solution and not the problem and went on to start Yuva Bengaluru
To start with, Sagar went to five government schools in Bangalore and offered to teach their children free of charge. Finally, The Labourers Fellow School in Sheshadripuram which had been founded by Mahatma Gandhi in 1924 became his tour de force where he taught the Bhagvad Gita and recreational games to children from the nearby VV Giri slum, every weekend.

"A Times of India reporter noticed my regular visits to the school and ran a story under the 'Igniter of India' column. That gave me a break and I got to meet about 900 volunteers from the Teach India project of the Times group. Ten of them came forward to help with our project," he recalls.
Sagar got down to identifying the immediate requirements and needs for the school. "We found that the school had no toilets, no drinking water, the building leaked in the rains, there were not enough teaching staff, and no benches and desks for the students. We required rupees 14 lakh to meet the needs. When my friends realised my plan, they quit, so I begged them to come back and only teach. I told them raising the money was my problem," he says.

A door-to-door newspaper collection drive to raise funds in the nearby posh locality of Kumara Park saw several people coming forward to help. They organized a meeting with well-wishers in the school premises and presented the budget for the school renovation project to the 60 people present there. "One person offered benches, another person agreed to build the toilets, another agreed to take care of the painting of the school and that evening I got a commitment of Rs.9 lakh," says Sagar.
In four months Sagar completed the school renovation and by June 2009 many children from the surrounding slums came in and the school's strength grew from 150 to 400 children. Today the school boasts of a computer lab with 35 computers gifted by SAP Labs Pvt. Ltd, an IT company.
HD Kumaraswamy, the former Chief Minister of Karnataka, contacted Sagar and has requested him to start a model village in his constituency with the focus on health, education, empowerment of women and youth, agriculture and sanitation.
Yuva Bengaluru has also tied up with Narayana Hrudayalaya, a heart hospital, on a hundred crore project where NH conducts free operations on underprivileged children.

The vision of Yuva Bengaluru is simple: To create a peaceful, prosperous and progressive society by igniting minds towards the righteous path.

Wish to share your story?
Trending Now: