An American attempts female empowerment through football training in rural Jharkhand

Santosh H K Narayan
&nbsp | &nbsp Ranchi
12-November-2010
Vol 1&nbsp|&nbspIssue 11
Franz Gastler is no professional footballer. But the 30-year-old American, who grew up in Edina, Minnesota, and did his BA and Masters in International Political Economy from Boston University besides graduating in a program on Negotiation at Harvard Law School, has made a mark in Indian football. About 15 kilometres away from Ranchi in Jharkhand at the dusty, hot Rukka Village, he is busy training women football players.

Franz came to Rukka to work for the betterment of the poor and marginalised girls of the area by choosing innovative way to empower them through his US based non-profit organisation named Yuwa. Franz had earlier worked as a consultant for the Confederation of Indian Industry (CII) in Delhi and got associated with Krishi Gram Vikash Kendra (KGVK), based in Rukka.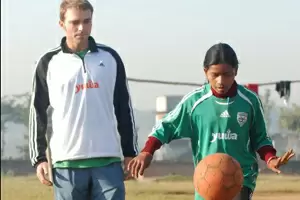 Franz Gastler took up the challenge of football coaching as he saw in it an opportunity to work for female empowerment in the hinterlands of Jharkhand
He started teaching English at a school in Hutup Village, very close to Rukka. "One of the girls in the village, Suman, asked me to start a football team for girls. It was entirely her idea. We asked her to organise some girls, promising to coach them. She asked her family and friends to join and we started out with 15 girls in this one village in 2009," recalls Franz, who hadn't played football until then.

"I was always immersed in organised sports and used to be surrounded by great coaches my entire life. Additionally, I've been teaching kids to ski as a ski instructor for over 10 years. So, coaching itself is not new to me," he says explaining how he managed to do it. He also learnt skills and coaching drills over the internet.

The path-breaking step taken by an 'outsider' didn't go unopposed. Franz had to face stiff resistance from the villagers who were not feeling comfortable in allowing their female wards to play a sport considered for males. "Later, after seeing the performance of the girls they allowed us to continue," says the American.

He also had to overcome the language barrier, and picked up Hindi with the help of his comrades-cum-full time coaches - Anand, Hiralal, and Manoj and program director, Helena Tete.

A year later, out of the first 55 girls, none of whom had ever played football, 25 were selected to be trained at the Tata Football Academy. Later 17 girls were selected to represent their state and 13 selected for the Under-13 State team. The icing-on-the-cake moment came when Puspa got selected to represent India.

Football has taught the girls some of the most important lessons in life including the qualities of teamwork, discipline, self confidence, and anger management. Even school attendance and academic performance has improved among the girls.

Today, there are over 200 girls and 55 boys in 10 villages associated with the cause. Yuwa is building a cadre of 100-plus female community sports leaders who will be coaching 2,000 girls daily in three years. The goal is high but the kick is powerful enough!

Wish to share your story?
Trending Now: