Overcoming an incapacitating genetic disorder, two sisters dream of making music

Abhishek Pandey
&nbsp | &nbsp Kanpur
17-September-2010
Vol 1&nbsp|&nbspIssue 3
Not letting their disability come in the way of realizing their dreams, twin sisters of Kanpur, Shruti and Gore Bhatla, are all set to launch their maiden music album Ek Nai Subah (A new morning) soon. But the project itself is something that can happen only in dreams for many. For, the 18-year-old girls suffer from Osteogenesis Imperfecta, an incurable genetic bone disorder; they cannot stand or walk because of fragile bones in their body structure, which is caused by the disorder. The disease has also restricted their body growth and the twins are only three feet tall.

But the sisters have been achieving what they wished for in life. Their passion for singing and drawing has already brought them the national award for their creative art and now Ek Nai Subah with famous Bollywood playback singers Alka Yagnik, Kumar Sanu and Sadhna Sargam is set for release.

Among the honours they have received are: Bal Shree Award for creative arts (2007), Rajkiya Purushkar (2008), Shaurya Purushkar (2008) and National Award for persons with disabilities (2009).

Talkative of the two, Shruti, with a smile, says, "My parents and siblings played a pivotal role in helping me cope both physically and emotionally with fractures and other maladies. Because of family support I never felt isolated in society. I have enjoyed my life to the fullest."

Shruti says that she always believed that she was a privileged child and not an unfortunate kid. Both the differently-abled children credit their parents in helping them become independent. Their parents gave them strength and determination needed to overcome any obstacle in life, they say.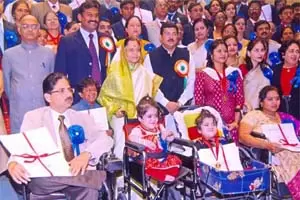 The Bhatla Sisters: in elite company
On her singing and other interests, Shruti says her mother inspired her towards singing at a very early age. She has always loved watching TV and listening to songs for hours. She wants to work with Lata Mangeshkar someday as a playback singer. Other than singing, she and her sister like drawing, jewellery designing and cooking also.

Sonia Bhatla, the mother of the twins, gives all credit to her vivacious twins for their success. "We have had to take extra care of my daughters, as the girls suffer from a severe form of Osteogenesis Imperfecta. According to the doctors, the girls could break a bone from just rolling over in bed or while taking bath. We had never heard of such disease earlier and took excessive care while bringing up the girls."

Despite the intense care by the parents, the twins suffered several fractures during their childhood. And, then following the doctors' suggestions, the girls remained at home till they were 15 years. During that period at home, the girls developed several skills, displaying a never say die attitude.

Several famous personalities like the President of India Pratibha Patil, senior politician Lalu Prasad Yadav, and Bollywood personalities Salman Khan and Udit Narayan have appreciated their singing talent. The Bhatla twins have also made their appearance as singers in several television shows broadcast on different TV channels.

Answering the question on how they cope up with OI, Gore Bhatla says, "I was determined to fulfill my dreams and I never let anything come in the way of my dreams. My determination solved every problem that came my way."

Gore wants to build a school for children like her and wants to devote all her life for the cause. "There is no school in our city where such children could go and attend classes and our disease made it physically impossible for us to study in regular schools," says Gore, who does not want other children like her to suffer. The National Council of Educational Research and Training has plans to make a documentary film on the sisters.

The girls are full of hope. They are full of life. They have a lot of dreams. And they are confident of realizing their dreams.
Wish to share your story?
Trending Now: