Keeping with the times, weekend after weekend

P C Vinoj Kumar
&nbsp | &nbsp Editor, TWL
09-December-2010
Vol 1&nbsp|&nbspIssue 15
When The Weekend Leader was launched on September 3rd, we entered the world of online journalism with a self-imposed mandate to engage in positive journalism. Three months and over hundred stories later, when we look back, we have reasons to feel happy about our performance.

Our track-record in this period speaks for itself. Week after week we have been consistent in our coverage of positive stories, delivering to you inspiring stories of courage, innovation, resilience, heroism, and success. We have recognised people who fight for the larger public good, and brought to you stories of men and women whose purpose of existence clearly extended beyond their self and their families.

On several occasions our lead stories have been about ordinary people doing commendable things. There was one on Abhishek Singh, an MBA student, who has been educating street children at the Kanpur Railway Station for nearly three years now. He refused to move out of the city for his higher studies along with his friends in order to continue his service. Stories like these egg us on in our mission to keep identifying and reporting about such real-life heroes who are doing their bit for society, even as the rapists, looters and criminals continue to hog the limelight in rest of the media.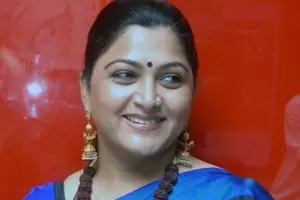 She has played many roles on the celluloid screen. At The Weekend Leader Khushbu dons a challenging real-life role of Features Editor
While page 3 women gracing the pages of your dailies are made to pass off as activists, we ran a lead story on the brave Sonu Singh, wife of a truck driver, who brought the State to its knees through her relentless campaigning for a special police inquiry into the brutal rape and killing of her 11-year-old daughter.

While writing about such inspiring people from the hinterlands of India, we have not ignored the achievements of the younger urban lot in diverse fields. The Weekend Leader will continue to celebrate success in every field. If some people think that positive journalism means to stay clear of entertainment or feel-good stories of achievement, we would like to clarify that we have not drawn such restrictive circle around us. TWL's scope of positive journalism is quite wide and inclusive.

We will constantly adapt and evolve. As you could see, we have a new design in place, along with some new features like 'Kudos to Positive Journalism' and 'My Five Goals'. To make it easier for all of you to stay tuned to our updates, we have integrated the RSS Feeds and Email subscription facilities on our site. The 'Blast from the Past' section will showcase some of our best stories from our Archives. We have also created a new section called 'Daily Leader' where we will be posting periodical content, besides the regular weekly menu that we post on Fridays.

However, a more exciting development is popular film star Kushbhu's entry into The Weekend Leader team as Features Editor. Whenever she finds the time, she will write on some of the social issues she is concerned about. She has expressed an interest to write on issues such as health, education and child abuse. At our last meeting, she listed a whole lot of suggestions and ideas to improve our features content. She will join TWL's other editors, Consulting Editor Sam Rajappa and Consulting Photo Editor Senthil Kumaran, in constantly striving to improve content.

On this occasion, I would like to express my special thanks to my friends Ramesh Ranganathan and Rahul Ramachandran, who have been the backbone of support to this exciting project in Indian journalism.

Last but not least, I thank all our loyal readers, and request you to introduce the site to your friends and relatives. Keep giving your feedback. Don't forget to subscribe to the free email updates. Help us to cross more milestones and reach out to more readers. Thank you.
Wish to share your story?
Trending Now: