The face of a new Kashmir waiting for a change

Aditi Bhaduri
&nbsp | &nbsp Srinagar
06-May-2011
Vol 2&nbsp|&nbspIssue 18
As I left the main road, there was nothing but dirt tracks that had turned slushy because of the recent rains. Baki Aker village in Handwara in Kupwara district is only a two hour drive from Srinagar, but it seemed to inhabit another planet, with puddles in place of footpaths and electricity available for, at the luckiest, an hour a day.

I had come here to meet a special woman – 33-year-old Sharifa Begum. Dressed in a khaki green 'phiran', a 'kangri' close to her chest and the 'dupatta' framing her face, she was one of the many brave women contesting a panchayat election held in the Valley in more than a decade. (The panchayat election is being held in phases in Jammu and Kashmir from April 13 and will conclude on June 18.)

Sharifa decided to contest the polls, taking advantage of the 73rd amendment to the Constitution, that mandates 33 per cent reservation for women in local bodies, and she is doing this in difficult, conflict-marked times. Indeed, a couple of houses away lies the debris of a house that was blown apart a few months ago in an encounter between the security forces and a militant. Just two days earlier a letter had arrived at the local mosque during Friday prayers in the nearby Gulina village, asking the villagers to boycott the polls.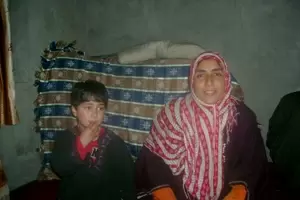 All for a cause:Sharifa Begum of Baki Aker village (seen with her daughter) feels women will feel comfortable approaching her with their problems if she is elected (Photo: WFS)
A mother of two small children, Sharifa who has studied till Class X in this very village, is married to a cloth shop owner. She is well known in the village, having often counselled young girls on domestic matters. Her husband also encouraged her, as did the villagers when she began campaigning from house to house. Since most of the household heads are male, her husband accompanied her and did his bit to convince the men about his wife's candidature.
It is fitting that Baki Aker village has been reserved for women. It has 150 voters, the majority of whom are women. While Kashmir has a number of high profile women politicians, women's political participation in the valley is still low. As Sharifa put it, "Women here will be able to approach a woman leader more easily with their particular problems. They cannot discuss everything with men."

Sharifa's opponent is Parveena Begum, who is in her early 50s. When Parveena campaigned, it was her husband, Peer Abdur Rasheed, who did most of the talking.
In neighbouring Dudipora village, the candidate Hasina Begum, 30, is wife of Bashir Ahmed Mallik, a fruit vendor and has the support of her brother-in-law and her mother-in-law too.
Slight of frame, Rosie, 25, was all ready to take on Hasina for the reserved seat of Dudipora. Her husband is a driver for a local businessman and she has two children, aged five and three. Rosie has studied up to Class VIII and been twice to Srinagar.

Village after village cries for change. Unemployment is high among the youth, there is no electricity to speak of, and neither are there roads and toilets. Schools and health centres are sub-standard, and central schemes for rural welfare remain unimplemented. Added to that are the over-riding costs of conflict. Immediately after polling began in these panchayat elections, a woman candidate from Pakherpora in Budgam district was gunned down. With that a shroud of fear seemed to descend, causing many candidates to withdraw their nominations.

This makes the courage and determination of illiterate homemaker, Zeba Begum, 46, from the village of Zuhama, also in Budgam district, all the more commendable. Zeba, a mother of four, fought for one of the two seats reserved for women in this block despite the fear unleashed by potential assassins.

Like the others, Zeba too wants to "help the poor" and battle unemployment. She would also like to build proper roads and footpaths, and a place for the children to play in.

Zeba Begum, Sharifa Begum, Parveena Begum, Hasina Begum, Rosie Begum – they are all semi-literate ordinary village women, without any security cover, who are facing extraordinary dangers in order to transform the lives of others. They have become the face of a new Kashmir impatient for change.

Women's Feature Service

Trending Now: