A rickshaw puller's daughter brings glory to India

Santosh H K Narayan
&nbsp | &nbsp Ranchi
22-October-2010
Vol 1&nbsp|&nbspIssue 8
The obscure dusty village of Ratu, with its 200-odd houses, in Jharkhand suddenly came under media limelight when Deepika Kumari, daughter of Shiv Narayan Mahato, an auto-rickshaw driver and Geeta Devi, a nurse, won two gold medals in archery events at the Commonwealth Games.

The dusky girl with a pair of dimples on her ever smiling cheeks brought all the glory for the village, nay the country, just because she stayed glued to her childhood passion of shooting arrows with hand-made bows, a common practice in Jharkhand villages. "Initially we did not realise that the fun game had transformed into a passion for her. Later, I realised that she was meant to be an archer," says her mother.

However, Deepika's journey into the world of organised sports began when the owner of the Seraikela-Kharsawan Archery Academy, Meera Munda, wife of incumbent Jharkhand Chief Minister Arjun Munda, spotted her talent and admitted her into the academy. Later, she moved to the Tata Steel Sports Academy in Jamshedpur, a well known sports training centre.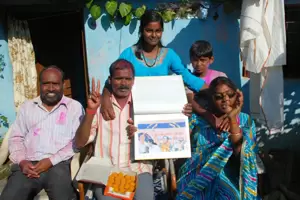 Winner takes it all: The two gold medals that Deepika Kumari won at the CWG has brought great joy to her family and village
Earlier, Deepika's mother was not too pleased with her taking up archery due to financial and family reasons. She was the first to play any sport in the family and being a girl she never encouraged her passion at the beginning. "Deepika's father was the only breadwinner and his income was not enough for us. Since Deepika was also good in her studies, I wanted her to pursue her education seriously," says Geeta Devi.

Deepika's father worked extremely hard to meet the initial expenses of training his talented daughter in the sport and never allowed poverty to come in the way of her training. He never hesitated spending whatever amount was required for her equipment and training. "I managed to buy the first bow by overlooking my own medical needs," says the proud father.

Later, she got a monthly stipend of Rs 6,000 from the Tata Archery Academy, which provided some respite to her family. "Now things have changed. I feel proud of her," says the excited mother. Earlier, Deepika had won the gold medal in the cadet (junior) category at the World Archery Youth Championships at Ogden in the US in 2009.

"When I saw my daughter hitting the bull's eye at the Commonwealth Games archery competition the only scene that flashed through my mind was the 130-km-long motorcycle journey to the Saraikela Archery Academy with my daughter," says her proud father with tears of joy rolling down his cheeks.

Now the humble girl from Ratu has become a role model not just for her village but millions of others who are chasing their dreams. "Her success has given us enough confidence that we can do well also. I wanted to become a doctor and now believe that I can," says Manish, a student in the final year of school in the same village – where, incidentally, no one has entered college.

Deepika, who is ranked 12 in the world, attributes her success to the daily eight hour practice she had put in for the last two years. However, she does not want to rest on her laurels and is aiming for a similar result in the much tougher Asian Games in November. But the people of Ratu hope that she will do it at London in 2012, too.

Wish to share your story?
Trending Now: