Now she does not regret having not sat for the Civil Services

Santosh H K Narayan
&nbsp | &nbsp Ranchi
03-December-2010
Vol 1&nbsp|&nbspIssue 14
The first woman to win Rs one crore in superstar Amitabh Bachchan anchored popular game show Kaun Banega Crorepati (KBC) on Sony TV had once dreamt of sitting for the Civil Services examinations like her friends in college. Today, 37-year-old Rahat Taslim does not regret having missed on the civil services. "It was perhaps my destiny to find fame like this and may be that is why I did not get opportunities in the past," she says.

Born in a traditional Muslim family with no open access to outside world, she completed her graduation from a women's college. She got married at the age of 18 and turned a homemaker. Rahat, who answered 13 questions that Amitabh Bacchan posed to her in a row to take home the winner's cheque of Rs 1 crore – which minus taxes comes to around Rs 67 lakh – in early November recalls the day she got a call from KBC.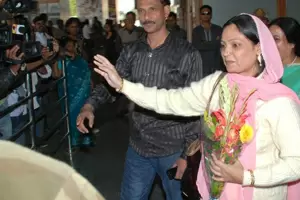 Rahat Taslim plans to spend a portion of her prize money in providing free tailoring classes to underprivileged women
But for her husband who works for a public sector undertaking and is based in Kochi, no one in the family encouraged her to participate in the game show. "My husband was also not that confident," she says. But the mother of two – Faisal (15) and Tazim (7) - from a small town of Giridh, about 150 kilometers from Ranchi, her birth place, not only pulled off a big surprise but also got the chance to meet her childhood superstar.


Showing great zeal and belief in her capabilities, Rahat encountered the first question that the game show organizers posed to her over the phone about Hindu mythological characters: "Where were Bharat and Shatrughan born?" "I was pretty confident about the answer and replied 'Ayodhya'. It led to my further tests," she says. KBC contestants are put through a series of qualifying rounds before they take the hot seat with the Big B.

She always put forth her confident face before Big B while facing him during the show. Rahat made good use of her 'general knowledge' to answer the questions posed to her.

Meeting Amitabh face-to-face was a dream come true for Rahat. "I visited his home and office. I never thought that it may happen ever. His face is still floating in my eyes," she says excitedly.

Rahat runs a tailoring school at her home, where she now hopes to train girls belonging to deprived families. "Every woman has talent. What is required is an opportunity to bring it to the open. If they get opportunity they won't remain behind anyone. I will play my part in infusing confidence among the poor girls in my locality by giving them training in my school," says Rahat. She also plans to spend some of the money on improving her house, meeting medical expenses of family members and give her children a better education.

Once, she was considered to be very unlucky by her mother because she lost two of her brothers and one sister. But after winning the KBC jackpot she will be remembered as the luckiest member in the family.
Wish to share your story?
Trending Now: