Founder of Positive Women's Network is positive about bringing succor to women and children with HIV

P C Vinoj Kumar
&nbsp | &nbsp Chennai
10-May-2014
Vol 5&nbsp|&nbspIssue 19
At 2 years, Kousalya Periasamy lost her mother. Her father remarried, and her step-mother began to mistreat her.

Kousalya was then sent to her maternal uncle's house where she grew up. She was married off at 19 to a close relative, a lorry driver. Relatives told her it was her deceased mom's wish that she should marry him.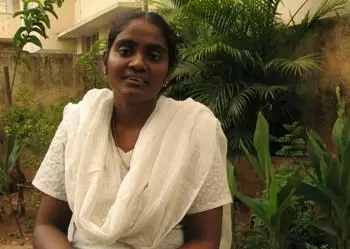 Kousalya, along with 4 others, founded Positive Women Network as a support group for HIV positive women in 1998
Two weeks after her marriage Kousalya fell ill. Tests confirmed she was HIV positive. Later, she came to know that her husband had taken the HIV test a few days before their wedding and had tested positive.

He had concealed the information from her family for obvious reasons. Seven months later her husband committed suicide.

Many in Kousalya's place would have wallowed in self-pity and blamed their fate for all the misfortunes that had befallen them.

But not this braveheart, who shook off the disappointments and the tragedies that beset her life, and extended a comforting hand to hundreds of other HIV positive women, giving them emotional support and the encouragement to face life's challenges.

Kousalya, along with 4 other women, founded Positive Women Network (PWN) as a support group for HIV positive women in 1998 in Chennai.

Those were hard days for HIV patients. People then believed that AIDS virus would spread through air and even doctors were scared of treating HIV patients.

"There were many myths about the disease, but the situation has improved much now," says Kousalya, whose organization works with around 30,000 HIV positive women in 13 States.

"We basically teach the women about their rights. We believe that only when you are aware about your rights you can demand them," says Kousalya, who became the first Indian woman to declare publicly that she was HIV positive back in 1995.

There are about 2.5 million HIV positive people in India now. "About 40 percent of them are women. It is estimated that nearly 86 percent of the women got the virus from a single partner, in most cases their husband," she discloses.

She goes on to dispel certain false beliefs about the disease and says 92 percent of children born to HIV mothers are not born with the disease.
"Many government hospitals in the country take HIV tests for pregnant women. Treatment is provided to women who test positive. But even without medicine the chances of the disease transmitting to the child is very less," she says.

Fifteen years ago the cost of anti-retroviral drugs used in treatment of HIV/AIDS – which can only be controlled and not cured – was very expensive. In 2000, when Kousalya began her treatment, she used to spend Rs.7500 every month on her medicine.

Now the drugs are available free of cost in government hospitals. PWN along with other agencies fought for free treatment of HIV patients.

In one instance, Kousalya along with several other HIV positive people staged a dharna in Namakkal when 3 AIDS patients died in a single day at a government hospital in 2003. "The hospital did not give them proper treatment even though it had facilities to treat HIV patients," she says.

In 2004, free treatment was introduced in two government hospitals in the country, one in Chennai and another in Mumbai.

Gradually the free treatment got extended to one government hospital in each district of the country. "The free treatment facility is now available in nearly 80 percent of the districts in India," says the 40-year-old soft spoken activist.

PWN's priority now is to get one Women Resource Centre (WRC) for HIV women in places where the HIV infection rate is high before end of the 12th five year plan in 2017.

"The Government intends to create one WRC at every block in the country. We are demanding that they allocate one WRC exclusively for HIV women in places where HIV prevalence is high.

"We want these centres to guide the HIV women to deal with the various problems they face in their daily lives and to motivate them to share their experiences with other women in society so that correct awareness about HIV is spread among them," says Kousalya.

She says the government has already set up two such centres for HIV women in Ajmer (Rajasthan) and Nagpur (Maharashtra).

Looking back, she says a National Consultation for Women Living with HIV held in Chennai in 2002 was a milestone in breaking the stigma attached to HIV positive people.

"Twenty students from Loyola College volunteered for the event. They worked closely with us. They escorted the HIV women participants from other states, took care of their children when they were attending the meetings and were very helpful."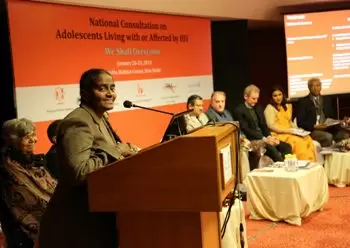 PWN has also started working among HIV positive children and adolescents. Kousalya addressing a meeting convened to discuss the issue
She also mentions the support of the media in creating awareness about the problems faced by HIV patients and in dispelling myths associated with the disease.

"After the Consultation, The Hindu promised to carry one article on AIDS awareness every month. One of their top editors, Nirmala Lakshman, and reporters Pramod Kumar and Ramya Kannan were very helpful in supporting our cause," she recalls.

Since last year PWN has also started working among HIV positive children and adolescents. "We conducted two programs and connected with about 150 children.

"We want to find ways to stop discrimination of HIV children in schools and work for setting up of youth resource centres for HIV children, who could then come together and be a support for each other," says Kousalya.
This Article is part of the 'Unsung Heroes of Tamil Nadu' series
Other Articles in the Series
Anbu and his bunch of social workers spread the message of love through action
Nurturing a society of tree-lovers in Coimbatore
'I will be happy if I can create examples like the Thenur model'
Youth heading 7000-strong volunteer network is not done yet
He led the campaign for auto fare revision and it changed the road scene
The rise of a champion, from child labor to motorcycle racing
A Good Samaritan who won't give his photo for media
A Tamil lecturer doubles up as an owner-worker of a free school for destitutes

Trending Now: