Even motorcycle racers can be made on ordinary roads with humble machines

P C Vinoj Kumar
&nbsp | &nbsp Chennai
06-December-2013
Vol 4&nbsp|&nbspIssue 49
Are champions born or made? This is the question you might ask yourself if you hear the story of S Sarath Kumar, the first motorcycle racer from India to secure a podium finish at an international motorsports event.

Sarath got the 3rd place at the Italian Championship last year beating riders from Italy, France, Spain and many other countries.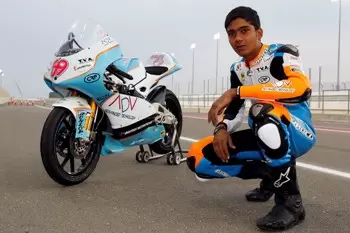 Sarath Kumar, one of India's top motorcycle racers, was a child laborer once (Photos Courtesy: Sarath69.com)
At the ongoing national championship, he is leading the race after 4 rounds –1 more round is left in Chennai - and is set to regain the championship that he last won in 2010 (165 cc expert category).

But what adds more glitz and glitter to Sarath's success story is the fact that the ace motorcycle champion was a child laborer, before he took to bike racing at the age of 16.

The 21-year-old Chennai boy started working at a signboard company after school hours when he was just 8.

"I remember fixing signboards at Koyambedu bus terminus (Chennai Mofussil Bus Terminus or CMBT) even before it was inaugurated in 2002. I used to make Rs.10 daily," says Sarath.

That money was a support for his mother, who was looking after the family with her meager earnings as a tailor in a garment export factory. Sarath's father had deserted the family when he was just a baby.

He dropped out of school after class 9 and joined a steel hardening and tempering factory for a monthly salary of Rs.1800.

When he entered a bike race organized by TVS Motors in 2008 at Sriperembedur, it was the first time he stepped on a race track. Riders had to pay a registration fee of Rs.500 and they would get a TVS Apache bike with fuel to participate in the race (165 cc category).

His familiarity with bikes until then was limited to the TVS 50 moped (50 cc) they had at home.

"I loved riding my TVS 50 and used to practice wheelies with it. I used to borrow higher cc motorbikes sometimes from friends and neighbors to go on short rides," says Sarath.

He entered the racing track wearing a jean since he had no proper riding gear. It was the fire in the belly and the sheer will to win that saw him finishing second in the 6-lap race.

TVS officials spotted his talent and took him into their team. He got the chance to race for TVS in the novice (125 cc) category of the national championship that was held in Coimbatore the same year.

Sarath was excited about the great opportunity, but he had no money to travel to Coimbatore. A fellow rider, Karthick, gave him Rs.500 and helped him.

"I bought a train ticket for Rs.82 and travelled on an unreserved compartment to Coimbatore. For three days, I stayed and slept at the track since I had no other place to stay," says Sarath.

But his good luck continued at the track and competing against more experienced riders he won the race.

"I never knew they would give prize money. But two weeks later I got cash award of Rs.8000, which was about 4 times higher than my salary then," he recalls.

It was an encouragement for him and he began to focus on racing as a career. In retrospect, it was a smart decision. With his passion and hard work to become a champion, offers kept coming by.

He left TVS and joined Ten 10 Racing India and later Mahindra team. He is now representing his namesake and Tamil actor-politician, Sarath Kumar's team, S K Sarath 69 Sports.

In his short career, he has participated in over 100 races and has won about half of them. He got overall second position at FIM Asia Cup at Taiwan in 2012. He was the national champion in 2010 (165 cc).

Racing being an expensive sport, he finds it difficult to meet the expenses for the training and also support his family. His younger sister is studying in class ten.

Last year, he purchased a car (Toyota Etios) and plied it as a taxi. He drove the taxi himself for few months, but it proved too stressful and affected his training. Now, he has put a driver, but that has meant a cut in his income.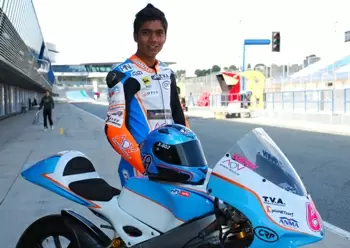 Sarath drove a taxi for few months to support his family
He estimates that he might have won about Rs.6 lakh prize money in his racing career so far. But given the expenses for his training, he has not been able to save much.

"I need around Rs.25000 per month for my training. I am able to breathe a little easy now since Sarath sir is taking care of the expenses," says Sarath.

He is longing for the day when racing would receive the recognition and support that other sports get in this country.

"I will be very happy if the State government extends assistance for my training programs. I want to bring more laurels for the country," he says.

Finally, what is his advice for youngsters zipping away on their bikes in crowded public roads?

Sarath smiles and reveals that he only rides a scooter in the city. He says it is risky to ride at high speed in city roads.

"It is risky for both the rider and other road users. Those who love speed should go to the racing tracks and demonstrate their skills," he says.

This Article is part of the 'Unsung Heroes of Tamil Nadu' series

Other Articles in the Series

Nurturing a society of tree-lovers in Coimbatore

'I will be happy if I can create examples like the Thenur model'

Youth heading 7000-strong volunteer network is not done yet

He led the campaign for auto fare revision and it changed the road scene


Wish to share your story?
Trending Now: