Nurturing a society of tree-lovers in an unassuming but definite way

P C Vinoj Kumar
&nbsp | &nbsp Coimbatore
08-November-2013
Vol 4&nbsp|&nbspIssue 45
She is not an activist in the Medha Patkar mould, travelling from one place to another and spearheading agitations.
But her efforts to motivate children to care for the environment, and her passion for planting trees and tending them, are no less commendable.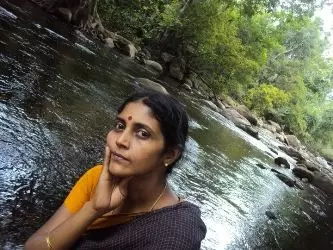 Karpagam and her students plant trees and take care of them till they grow up
At 46, Karpagam Ramalingam is proud to let you know that she has just become a grandmother and is pretty tied down looking after the baby. So, it takes about a month before we meet up.
It's a pleasant day in Coimbatore, thanks mainly to the overnight showers.
At Ram Nagar, around twenty children are gathered at Karpagam's house. These are young green warriors, who like to plant trees on roadsides, and water them during weekends.
A former teacher, Karpagam takes tuition classes for them. But beyond textbooks, she teaches them love for nature.
"We do tree planting at least once a month. Every weekend my students make it a point to water the saplings to ensure they survive and grow into tall trees," she says.
With the help of sponsors they erect tree guards around the plants. In last nine years, she and her students have planted about 12,000 saplings, both native and exotic species, in and around Coimbatore.
They visit nearby forests and go on occasional treks to explore nature. All these activities have made the students more environmentally conscious.
Ketki, a former tuition student, who is in college now, says she no longer litters in public and is keen on keeping the city clean. All of them take cloth bags to shops and have stopped using plastic carry bags.
Abishek, a class ten student, has formed a group called Go Green Gang with his friends and they have planted about 22 trees near their school. "We have vowed to take care of the plants even after we leave the school," he says.
Some of Karpagam's former students who have either taken up jobs or studying in college remain in touch with her and take part in her tree planting programs.
Like Ketki, Natchiyar, a former tuition student is also in college. They are among the active members of Karpagam's NGO, Oli Awareness Movement, which was launched about nine years ago.
The students are currently involved in a tree census program funded by National Agricultural Data Bank. Some of them were trained in conducting the census at the Forest College and Research Institute in Mettupalayam.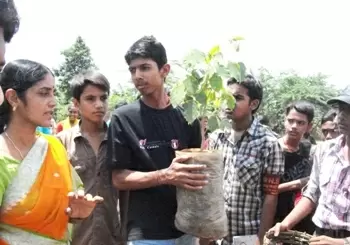 Students do tree planting activity at least once a month
On Saturdays and Sundays, students fan out in groups of five to count the trees located in the Central Zone of Coimbatore. About 100 students are involved in this program.
"We note down details like height of the tree, its girth, crown diameter, and mark its exact location through GPS," says Manoj.
The census work started in May and they have enumerated around 1000 trees until now. Coimbatore has been divided into five zones. More NGOs are involved in the census in other zones.
One might think tree planting is an easy task and hassle-free. But like any other type of activism, it offers both challenges and rewards.
Nat far away from her home, at Sengupta Street, Karpagam points to a 12-year-old tree that stands stripped of its leaves, and dead.
"It just started withering for no apparent reason. Then we found out that some miscreant had injected acid into its roots to kill the tree," says Karpagam.
She says some protest planting of trees near their houses since they consider trees a nuisance, which they fear might block the view of their house or send out roots that would damage their building.
Many trees they planted in the city have been felled by the Corporation and other government bodies like the electricity board.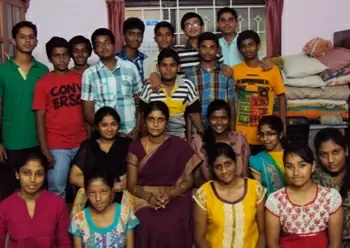 Karpagam with her team of young green warriors
Near the District Collector's office, Karpagam shows the area where they planted about 14 trees nearly nine years ago. Her children watered the plants with great difficulty. But only five trees remain now, as the rest have been cut down by the Corporation for laying storm water drains.
In other places, electricity board and telephone department workers had chopped down numerous trees.
At Sivasamy Road, auto drivers planted saplings at their stand and took turns to water the plants. Those who missed their turn were not allowed to operate their auto from the stand for three days.
"We used to sit under the shade of the trees. The electricity department cut down the trees and now just a couple of trees are left," says Radhakrishnan, a driver in the stand, who is part of Karpagam's team. He has taken part in several tree planting programs since the last ten years.
Last year, the state highways department cut down nearly 3000 roadside trees in Coimbatore in just under two months.
Karpagam filed a PIL in the local magistrate court and managed to restrain the authorities from cutting nearly 300 trees on Marudamalai Road for a day. But she was unable to pursue the case in the Madras High Court, as it involved huge costs which she was unable to meet.
The teacher-activist is also a writer. Karpagam has written few books for children in Tamil, among which is an abridged version of a Tamil classic novel, Ponniyin Selvan.
Her husband works in a bank and she has two daughters. While the elder one is married, her younger daughter shares her interest in environment.

This Article is part of the 'Unsung Heroes of Tamil Nadu' series

Other Articles in the Series
'I will be happy if I can create examples like the Thenur model'
Youth heading 7000-strong volunteer network is not done yet
He led the campaign for auto fare revision and it changed the road scene
Wish to share your story?
Trending Now: