Youth heading 7000-strong volunteer network is not done yet

P C Vinoj Kumar
&nbsp | &nbsp Chennai
19-July-2013
Vol 4&nbsp|&nbspIssue 29
At a young age, Kartheeban Chandramohan was exposed to the harsh realities of life. He realized that childhood itself is not the same for everyone.

He had a friend back in his village school who worked at his father's cycle repair shop after school hours, and did not have money to pay school fees or buy even notebooks.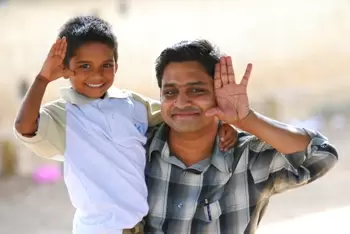 Kartheeban's team of volunteers are working to empower children from poor families
In class eleven, when he joined a new school in Chennai, a classmate introduced himself and said his father was a diamond merchant. Kartheeban had a chance to observe the lives of both the rich and the poor.

It made him aware that there were people in this world who were less fortunate than the others and they needed help.

Kartheeban, son of a high school headmistress, and a small town photographer dad, hailing from a lower middle class family that just managed to get along and lead a simple life, resolved to render that help in small ways that would not cost him much, but only require his time and skills.

At 28, Kartheeban today heads an NGO, Team Everest, with over 7000 registered volunteers, most of whom are employed in the IT sector.

"I started Team Everest in 2006 with two simple goals; to help the needy and to also motivate others to do their bit," he says.

Kartheeban started doing social service while doing his bachelor's degree in metallurgical engineering from Government College of Engineering, Salem. He volunteered for local NGOs and taught at orphanages.

But he scaled up his activities after he got a job as a java programmer at a leading IT company in Chennai.

Making a contribution from their first month's salary, he and three other friends raised Rs.4000 for distributing uniforms, and notebooks to poor children studying in a government school at Sirumoor in Tiruvannamalai district.

Kartheeban had spent most of his childhood years in Arani, a small town in the same district. He had studied in a village school, before shifting to a better school in Chennai for his higher secondary education.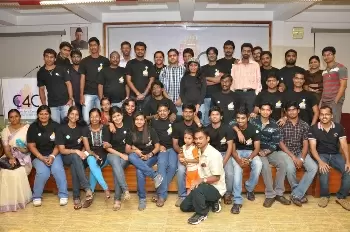 A group of Team Everest volunteers
"As more volunteers registered with us, we started doing more projects. In 2012 we did about 598 projects, involving an expenditure of about Rs.13 lakhs and total of 23, 000 volunteering hours," says Kartheeban.

They work mostly with children, and their projects are designed to empower them by building their skill sets and self-confidence. They also provide financial assistance to meritorious students from poor families to pursue their studies and help them avail bank loans for higher education.

'Help a Kid Read' is one of their main projects, for which around 300 volunteers have signed up. The three-year-old project is aimed at improving the reading skills of school children.

The Annual Status of Education Report released by an NGO found that reading levels were low among school children in India.

Team Everest decided to address this issue and is currently working in 4 schools – 3 government and 1 government aided – where about 200 children from classes six to eight are being trained to improve their reading skills.

"We consider this project important because only if the child is able to read, it can start learning," says Kartheeban.

Volunteers are specially trained for the task and they take classes at each of the schools every Saturday from 10 am to 1 pm.

While choosing projects, Kartheeban and his team try to think out of the box, so that their projects meet specific needs of children.

To illustrate his point, Kartheeban recalls a project they undertook at a suburban school in Chennai. While visiting the school, he found that many children had not buttoned their shirts.

Upon checking, he found that in most cases buttons were missing in the shirts and it was not an issue of indiscipline.

"Nobody bothered to stitch the buttons for the children, neither the parents nor the teachers. It is hardly a two-minute job, but no one had given it a thought. So we trained a few children to stitch buttons and kept some thread and needles in the school office.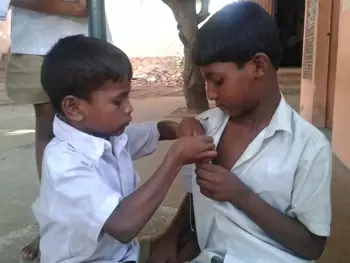 Empowerment: A child stitching a button
"Now whenever these children see any student in their school without button on their shirt, they would stitch it for them," says Kartheeban.

Team Everest has adopted 10 villages in Tiruvannamalai district, where they have employed part-time teachers to teach batches of about 30-40 children basic literacy skills like reading, writing and simple arithmetic.

The team has just launched an ambitious project called 'Contest for a Cause' where participants would compete to showcase their talents in the fields of arts, visual (photography & short films), and technology.

The winners in each category would receive prize money ranging from Rs.50, 000, to Rs. 20, 000. Total prize money will be Rs.12 lakhs.

Unlike other competitions, the winners will not take the prize money home. They would instead donate it for specified social causes during the 'Joy of Giving' week in October.

"My dream is that every Indian should volunteer for a social cause at least once a month," says Kartheeban, who is soldiering on with great enthusiasm towards his goals despite losing his mother to cancer two years ago, and his father, who died of a heart attack in May.

Both their bodies were donated to Theni Medical College.
Wish to share your story?
Trending Now: