He quit his job in the US with annual package of $ 90,000 to serve in India's villages

P C Vinoj Kumar
&nbsp | &nbsp Thenur (Perambalur Dist, TN)
16-August-2013
Vol 4&nbsp|&nbspIssue 33
It is just 9 pm, but there is not a single soul on the road. With only the car's headlight beam to guide us, we drive on a lonely, dark stretch, until we reach a village where the folks are ready to go to bed, pulling up their cots on the roadside outside their houses.

Some are already curled up on mats in their thinnai (verandah). The sight is a study in contrast to life in cities inside posh gated communities and apartment blocks.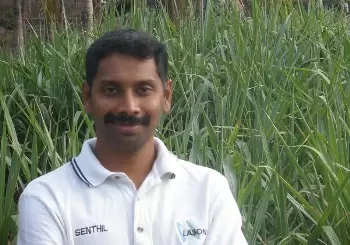 Senthil gave up a high paying job in the US to work in the villages
We are nearing Thenur village, about 40 km from Trichy, in Perambalur district, one of the most backward districts in Tamil Nadu, where Senthil Kumar Gopalan, a mechanical engineer who returned to India in 2004 after quitting his high paying job in the US, is working for change.

People of Thenur are no different from their counterparts in neighboring villages, and work mostly as agricultural laborers, or in stone quarries. Many also rear goats for a living.

With insufficient rainfall, absence of irrigation facilities, and an acutely low ground water table, agriculture has been hit badly here and much of the land is lying fallow.

However, the good news is that the winds of development are already blowing in the village.

"You can use your laptop to check your mails. Our office is Wi-Fi enabled," Senthil tells me, as we settle for a late dinner at their community kitchen in the 6.77 acre campus of Payir - the name of their NGO in Thenur.

Think of it, had there been no connectivity here, I would have to travel about 20 km to reach the nearest internet café.

The dosa and sambar they have made tastes good, as would their kuli paniyaram I would be served for breakfast the next morning.

Senthil (40) stays at the campus with his wife Preethi (28), a homeopathic doctor, and a couple of other staff. There are no houses nearby as far as the eyes could see and except for the stray lamp in the campus, it is dark all around.

As I prepare to lie down on a table that has been made into a bed, Senthil warns me about the odd twig that may fall on the thatched roof, and the howling sounds (of wild cats and owls) one might hear in the night.

One needs courage, determination, and plenty of devotion to stay in a place like this and work for the community.

Senthil appears to have all of it. The US $90,000 annual package that he was earning could not keep him bound in foreign shores, as he listened to his inner voice and decided to return to India to work in the villages, inspired by the lives of Gandhi, Vivekananda and Raja Ram Mohan Roy.
A health worker is standing next to an electric scooter that Payir purchased recently for their staff
Payir's main concern is to promote health, education, and create employment opportunities for the locals. Their education program is designed to help 'slow learners' in government schools in the area and deploy their teachers at schools where there are unfilled vacancies.

Their trained health workers visit homes of villagers and treat primary illnesses, and refer them to their base clinic or to doctors in nearby towns if the illness persists.

Preethi, who looks after the homeopathic clinic in the campus, says her vision is to ensure that people learn to take care of their own health, as also the health of their neighborhood.

Concerned about the malnourishment among children, Payir introduced breakfast for children studying in primary classes of the local government school few years ago. But that program has been discontinued mainly due to lack of funds.

They are now providing calorie rich groundnut and millet candies to the children as part of their health program.

Recently, Payir conducted a health survey in about 390 government and aided schools across Perambalur district in coordination with the district administration and other agencies.

The survey found that about 40 percent of the children (about 25,000) were malnourished. Taking note of the findings, the Tamil Nadu government has now announced a pilot scheme in the district to provide the malnourished children with groundnut and millet candies that would provide them with a supplementary diet of 500 calories daily.

"If the government procures the candies from women's self-help groups, it will benefit many local people. It is likely that the government would implement the scheme across the State if it becomes successful here," says Senthil.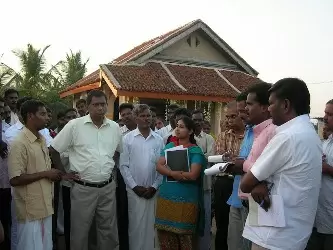 Senthil (left) with district collector and other officials during the inauguration of their IT Centre seen in the background
Payir has also been supplying 100 ml of milk to children from poor families for Rs. 2 since last two and half years.

"The poor cannot afford to buy half litre or one litre milk every day. Neither will any vendor be willing to sell 100 ml milk daily. So, we started the program and it has benefitted about 60 children so far," says Senthil.

Payir's IT Centre has trained the local youth in software development, data entry, photoshop editing and logo creation.

While 4 developers, each of whom hold a masters in computer applications take care of software development and get a monthly pay of around Rs.8000 – Rs.12, 000, the rest are paid on a daily basis.

There are ten computers in the centre. Timings are flexible, helping someone like Anbuselvi, a class 12 drop out, to do some data entry work, whenever she is not rearing goats.

"It gives us dignity and respect to work at a computer centre," she says. Workers like her get paid about Rs.100 – Rs.300 depending upon their skills and the work involved.

At the bag making unit, 7 women work and earn monthly about Rs.3000 each. The creatively designed cloth bags are marketed at retail units in Madurai, Trichy and Bangalore.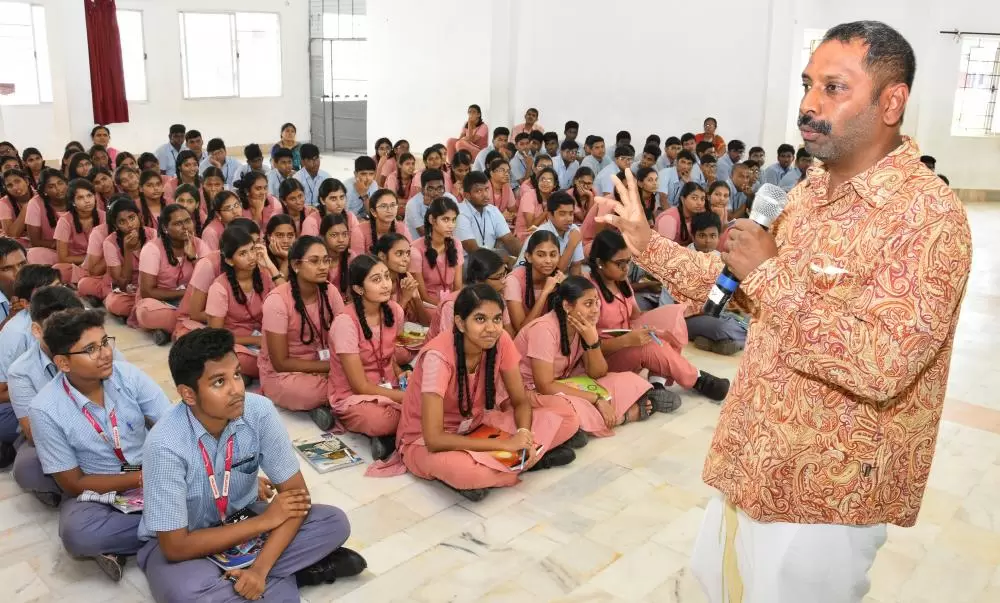 Senthil addressing students of a school in Madurai
In the Payir farm, they cultivate paddy, black gram, ground nut, and sesame. But farming activity has been hit due to prevailing drought conditions here.

A popular seasonal activity that provides some income to many elderly women is their neem manure project. They buy neem seeds from the locals at the rate of about Rs.15 per kg.

The seeds are then crushed and sold as manure. Last year, they sold around 10 tonnes of neem manure to IIT Madras at about Rs.20 per kg. This initiative has helped to groom a young local entrepreneur who has been entrusted with the project.

Ask Senthil about his future plans and he says modestly, "I have realized I cannot achieve everything that I had set out to do. I will be happy if I can create examples like the Thenur model in multiple places for others to emulate and carry on the work."
This Article is part of the 'Unsung Heroes of Tamil Nadu' series
More Articles in the Series
Wish to share your story?
Trending Now: