He led the campaign for auto fare revision and it changed the road scene

P C Vinoj Kumar
&nbsp | &nbsp Chennai
04-October-2013
Vol 4&nbsp|&nbspIssue 40
For years, auto-rickshaw drivers fleeced passengers in Chennai. They charged exorbitant fares, refused to use the meter, and were a law unto themselves.

Their point was that they could not go by meter fares since the government had not revised the rate card in a long time despite the periodical hike in petrol prices over the years.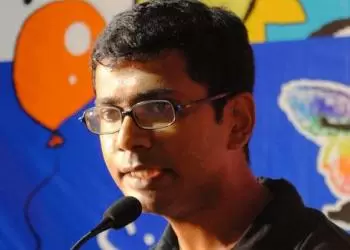 Prahalathan initiated the campaign to revise auto fares in Chennai
The public was put to great inconvenience, and it seemed things were not going to change, till one man decided to take up the cause.

Dr. Prahalathan Karunakaran, who works among underprivileged children with a team of socially conscious youth volunteers, started an online petition campaign on change.org.

The campaign, 'Rationalize Auto Rickshaw Fares in Chennai,' was started in June last year. The petition requested the transport department to regulate the auto fares and "establish a helpline to report violations and ensure strict enforcement."

There was spontaneous support to the campaign and the word spread on social media. In just two weeks about 5000 people had signed the petition.

Prahalathan submitted the petition to T Prabhakara Rao, transport commissioner, government of Tamil Nadu, and subsequently met the transport minister, Senthil Balaji.

As Prahalathan kept updating the progress of the campaign on social media, more people signed the petition. The media too covered the campaign. Before long, the Chennai edition of Times of India started its own campaign on the issue.

S V Ramamurthy, an advocate, had even earlier approached the Supreme Court on the matter.

The campaign had a happy ending at last when the apex court passed an order on Ramamurthy's petition this July directing the state government to fix new fares for the autos.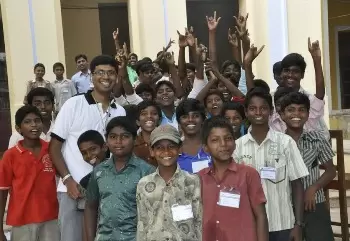 Prahalathan's organization works among underprivileged children with the help of hundreds of youth volunteers
In August, the state government announced the revised fares providing the much needed relief to thousands of auto users in Chennai. Articles are being published in dailies of the changing attitude of auto drivers who are complying with the new rates.

Prahalathan met Chief Minister J Jayalalithaa early this month and thanked her government for meeting all the demands raised in his campaign.

To Prahalathan, the campaign for 'auto fare revision' was like a practical lesson to the hundreds of volunteers attached to 'Bhumi,' the NGO he co-founded in 2006, on what it takes to being a socially conscious person.

"Bhumi has three primary goals; to provide quality education to underprivileged children, to mould socially conscious youth into future leaders, and to encourage young people to address environmental concerns," says Prahalathan, who started Bhumi along with two other friends after completing his MBBS from Madurai Medical College.

He later specialized in ophthalmology, and is at present working in a leading eye hospital in Chennai.

Started with few volunteers, Bhumi has around thousand volunteers now, most of whom are students and young professionals. These volunteers are spread out in cities across India including Chennai, Bangalore, Mumbai, Pune, New Delhi, Jaipur and Trichi.

The volunteers contribute at least 2 hours every week and conduct classes in computers, English, and Mathematics, at children's homes, slums and rural communities.

Computer classes are taken for children studying in classes eight and nine. They are taught basics of computers, MS Office and internet. There is a mentoring program for children studying in classes ten, eleven and twelve.

"In the beginning, we were doing too many things. We conducted organ donation awareness programs, health camps, blood donation and other programs.

"Later, we decided to focus on providing education to underprivileged children as the quality of education in government schools was very poor. Children studying in class eight were not able to write their own names in English," says the 31-year-old Prahalathan.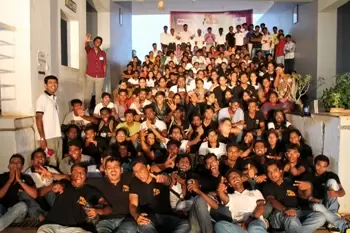 Prahalathan with his army of youth volunteers
Bhumi has no problem in getting volunteers for their community projects. The organization first identifies the projects it wishes to take up and then puts up notices on social media for volunteers.

The response is often more than their requirement. "We select volunteers based on their commitment to serve. If you wish to work in the education project, you are expected to give at least 2 hours every week and it is mandatory," says Prahalathan.

Bhumi has plans to get into environmental activism. It is joining hands with few likeminded organizations to try and clean the Chennai coast on October 6 from Marina beach to Injambakkam, a 15 km stretch.

Prahalathan's wife Vaishnavi Srinivasan is a full time volunteer with Bhumi and looks after administrative affairs in the organization.
This Article is part of the 'Unsung Heroes of Tamil Nadu' series
Other Articles in the Series

'I will be happy if I can create examples like the Thenur model'

Youth heading 7000-strong volunteer network is not done yet
Wish to share your story?
Trending Now: