A Tamil lecturer doubles up as an owner-worker of a free school for destitutes

P C Vinoj Kumar
&nbsp | &nbsp Chennai
12-April-2014
Vol 5&nbsp|&nbspIssue 15
Rakesh, a 5-year-old student at Karunai Karangal - Mother Teresa Nursery and Primary School, recites non-stop the 133 chapter titles of Tamil literary classic Thirukural.

It might not be an extraordinary achievement in normal circumstances, but Rakesh is one of the orphaned or destitute children studying at a unique school, whose founder S Selvakumar raises funds for running the school by polishing and cleaning the footwear of people.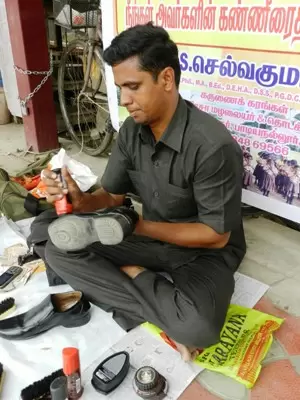 Selvakumar polishes and cleans the footwear of people to raise funds for running the school
Selvakumar works as a Tamil lecturer in a private college. He started the school at Paadiyanallur near Red Hills in Chennai in 2004 to provide quality free education for underprivileged children in the area.

He has travelled to different places in Tamil Nadu, Karnataka and Andhra Pradesh to raise funds for his school.

After landing in a city or town, he finds a suitable place where there is movement of people and puts up a flex banner with the message (in Tamil): "Give me an opportunity to work. Pay for the work. I shall wipe your footwear. You wipe the tears of my children."

As curious onlookers gather, he goes about his business of wiping or polishing footwear.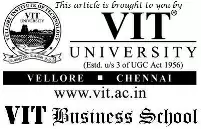 People contribute whatever they could. I distribute pamphlets about my school and state my needs clearly in it. Now we are constructing a building for the school and we need construction materials like bricks, and cement bags," says the 34-year-old Tamil graduate from Loyola College, Chennai.

While he may collect a couple of thousand rupees from every trip, he succeeds in spreading the word about his mission to several people.

Some of them visit the school later and provide help. "They come all the way from their towns and cities to see the school. After they are convinced about my work, they give money or help me in kind," he says.

Selvakumar shares some interesting experiences from his field trips.

Once at Thiruvarur in Thanjavur district, the chairperson of Thiruthuraipoondi Panchayat Union, Thamilselvi Raja, sat with him and polished the shoes of people for couple of hours to express her solidarity with the cause.

On another occasion, a former state minister invited him home after learning about his work and offered him a donation of Rs.10,000 for the school.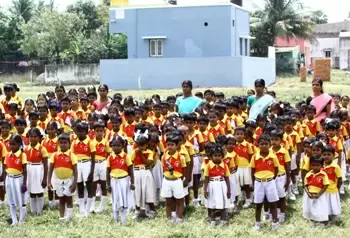 Most children in the school receive free education
Most children receive free education in the school, while some pay a nominal monthly fee. "We started with 69 students in 2004. Now there are 232 children. Out of them 60 children do not have both parents, 40 are without their father, and 37 are children of women deserted by their husbands. All of them receive free education," says Selvakumar.

The rest (78) are from poor families. They pay a small fee, which starts from Rs.60 and goes up to Rs.120 per month for Class 5 students.

All the children receive 32 items essential for a school going child, including uniform (1 set), text books, note books, lunch box, water bottle, bag, and footwear free of cost.

The school has couple of vehicles, which pick up children from their homes. "It is a free service we provide for the children who live in a radius of about 15 km from the school. It encourages the parents to send their children to school. Many parents find it difficult to drop their children to school or arrange cheap and safe transport for them," he says.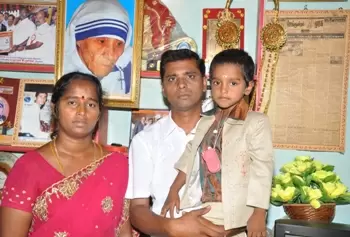 Selvakumar with his wife and son
Selvakumar drives one of the vehicles himself. "One has to be willing to do any work if you want to be a good social worker. I pick up the children in the morning and drop them back home in the evening.
"I attend the morning assembly in school and then leave for work," says the cheerful man, who holds diplomas in electrical and home appliances, computer application, and journalism and mass communication.

The college management has given him back-to-back classes in the morning hours, so that he is free in the afternoon to pursue his school related work.
Before starting the school, he used to raise funds for orphanages and homes for the aged and work with the disabled.
Selvakumar is married to Mallika, who is a teacher in their school. "She is a pillar of support in my life," he says proudly. The couple has a 5-year-old child Lingesh, who is also a student of Mother Teresa School.

This Article is part of the 'Unsung Heroes of Tamil Nadu' series
Other Articles in the Series

Anbu and his bunch of social workers spread the message of love through action

Nurturing a society of tree-lovers in Coimbatore
'I will be happy if I can create examples like the Thenur model'
Youth heading 7000-strong volunteer network is not done yet
He led the campaign for auto fare revision and it changed the road scene
The rise of a champion, from child labor to motorcycle racing
Wish to share your story?
Trending Now: