Anbu and his bunch of social workers spread the message of love through action

P C Vinoj Kumar
&nbsp | &nbsp Kanchipuram
01-March-2014
Vol 5&nbsp|&nbspIssue 9
Every week a group of friends gather at a pre-appointed place in Kanchipuram and discuss ways to serve the community.

The motley group includes painters, welders, silk weavers, and even a librarian.

They have been meeting regularly since 2008 and have planted trees, cleaned the unkempt premises of government schools, hospitals, and libraries, spruced up bus shelters, organized blood donation camps, and done much more.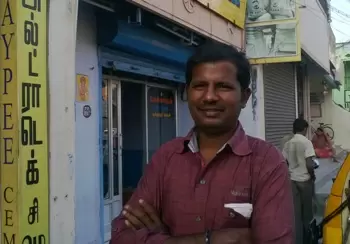 Anbu has been engaged in community service from a young age (Photo: P C Vinoj Kumar)
The driving force behind this initiative is S Anbu, a class 8 drop out from Kooram, a nearby village, and owner of a cement and steel hardware shop in Kanchipuram town.

"There are about 50 people in the group, including some women. Not less than a dozen of us meet every week. Ten of us are very active and attend almost every meeting.

"We communicate with each other by sms. We do not use email, or post about our work on social media," says 32-year-old Anbu, founder of Vizhuthugal, a team of Good Samaritans based in Kanchipuram town, about 75 km from Chennai.

The group is active round the year and takes up at least one service project each month.

Vizhuthugal is not a registered NGO. It has no office or staff. It is a labor of love for Anbu and his team members.

"We are not funded. We believe in giving, not receiving. We give our time, money and physical labor," says 33-year-old Sugumaran, a welder by profession. He adds that none in their group smokes, drinks, or is part of any film star's fan club.

So don't they admit smokers or drinkers in their group? "There is no such rule, but those who smoke or drink don't stick on with us. Some who join drop out after a few weeks," says Anbu.

For Anbu who discovered the joy of serving the community at a young age in his village where he used to distribute saplings and plant trees, Vizhuthugal – it is the Tamil word for a banyan tree's aerial prop roots – is simply an expression of his desire to serve.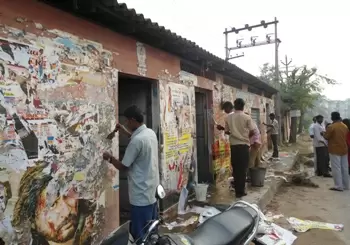 Volunteers cleaning the walls of a public building
In a unique initiative to encourage people to nurture good thoughts, Vizhuthugal volunteers skilled in painting write inspiring social messages on public and private walls.

"We write only after getting the permission of the owners and authorities," says Anbu.

Once in a month they organize a program for the general public, where a topic on a socially relevant theme is given and participants are encouraged to speak on the subject for 5 minutes.

"It evokes good response. About 30 people attend the program each month," says Anbu.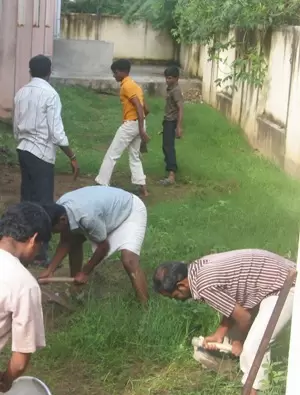 A cleaning campaign in progress
In these programs they honor people who have served the community well, such as regular blood donors, good teachers, and social activists.

Recently they rewarded an auto driver for returning a passenger's belongings that had been left behind in the auto.

The group also extends its support to honest government officials. Anbu narrates the story of an honest traffic sub inspector of police, Saravanakumar, who shook Kanchipuram town in the short time he was posted there.

"He cracked down on all transport offenses and charged the vehicles belonging to powerful people when they violated the law. Within a month he was transferred from his post, but he was an inspiration to us," says Anbu.

Vizhuthugal has kept boxes at 5 locations in the town seeking contributions of Re 1 from the public.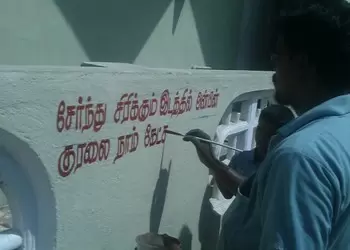 A social message being painted on a wall
The boxes are opened on the 5th of every month and the money is used to buy soaps and disinfectants for inmates of the orphanages and old-age homes they support.

Members share the responsibilities and pitch in with financial contributions for conducting their various programs.

But their social activism also has its downside. Anbu says that some people take their service for granted and such attitude could be annoying.

"Once we clean up a campus of some government building, we expect the staff to maintain the premises. But sometimes they call us after few months and ask us to come and clean again.

"We refuse. We are not their servants. The idea of doing such cleaning campaigns is to show people the way to keep their campuses clean. If they don't learn their lessons we can't help it," says Anbu.

This Article is part of the 'Unsung Heroes of Tamil Nadu' series
Other Articles in the Series
Nurturing a society of tree-lovers in Coimbatore
'I will be happy if I can create examples like the Thenur model'
Youth heading 7000-strong volunteer network is not done yet
He led the campaign for auto fare revision and it changed the road scene
The rise of a champion, from child labor to motorcycle racing

Trending Now: