From Vadodara to shooting at Nita Ambani's birthday party, it was a long way

28-September-2015
Vol 6&nbsp|&nbspIssue 39
In the shimmering shadows of the festive weddings of the rich and famous stands Prakash Tilokani, ace chronicler of inimitable moments, his top-order Canon EOS-1D C camera in hand, and a client list starring leading business families and Bollywood celebs.
Now you would have to be lucky to have him grace an occasion at your home. Now his company's turnover is three crore rupees. Now he can coolly charge 3.5 to 4 lakh rupees a day and no one would bat an eyelid. Now he is easily the most desirable and charming wedding photographer of all.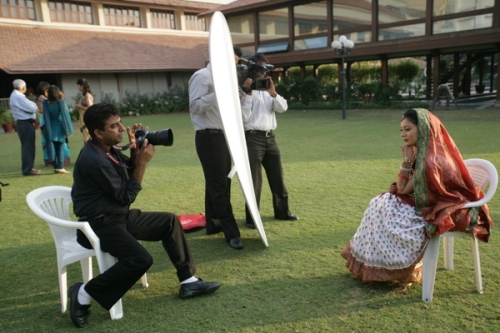 Prakash taking pictures of the bride at a wedding shoot (Photos Courtesy: Prakash Tilokani)

But it wasn't always so.
If one were to capture Prakash's long and arduous journey, the first frame would be of the year 1973 in Vadodara - one of young Prakash, barely 9 years old, working at a photo studio after school hours.
His mother had insisted on it, lest he waste his time loitering about in the streets. Prakash's father loved to get himself clicked in Dayal Studio, close to his own small grocery shop, and that's how he became acquainted with the studio owner Dayal Dadlani, who let the boy assist him.
Seeing his creativity and natural inclination for photography, Dadlani hired Prakash for a daily bus allowance between home and studio.
"My grasping power was very good and within six months of hanging around all departments of the photo-studio, I knew my calling in life," said Prakash, now 51.

Back then, by the age of 15, Prakash was well versed with the delicate nuances of black and white photography, and was assisting the studio's photographers assigned to shoot weddings.
One Sunday, his senior suddenly fell ill when they were to shoot in a nearby village, Jamva. Sensing an opportunity to go solo, Prakash coaxed his senior to let him go instead.

The senior agreed only reluctantly, and the bride's family felt shortchanged, being left to the devices of a greenhorn.

As the studio remained closed on Monday, Prakash knew that the wedding party would come on Tuesday to confront the owner. He egged on the senior to open the studio to develop the photographs.
The bride's family was pleasantly surprised to see his artistic work. This chance opportunity and praise boosted Prakash's confidence.

Unfortunately, a mere few months later, tragedy befell 16-year-old Prakash, who had just completed his Class 10 exams. His father died in an accident.
While Prakash's eldest brother manned his late father's grocery shop and the younger ones attended school, Prakash, the second of the six brothers, had to contribute with a full-time job.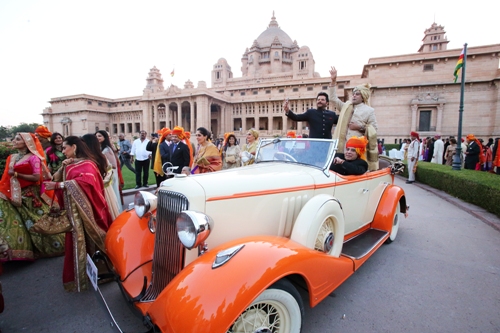 Bollywood star Anil Kapoor at a wedding ceremony

By then, Dayal Studio had shut down, so Prakash took up a job at 600 rupees a month in another studio. For two years, besides work skills, he learnt the value of hard work and financial security.

However, he had shown a bold streak of entrepreneurship and risk-taking early, and these strengths still drove him. He scouted around for an office space to start out on his own.
By the end of 1981, he rented a small 44-square-foot office space and hired two assistants. In the red column, he owed 25,000 rupees for the rent deposit and 15,000 rupees for the furniture.
Just within two years, the balance sheet looked better. By 1983, he became the first to introduce different sizes of prints in Vadodara, and was earning nearly 6,000 rupees for a wedding shoot.

However, he was desperate to earn more and even visited an astrologer Mahesh Rawal, who predicted his prosperity at the age of forty.

At 21, that seemed too long to wait, and Prakash plunged back into work, bent upon directing his destiny rather than the other way around.

"I was learning and assisting established photographers from 1985 to 1990 even while shooting weddings and doing videography," says Prakash, in his typically down-to-earth and endearing way.
He also worked with Late Dhansukh Patel, a commercial photographer who worked for agencies; this work brought Prakash Rs 6000 a day, but the payments were so delayed that he lost interest.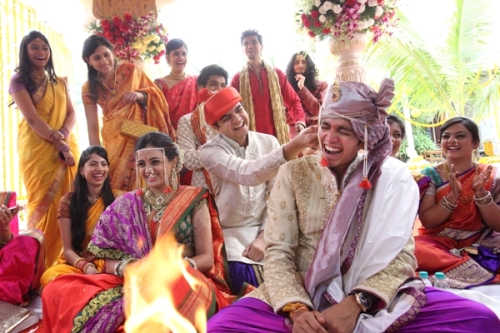 A candid moment that captures the bride, bridegroom and the guests laughing their hearts out

When he learnt that competitive photography fetches cash awards, he visited artist and photographer Suresh Parekh and asked him about it.
"He was irked by my question about prize money," recalls Prakash, "and thought that I didn't appreciate the art aspect of photography."
Taking this up as a challenge, Prakash shot a candid picture of his two-year-old son who used to play fearlessly with a street dog. The photograph won the first prize in a local contest in Vadodara in the early '90s and Prakash got hooked on to competitions.
The topmost honour was winning the gold medal in the international Asahi Shimbun International Photographic Salon held in Japan – not once, but twice, in 1996 and 1998.
"As soon as I won the gold medal in the Asahi Shimbun competition, I changed my visiting card, adding this new information for commercial benefit," laughs Prakash, lighting up his sunny smile.
Awards and medals he has aplenty now, being the recipient of 22 national and international awards besides the Asahi Shimbun medals, of course. The once-doubting Suresh Parekh is very happy for him.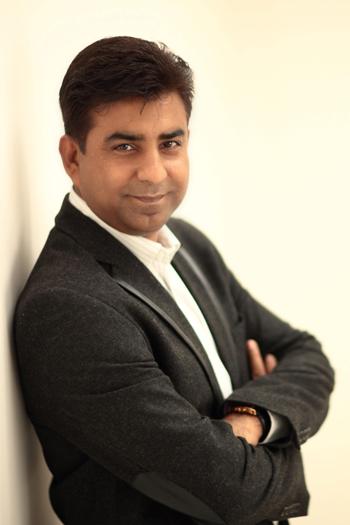 A team of 29 persons work for Prakash, whose client list includes the Ruias of ESSAR, the Munjals of Hero Honda, the Burmans of Dabur and the Ambanis
"He always thought of creating something new or doing things differently," Parekh says of Prakash. "He has risen from a very modest background with sheer hard work, and that is creditable."

By 1997, Prakash had a post-production team, and started networking for better opportunities. He got an opportunity for work in the USA through an acquaintance who owned a studio there, but unfortunately he was denied the H2B visa.
"This happens to one in a lakh," says Prakash, but he did not dwell on it for long. Undeterred, he opened a new office in Pani Gate and another one in Alkapuri, both in Vadodara, in 2000.
By now he had established his company - 'Memories Photography Pvt Ltd" and was its Chief Managing Director.
Meanwhile, he got an opportunity to shoot the inauguration of a factory where he met Satyendra Patel who set up mandaps in weddings in Ahmedabad, and Prakash got an opportunity in that city.
Always a step ahead, always brimming with ideas, at a high-profile wedding in Ahmedabad, one among other photographers, the artistic touch in his photographs stood out.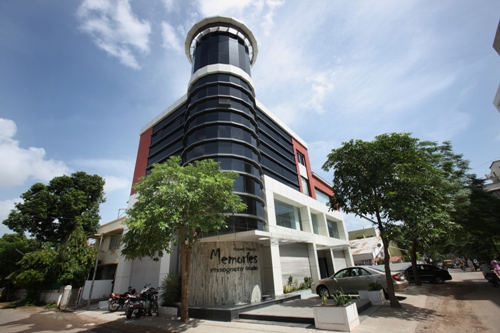 Prakash's 10,000 sq ft 'Memories' studio in Vadodara

His fame spread by word of mouth among the elite of the city. "I was confident about my photography," he recounts.

"The experimentation I do with light enhanced each photograph."

He got his first big amount of Rs 35,000 for an assignment and he was on a roll, soon touching the figure of Rs 50,000 a day.

In those days, wedding photography was not a respected or coveted 'genre'. When he had applied to set up a stall in the annual super-luxe wedding exhibition 'Celebrating Vivaha', they didn't even have a category for wedding photographer.

In fact, Prakash elevated wedding photography to an art and contributed to it being given its due place in photography as well as competitions and exhibitions.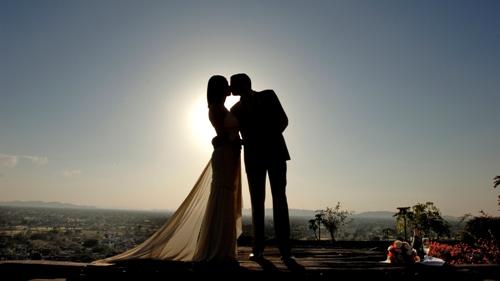 Play of light: The bride and bridegroom caught in a mood of intimacy

Today, he graces the panel of the leading photography magazine Better Photography, to judge the best wedding photographer of the year.

Not one to just sit back, Prakash proactively couriered 50 of his best wedding photographs to Tarun Sarda, founder and head of Vintage that organizes Celebrating Vivaha, who immediately called him to Delhi.

He was the crucial link to introduce the magic of Prakash photography to top industry names and the film fraternity of India.
He recommended him to the Singhanias of LML Scooters fame and from them Prakash received a cheque for Rs 1 lakh for the first time. He had just turned forty and couldn't help thinking about that astrologer's prediction way back.

Prakash, whose name somewhat coincidentally means 'light', loves playing with light to illuminate or obscure parts of photographs in a way that makes them come alive with the moods, emotions and feelings of that moment.
His playfulness with light, the unique trademark of Prakash's photography, is mirrored in his workspace, too.

As you climb the spiral staircase of the 'Memories' studio in Alkapuri, you are in a foyer awash with natural light, and its cheery ambience extends to the subtly chic office room.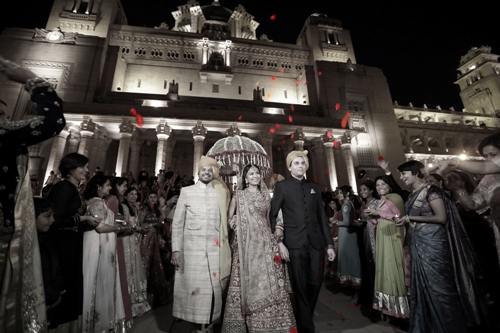 A picture that captures the mood and richness of the wedding

Transparent patches of roof are interestingly placed for the dramatic interplay of light and shade, and are topped by a very green terrace garden.
Adjacent to Prakash's large desk is a bookshelf neatly stacked with photography books – wedding, lifestyle, portrait and architectural photography are his subjects of interest – magazines and autobiographies that he loves to read.

On the up and up, Prakash soon opened a Delhi office and never looked back. His combined staff numbers 29 today and his client-list includes the Ruias of ESSAR, the Munjals of Hero Honda, the Burmans of Dabur and the Ambanis.

"I had always wondered who took the pictures of the Ambanis and Tatas, till I got to photograph Nita Ambani's 50th birthday party," said Prakash.
After having completed the journey from 44 square feet rented office space to owning 10,000 square feet of a studio, he is already making plans for directing a film.
"My hobbies are reading, travelling across the globe, listening to music and watching movies," said Prakash, who deeply admires the work of American photographer Ansel Adams and Indian photography pioneer Raghu Rai. He also likes Girish Khanna, Amit Pasricha and Dinesh Khanna.

His two sons have taken inspiration from him: Rahul, 25, has done a diploma in film editing and direction from Whistling Woods, Mumbai, and currently assists Director Shoojit Sircar on advertising films.
Darpan, 22, is studying film direction in the USA. But there is so much more left in Prakash to share, to give back to society.
He conducts wedding photography workshops for free for anyone who is interested in learning the skills. At these workshops, he teaches different perspectives of wedding photography and how to make a living out of it.
He is also in talks to start a club of photographers to provide gratis training to willing and talented students of the vocation. Students just like Prakash once was.

This Article is Part of the 'Amazing Entrepreneurs' Series

MORE AMAZING ENTREPRENEURS
Raj Kumar Gupta, Chairman, Mukti Group

B Soundararajan, MD, Suguna Holdings
Raghu Kanchustambham, CEO, ConceptWaves
C K Kumaravel, Co-founder, Naturals

Recent Articles: