This Coorgi woman rose from working in front office of a hotel to building a Rs 10 crore turnover fresh honey premium brand
01-June-2015
Vol 6&nbsp|&nbspIssue 22
You may not have a guide or mentor, but if you have the busy bee as inspiration, you've got it right. Chayaa Nanjappa, founder-partner of Nectar Fresh – a company with a net worth of six crore rupees and a turnover of 10 crore rupees per annum – is living proof.
Her life's venture, tucked neatly between Srirangapatna and Mysuru, right off the Bengaluru-Mysuru highway, is creating some serious ripples in the hospitality industry.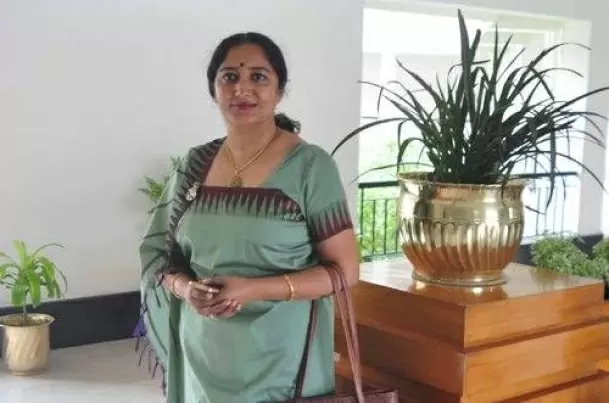 Chayaa works with more than 100 farmers and makes varieties of honey for both Indian and foreign market (Photo: H K Rajashekar)
One of the rare premium brands of fresh honey, jams and fruit preserves, which many upmarket hotels across the country stock up on regularly now, Nectar Fresh has thrived on Chayaa's tireless energies since 2007.
A first look at Chayaa belies the fire in her belly. Soft-spoken and demure, with the manners of the perfect host, Chayaa Nanjappa could be your next-door neighbour, who minds her own business. And mind her business she does, and how!
In conversation, you soon discover the potent combination of energy, an uncanny business sense and survival instincts that have kept her going through the ups and downs of being an entrepreneur.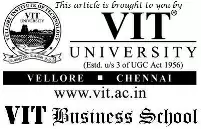 Being a woman entrepreneur has been far from easy. "Since I was a first-generation entrepreneur, I didn't have a guide or mentor," says Chayaa, all of 43 years. "Everything I learnt was by trial and error. It cost me time and money, but the lessons have endured."
("I suffered, learnt, fell and then rose again." These are the words of a successful Kashmiri woman entrepreneur. To read her inspiring story Click Here)
Truly, it has been a journey of endurance and determination. Born in Nalkeri, in Kodagu, the only daughter of a coffee-planter father and a headmistress mother, circumstances forced young Chayaa to halt her education after Class 12.
After a few years, she moved to Bengaluru. Directionless in the city, Chayaa's Kodava traits of being an impeccable host landed her a job in the front office of The Chancery, a top five-star hotel. After a year, she wanted to start something on her own, something that evoked her home, something that was born of it.
Honey, she thought. As a Coorgi woman, she had grown up with a native knowledge of spices, coffee and honey. Honey would be relatively easier to source, she could get training for it, it came with a longer shelf life - and it was exotic.
A course at the Central Bee and Research Training Institute (CBTRI) in Pune, in 2006-07, equipped her with the knowledge and skills related to processing and preserving honey. And Nectar Fresh was born.
She set up her own unit to process and pack honey with all its freshness intact. The initial investment was mustered up with Rs. 10 lakh from her mother's savings, eight lakh rupees from hawking her own jewellery, and another 10 lakh as a bank loan.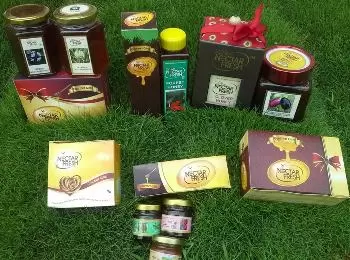 Nectar Fresh markets apiary honey, forest honey, and among the uniflora variety, Himachal honey, litchi honey and clover honey
The unit supported by the Khadi and Village Industries Board, began production in 2007 in Bommanahalli near Bengaluru. Chayaa procured honey from a handful of farmers and tribal people in Kodagu, processed it at her unit for the local market, and saw moderate success.
However, she believed that the market demand for fresh Coorg honey was high, and if the supply chain was established well, she could break into the hospitality industry, which was hungry for high-quality food products daily.
"I don't know what I was thinking then," she says, recounting her early days, "because all my competitors were international brands, who had an easy edge over me. So I had to do something better than them."
The competition was from no less than world giants such as Beerenberg, Darbo and Bonne Maman who had dominated the scene for long (probably even before Chayaa was born!) with their smart portion-sized blister packs of honey, jams and fruit preserves for buffet breakfasts at hotels.
The going was fraught with difficulties. Due to personal circumstances, she had to change the location of her factory three times. "First, I moved the unit from Bommanahalli to a temporary facility in Nanjangud near Mysuru," she recounts. "From there, in 2010, we shifted to the present location."
With every move, the losses ran into lakhs. That and the wear and tear of equipment apart, she lost skilled workers and had to train fresh staff. "But," says Chayaa, ever the optimist, "each time we train a new batch of people, I build better bonds."
The gusty lady from the green valleys of Nalkeri wouldn't stop until she had tried everything to make her brand the most sought-after in the hotel industry.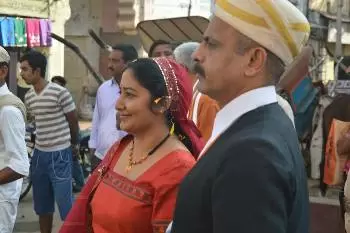 Chayaa with her business partner Rajappa
Despite the ubiquitous slogans about facilitation of women entrepreneurship, Chayaa did not receive any help from forums such as the Ministry of Small and Medium Enterprises, in terms of funds, expertise or subsidies. At every stage of expansion, she was forced to raise loans from banks.
In the domestic market, her brand was well received by hotel chains such as ITC, Le Meridien and a host of other premium facilities who are her regular customers now.
"Today, we are making inroads into Germany and France, the homes of the top international brands," Chayaa says, chuckling. "The competition is getting really interesting!"
Chayaa's head may be fine-tuned to business, but her heart is in the right place too. "I am here to share my knowledge," she says generously. "If I have to walk this road all over again, I would still prefer to walk the same distance. Only, I wish I were able to help more rural women along the way."
However, Chayaa is doing her bit. Women from rural areas around her factory are in majority in her 45-strong workforce at the factory. She interacts with rural women through self-help groups and Sangha meetings, to inspire them to do something on their own. So far, she has interacted with more than 2,000 women on various platforms.
Currently, Chayaa works with more than 100 farmers and their families, who focus on growing a single crop, teaming up with them to make uniflora honey.
"We keep our apiary boxes in their farm, and pay a rent depending on the size of the land they own," she says.
Nectar Fresh owns 20 mobile apiary vans across the country now and has a basketful of varieties of honey – besides apiary honey and forest honey, among the uniflora variety, there is Himachal honey, litchi honey and clover honey, among others.
The USP is that it is sourced from pollution-free valleys and forests, using eco-friendly methods that protect the bees and preserve the natural pollen and nutrients of the honey.
They offer portion packs of 5-8 g, domestic jars from 100 g to a litre, and highly innovative corporate gifting solutions as well. Growing exponentially from making a tonne of processed honey every month in the initial stages, Chayaa's Nectar Fresh now produces more than 200 tonnes a month.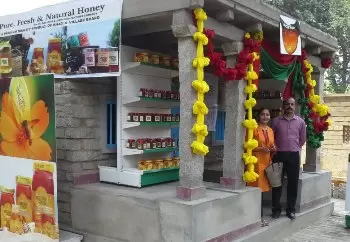 Nectar Fresh has grown into a brand to reckon with in honey industry
Her interaction with the experts at the Central Food and Processing Research Institute in Mysuru helped her expand her into the processing of fruits around 2010.
"Can I ever thank them enough?" she says. "They were my gurus!" In league with her was her business partner and close relative Rajappa, who has been her 'giant pillar of support'. As proprietor of Mystore - a chain of superstores in Mysuru - Rajappa brought wide retail experience to the table.
In fact, in recent years, he has completely shifted focus to Nectar Fresh foods. And the results are for all to see. Nectar Fresh has come a long way, becoming a brand name to reckon with when it comes to honey, coffee, processed and preserved fruits in the form of jams and sauces, mayonnaise and more.
Not one to rue what did not happen, nor one to rest on her laurels, Chayaa is set to claim greener pastures. The second half of this year packs many challenges for Nectar Fresh. A major part of their production is going to be export bound. They are starting tomato processing to make sauces and ketchups.
The Nectar Fresh website declares: A honeybee visits two million flowers to gather 50 mg of honey; our workload seems nothing compared to this. Be cheerful and keep working!
Yes, the bee is buzzing away industriously, in Kodagu, in Mysuru, wherever Chayaa goes, because at the core of her hive of industry lies the sweet, gratifying taste of success.

This Article is Part of the 'Amazing Entrepreneurs' Series

MORE AMAZING ENTREPRENEURS
A Afzal, MD, Parveen Travels

Senthil Natarajan, CEO, Kovai Pazhamudir Nilayam
C K Kumaravel, Co-founder, Naturals
K Bhasker Reddy, MD, Creamline Dairy
Wish to share your story?
Trending Now: