From a single ambassador taxi, this tour operator built a Rs 400 crore business conglomerate
P C Vinoj Kumar
&nbsp | &nbsp Chennai
20-April-2015
Vol 6&nbsp|&nbspIssue 16
Mohammed A Afzal is like one of his well-maintained Volvo buses, as he goes full throttle, tracing the growth of Parveen Travels, from a single-taxi tourist operator to a Rs.400 crore business conglomerate, with 1300 vehicles, and 4000 employees.

Parveen Travels is the flagship company of 'AB Business Enterprises' (ABBE), which has interests in transportation, restaurants, automobiles, holidays and logistics.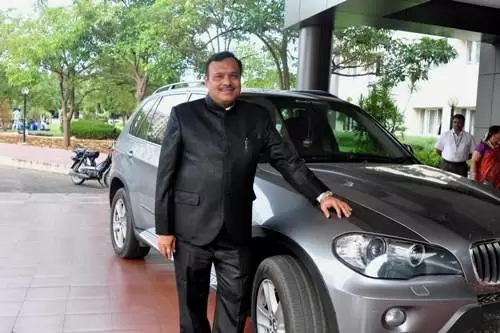 A Afzal, who started Parveen Travels with one Ambassador car in 1980, today heads a Rs. 400 crore business conglomerate
The man who built this business empire, can't hide his diminishing interest in the conversation as it veers into personal matters, his hobbies and the like, though he plays along, trying his best to cooperate.
The fact is nothing excites him like business and his life revolves around it. "My hobby is monitoring (the business). When the fleet is on the road, and everything is on track, I am relaxed," confesses Afzal, whose day begins early morning at 5.30 am with namaz.

After some simple exercises, which include a session on treadmill and stretches, he starts receiving updates on arrivals and departures of the eighty-odd inter-city buses covering 45 destinations across the States of Tamil Nadu, Karnataka, Kerala, Andhra Pradesh, Telangana, and Pondicherry.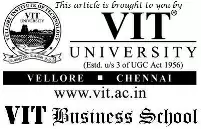 There are senior managers, and an entire professional hierarchy to take care of the daily operations at Parveen Travels. But Afzal is a hands-on entrepreneur, who likes to be in the know of the vehicle schedules, employee morale, and customer satisfaction.

He is at ease when we talk of business, but loses the spontaneity when the topic shifts to other things.

"I have no life beyond Parveen Travels," admits the 53-year-old chairman and managing director of ABBE, whose only day off from work is Sundays when he spends time with his family.

Afzal has worked hard for his success. The second among six siblings, he gave a new direction to his father's business by starting Parveen Travels in 1980.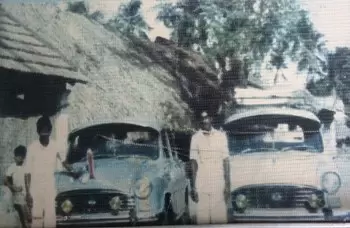 Afzal's father Allah Baksh entered the business with two meter taxis in 1967
His father Allah Baksh had entered the business with two metered taxis in 1967 and later added couple of lorries for transporting cargo. Baksh had earlier worked with some oil companies and used to earn around Rs.200 per month.

As a 15-year-old, Afzal used to help his dad after school by delivering invoices and collecting payments from customers in the vicinity of what was then the heart of Chennai, Parry's Corner. Their office, then and now is located at Purasawalkam, about 6 km away.

His other siblings were not involved in business when they were studying. Today his three brothers are occupying senior positions in the company and they handle different responsibilities.

"We live in the same house, in a flat system," says Afzal, whose elder son, a post graduate in international business from London, takes care of Parveen Holidays, a tours and packages division of the group.

Afzal too was good in academics and even got a seat in Madras Medical College, but he did not join the course because his mother felt medical profession would demand total dedication, and he would have no time for his family.

So Afzal did his bachelor's degree in zoology from Loyola College, Chennai. While he was in first year he started a tourist taxi service with one Ambassador car and named it 'Parveen Travels' after his elder sister.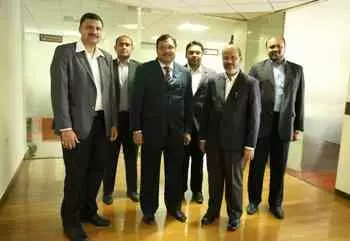 Afzal (third from left) with the other directors of the company
At this point of time, his father had sold the meter taxis and was in the process of winding up the lorry business as well.

But Parveen Travels took off with a bang. "There was good response from North Indian tourists who visited Chennai and stayed in small hotels in the city. I used to meet them and understand their requirement and arrange package tours," says Afzal.

The customised tour packages became a hit. Chennai –Tirupathi and Chennai – Trichy – Madurai – Rameswaram – Kanyakumari - Chennai were popular religious packages.

Some of the popular sightseeing packages were Chennai – Bangalore – Mysore – Chennai, and Chennai – Thekkady – Munnar – Kodaikanal – Chennai.

By end of the first year, the company had six Ambassadors. "There were not many organised players in the field, but there was demand for tour packages. Many of our cars used to make at least 25 trips to Tirupathi in a month," recalls Afzal.

They charged Rs.350 for Tirupathi package and made a profit of about Rs.50 on each trip. The company grew in size and in about five years they had a fleet of 100 Ambassador Cars.
Afzal remains a hands-on entrepreneur closely monitoring the day-to-day operations of the company
People in the industry greatly admire Afzal. "He was operating at a time when the tourism industry was in its infancy in South India. His contribution to promotion of tourism is simply amazing," says J Sethuraman, CEO, Travel XS, a Chennai based international tour operator.

Parveen Travels introduced their first inter-city bus service between Chennai and Bangalore in 1981. Afzal used to travel in the bus during weekends to understand the expectations of the passengers.

For Afzal, retaining customers is a priority. The company has built a reputation for its customer-friendly initiatives. It was the first to introduce online ticket booking in 2004.

"We were the first to provide refreshing napkins for passengers and the first to introduce luggage tag as in airlines. It is only customers' loyalty that has brought us this far," says Afzal. The company has clients who have been staying on with them since they started.

Employee welfare is another priority for Afzal. "Drivers are our assets. We take good care of them and pay them well," he says. A driver of a hi-tech bus gets a salary of around Rs.25,000 to Rs.30,000 a month in Parveen Travels.

"They have benefits like ESI, PF, and gratuity. We provide educational scholarship for their children," says Afzal, who regularly interacts with the drivers, finds out their grievances, and tries to address them.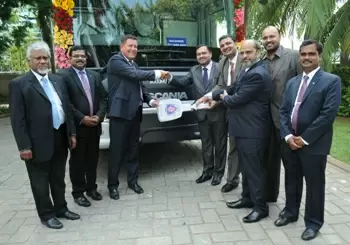 Afzal and his team of directors with Scania officials during the induction of the hi-tech bus in Parveen Travels fleet
The result is that drivers stick on with the company for a longer period, contrary to the industry standard where attrition rate is high. Out of a total of 1350 drivers, half of them have been with the company for more than 10 years, according to Afzal.

Drivers are the backbone of the group whose logistics division (Parveen Express) handling delivery of parcels, and relocation needs of corporate and domestic clients, operates a fleet of 150 trucks and brings in revenue of about Rs.30 crore per year.

Another division handles staff transportation of corporates like Hyundai, TCS, and Infosys. Around 850 buses carry out the operations that account for a revenue of about Rs.12 crore every month.

The company operates 160 vehicles exclusively for tour packages and chartered trips, which rakes in an additional annual revenue of Rs. 25 crore.

In what would seem to be a totally different kettle of fish, the group ventured into restaurant business in 2008 through its subsidiary, AB Resorts and Restaurants Private Limited, which operates three food courts, and Pitstop, a fast food chain in Chennai.

There are six Pitstop outlets as of now, but the vision is to have a pan-India presence. "Our idea is to open Pitstop restaurants across the whole of India," reveals Afzal.

The group also operates one petrol pump in Chennai, two bowsers for internal use, a driver training academy, and an automobile service division. They maintain about 20 private parking depots for their vehicles in Chennai.

On projects in the pipeline, Afzal says they have plans to introduce a Chennai – Mumbai AC berth coach.

"The travel time will be 26 hours and ticket amount would be not less than Rs.2500. But the reason we are going slow on long distance routes is the high road taxes that we need to pay to each State on the route, and the restrictions on berth coaches in States like Maharashtra," he says.

Afzal also reveals that they are planning for an IPO in 2017-18 and would like to achieve a turnover of Rs.1000 crore by then. The game-plan to accelerate growth is by bringing in private equity to the tune of Rs.150 crore and strengthening the existing verticals.

This Article is Part of the 'Amazing Entrepreneurs' Series

MORE AMAZING ENTREPRENEURS
Senthil Natarajan, CEO, Kovai Pazhamudir Nilayam
C K Kumaravel, Co-founder, Naturals
K Bhasker Reddy, MD, Creamline Dairy
Arun Athiappan, CEO, Ticketgoose.com

T Sathish Kumar, MD, Milky Mist
Wish to share your story?
Trending Now: