From selling fruits in bus stand to building a Rs 450 crore turnover fruit and vegetable chain, the inspiring rise of an entrepreneur
P C Vinoj Kumar
&nbsp | &nbsp Chennai
Updated On: 19-June-2021
Vol 5&nbsp|&nbspIssue 43
Back in the 1950s, two brothers aged 9 and 11 from a village near Coimbatore had to drop out of school and work in a local fruit shop to support the family after the death of their father.

They made fruit juice at the shop, and sold fruits at bus stands. The brothers, N Chinnasamy and N Natarajan worked hard, and nurtured a dream of setting up their own business some day.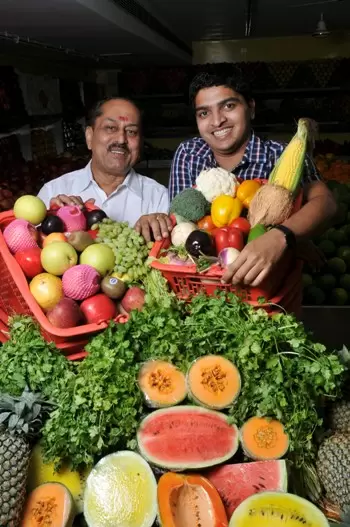 Kovai Pazhamudir Nilayam founder N Natarajan with his son and CEO Senthil Natarajan
The desire to strike out on their own was of such intensity that from their meager earnings they started saving a few paise everyday for their still-unknown business venture.

Five years later, they got jobs in a spinning mill. The shrewd siblings were quick to seize the opportunity the situation offered. They chose to work in different shifts at the mill and breathe life into their long cherished dream.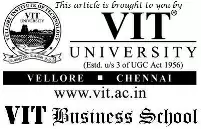 The brothers (then 18 and 20 years of age) opened a fruit shop in Coimbatore and took turns running the shop during their off-duty hours.

"The shop was named 'Pazhamudir Nilayam' and the year was 1965," says Senthil Natarajan, CEO of KPN Farm Fresh Private Limited and Natarajan's son, tracing the history of 'Kovai Pazhamudir Nilayam,' a Coimbatore based 55-outlet strong fruit and vegetable retail chain that achieved a combined turnover of Rs.450 crore during FY 2020-21, a remarkable increase of around Rs 70 crore from the previous year.
"All our stores make home deliveries. Revenue from this stream witnessed an increase during the lockdown last year.

"Just fifteen days ago, we achieved a single day sale of Rs 60 lakh through home deliveries, which I am not sure if the big players in the industry have achieved yet."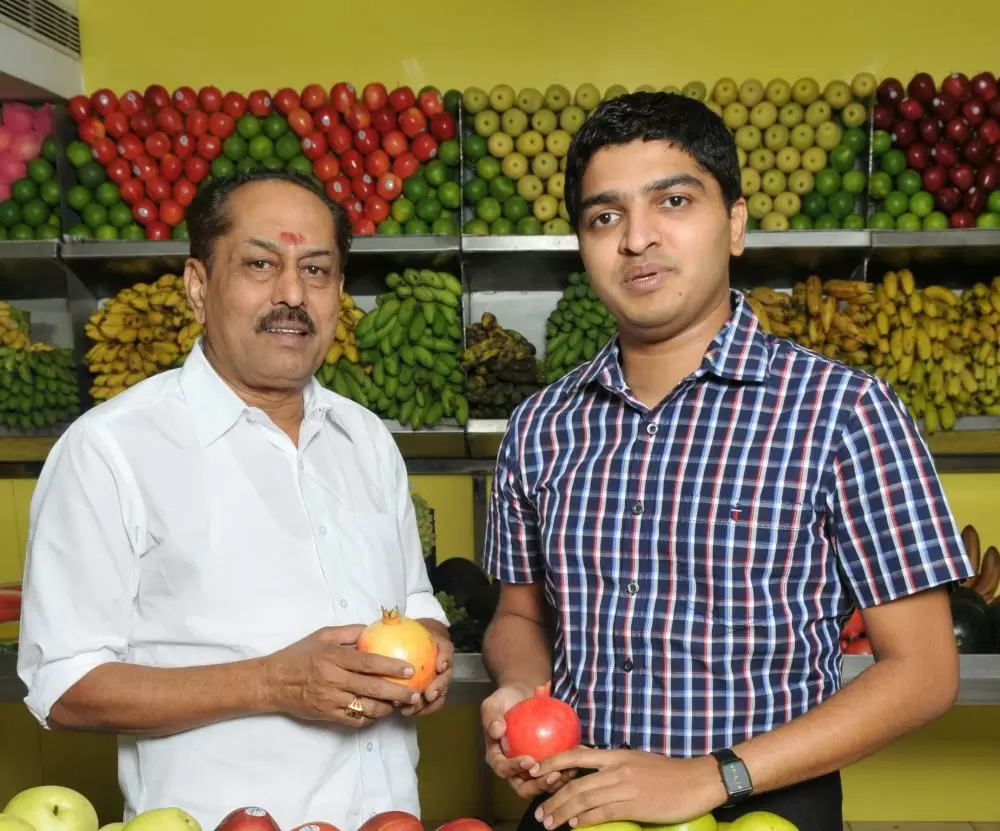 Senthil joined the business in 2006 and has taken the company to new heights
By 1983 Pazhamudir Nilayam had four shops in Coimbatore and Natarajan's two younger brothers too were involved in the business.
The four brothers along with their wives and children lived as a joint family in the same house taking an equal share of the profit from the 4 shops.

That year the family divided the business with the elder brother ensuring that his younger siblings got the shops with the higher turnovers.

"The youngest brother got the outlet with the highest turnover. The third brother got the outlet with the second highest turnover, my father got the next best and his elder brother took the shop with the lowest turnover," says Senthil.

While the other brothers still continue in the business and operate between them 9 Pazhamudir Nilayam outlets located in different parts of Tamil Nadu, Natarajan expanded aggressively under the banner of 'Kovai Pazhamudir Nilayam' starting with his second outlet at Tiruppur in 1998.

"It was a tough decision to start an outlet in a new city. (Tiruppur is about 50 km from Coimbatore.) Initially we made losses of few thousand rupees daily. But we also started gaining customers.

"Business stabilized in Tiruppur within two years and dad was ready to move to Chennai," recalls Senthil, who was alarmed at the losses they were incurring in Tiruppur and felt his father had made a wrong move.

"But dad was always confident. He would think hundred times before starting a project. Once he takes a decision, he will give his best and never look back," says Senthil, who joined the business in 2006.

They had eight outlets then, including two in Chennai, two in Coimbatore and two in Tiruppur, and were doing an annual turnover of about Rs.40 crore.

Most outlets were being run as partnership firms, with the family holding majority stakes in each of them.

However, business has grown by leaps and bounds in the last 10 years. They have opened 30 outlets in this period, including 21 in Chennai and others in places like Trichy, Thanjavur, and Pondicherry.

In a strategic move, they have also started selling dairy products, confectionaries, bread, and grocery items in their outlets.

"There is a limit to people's requirement for fruits and vegetables. So we thought why not offer other things they would need anyway. By stocking more common products that are needed in homes we are adding to our topline, and also giving customers more convenience," says Senthil.

Non-fruit and vegetable inventory has contributed 30 percent to their turnover. "We have evolved into a mini super market and our aim is to provide all the products that a normal household would require under one roof.

"But our primary focus will always remain on fruits and vegetables," says Senthil, who is modest about his role in the rapid growth of the business after his entry.


"I encouraged my dad to go for more outlets. In fact, it is my mother who is the inspiration for all of us and the one who cheers us on. She is the most aggressive member in the family," he reveals.

"In 2016 she started a unit making native healthy snacks, which now contributes about Rs 2 crore to our overall revenue. About 10 people work at this unit now."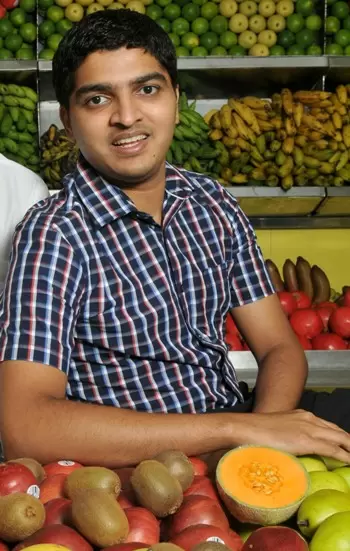 Senthil attributes the company's growth to his father's hard work and vision
Senthil is involved in formulating strategies, franchising, procurement of supplies, development of ecommerce, and clearing of new projects.

In 2012, they formed KPN Farm Fresh Private Limited with 60 percent stakes in the company and distributing the balance 40 percent shares among six partners in the existing KPN outlets.

KPN is taking the franchise path for growth. They now have 12 franchised outlets, and all of them are in Chennai.

The company has a 20,000 sq ft warehouse in Coimbatore and one more 1.5 lakh sq ft warehouse located in a sprawling 5-acre campus at Vanagaram on the outskirts of Chennai.

Procurement of supplies is a tricky job as it involves perishables. Vegetables and fruits are procured from their source market across India. Direct procurement from farmers is just around 10 percent of the total supplies.

Oranges are procured from Nagpur and Ganganagar, mangoes come from Andhra Pradesh, and bulk of vegetables from Karnataka.

From 2008, they started importing assorted fruits from different countries. Apples come from Washington, New York, and China, and oranges from Australia, South Africa, and Egypt.

Other imported fruits include pears, grapes, plums, and cherries. "40 percent of the fruits available in our outlets are imported," says Senthil.

Their cost is high mainly because the Indian government imposes heavy duty on imports to protect the interests of domestic farmers. According to Senthil, the duty is usually 50 percent of the invoice value.

"Most fruits in India are seasonal. Through imports we ensure that customers can have all types of fruits and vegetables round the year," he says.
Contrary to the buzz in social media about the growing interest in organic veggies and fruits, Senthil says only four to five of their stores have organic stock.

"Organic items account for two percent of our total turnover. Customers hesitate to pay the premium for organic products, which are almost double the cost of the normal vegetables," he says, adding the organic inventory often remains unsold leading to wastage and losses.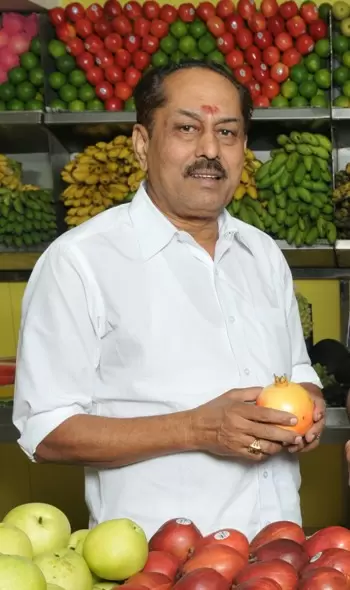 Natarajan began his entrepreneurial journey with a fruit shop in Coimbatore that he started with his brother in 1965
"I feel sales would pick up when awareness increases about the health benefits of organic food and the affordability and disposable income of people go up," says the 38-year-old, a software engineering graduate from PSG College of Technology, Coimbatore.

After graduating in 2005, he took up internship at Microsoft, Hyderabad, for a year. His stint at Microsoft gave him an exposure on how the corporate world functioned.

"I wanted to pursue a career in computers and get into our family business after some time," says Senthil, who started a software company in Coimbatore in 2006, but could not develop it much after his father developed some health issues and his family wanted him to assist him in business.

He still runs the software company with a team of 25 employees. "Last year we achieved a turnover of Rs.1.5 crore. I want to grow the company," says Senthil, who also has a restaurant in Coimbatore.
His wife too is involved in the business and she takes care of the restaurant. The couple has two sons, the eldest one is 10, and the second one is seven.

Despite having ambitious goals, the family swears by a safe, slow and steady rise to success.

"We are a profitable, 100 percent debt free company. We cleared all our debts in October last year. Two percent of our turnover is our profit. Dad never believed in borrowing capital for growing. We depend on internal accruals for our growth," concludes Senthil.

This Article is Part of the 'Amazing Entrepreneurs' Series
MORE AMAZING ENTREPRENEURS
Arun Athiappan, CEO, Ticketgoose.com
C K Kumaravel, Co-founder, Naturals
Wish to share your story?
Trending Now: