The story of Creamline Dairy Products had bitter moments too

P C Vinoj Kumar
&nbsp | &nbsp Hyderabad
13-September-2014
Vol 5&nbsp|&nbspIssue 37
Fortune favors the brave, it is said. The success story of Hyderabad entrepreneur K Bhasker Reddy, who started Creamline Dairy Products in the late 1980s with three friends, is a good case in point. Creamline sells milk and milk based products like yoghurt, curd, lassi, and ice creams under the brand name of Jersey.

How Reddy built his company that was on the verge of closure in 1991 into a Rs. 800-crore turnover firm in just over two decades makes a remarkable entrepreneurial journey.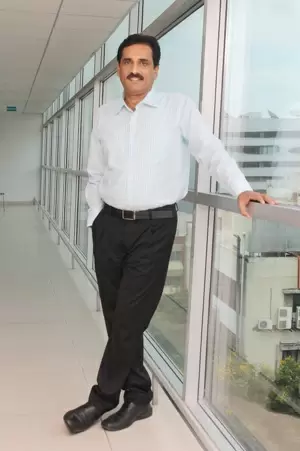 Creamline MD K Bhasker Reddy attributes his success to team work and the support he received from his directors (Photos: Sharath Babu)
When Reddy entered the dairy sector, private players were not allowed to sell milk.. They could sell only milk products. The milk market was monopolized by government brands like Aavin in Tamil Nadu, Vijaya in Andhra Pradesh, Nandini in Karnataka and Milma in Kerala.

Despite the constraints Reddy made a bold foray into the dairy sector. Incorporated in 1986, Creamline launched its 'Jersey' brand of flavored milk and ghee in 1989. They initially processed about 500 liters of milk daily from the plant they had set up in Medak district, about 40 km from Hyderabad.

They started with just 12 employees. "We supplied flavored milk and ghee to shops, but we got into a jam when our payments got delayed. We ran out of cash for buying the raw materials and milk," recalls Reddy, managing director, Creamline Dairy.

All four promoters were first generation entrepreneurs. They were technically competent since they were all graduates in dairy technology. But they learned that business was a different cup of tea.

Hailing from a village in Nalgonda district, Reddy graduated from Osmania University in Hyderabad in 1983, and wanted to do his masters in the US. But as destiny would have it he never got his visa. So he began to explore business options in the dairy sector.

"I always wanted to do something on my own. Even if I had done my masters, I would have still got into business," says Reddy.

For about a year and a half, he visited various cooperative dairies in Andhra Pradesh and felt motivated to start a milk processing plant. He made some preliminary studies and conducted surveys in shops to assess the demand and supply of milk products.

By now three other friends had joined Reddy. The estimated cost for setting up a plant to make flavored milk and ghee, their first products, was Rs.40 lakh.

They raised funds from different sources with great difficulty. "Banks were not willing to sanction loans. Not many believed private players could do well in a sector, where the government was wielding complete control.

"However, we persevered and ultimately received a loan of Rs.27 lakhs from State Finance Corporation (SFC)," says Reddy.

The four promoters invested Rs.50, 000 each. They purchased a 2-acre land in Medak, where they set up their first plant and began operations in 1989.

Initially, they processed about 500 liters of milk daily. They made flavored milk and ghee and supplied some milk in cans to a military canteen in Hyderabad.

But they were in trouble when the shops delayed payments. "We got Rs.2 lakh from Bank of Saurashtra as working capital but it was insufficient to meet the shortfall we were facing given that our outflow was about Rs.4-5 lakhs every month.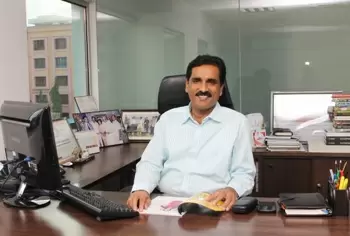 Creamline entered the milk market in 1991-92
"We faltered on our quarterly repayments to SFC and they came to seal our premises," says Reddy. The promoters salvaged the situation by raising some money pledging family jewels.

Just when it seemed they were sinking into a bottomless pit, the Narasimha Rao government introduced economic reforms in the country in late 1991. With deregulation coming into force, Creamline suddenly felt shackles coming off them and opportunities opening up.

Creamline entered the milk market, and started selling Jersey milk in pouches. They advertised in local papers and sought subscribers for direct home delivery.

"There was good response. We received about 169 calls on the first Sunday we placed an ad in a Telugu paper. The next day we personally visited all the households and took their subscriptions. In a month's time we had about 500 subscribers for 1 liter milk daily," says Reddy.

Jersey milk was priced on par with government brand Vijaya at Rs.6 per 1 liter packet. For customers who were annoyed with the rude behavior of milk agents of Vijaya, the private player was a welcome option that they were willing to check out.

Within 6 months, their supply grew to 1600 liters daily. "As our subscription base started expanding exponentially, our milk procurement levels also went up," says Reddy.

The company looked for ways to increase its procurement. Two directors were in touch with cattle owners. They supplied them with seed to grow grass for their cattle and did everything possible to increase the productivity at the sourcing level.

Unable to meet the demand from existing sources, they entered into an agreement with the Cooperative Dairy of Guntur, which was supplying good quality buffalo milk to Vijaya.

They paid Re. 1 more per liter than what Vijaya paid them. "We procured 5000 liters of milk daily from them, and then gradually increased the quantity. By 1994 we were procuring around 30,000 liters from Guntur. 5000 liters only was coming from other sources," Reddy reveals.

Their turnover touched Rs.32 crores in 1994 from a mere Rs.32 lakh in 1991. But a fresh crisis hit the company in this period when the Guntur Cooperative stopped supplying milk giving them a week's notice, allegedly under pressure from VIjaya.

"The government dairy became insecure. They were losing their market share to us and we were buying milk from their source. Some people created panic among their employees that they would soon lose their jobs if we were allowed to grow. Their employees even struck work on this issue," says Reddy.

Since over 80 percent of the milk was coming from Guntur, Creamline's operations were hit hard. "We were in turmoil. Since we could not procure milk from any of the cooperative dairies in AP, we brought milk from faraway places like Madurai in Tamil Nadu and Jalgaon in Maharashtra."

Their milk quality suffered, as the mixture of cow milk from Madurai and buffalo milk from Jalgaon affected the milk's color, flavor and odor. They had to deal with customer complaints, while straining every nerve to maintain supplies.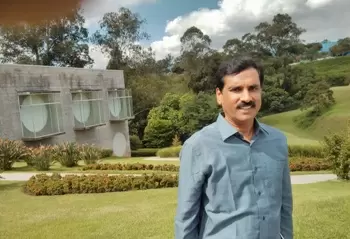 Creamline handles 6 lakh liters of milk daily in 120 chilling centers and 7 processing plants
In adversity, they came up with a master strategy to find a permanent solution to the problem. They identified five enterprising employees from dairy cooperatives in Guntur and Prakasam districts and through them established five chilling centers.

Both Creamline and the five new entrepreneurs invested in the initiative. They also got bank loan. Soon, farmers started supplying them with milk. Within a year all five chilling centers became operational, and they had 50,000 liters of milk supply daily.

"We worked really hard to set up the plants in record time," says Reddy, who says that at one point in desperation they had begged Vijaya to enter into a deal with them.

"We went to Vijaya and met their chairman and MD and begged them. We said we would not procure milk directly from farmers. We were willing to buy milk from Vijaya, even at a higher price, but they did not listen to us.

"If Vijaya had agreed then, we would not have grown to this level," says Reddy.

From then on there was no looking back. The company grew from strength to strength. In 1998, there was a glut in supply of milk. While their requirement was 2 lakh liters daily, farmers had built capacity for 3.20 lakh liters.

For Reddy, it was a perfect opportunity to diversify into more value added products. Gradually, the company got into production of milk powder, yoghurt, curd, lassi, paneer, cooking butter, sweets like doodh peda, malai laddu and ice creams.

Creamline has grown into a conglomerate with 1200 employees, handling 6 lakh liters of milk daily in 120 chilling centers, and 7 processing plants. It has a marketing presence in all southern states.

Reddy is quite modest about his accomplishment, and sits in a simple office in Hyderabad. He insists that the credit for the success of the company should equally go to all three directors, his friends, who have been with him through thick and thin.

"It was team work," says the son of a government ayurvedic doctor, who is still proud of his middle class roots.

A socially conscious person, the 53-year-old entrepreneur had been with Rotary, Round Table, and was chairman of the Andhra Pradesh Association of Deaf and Dumb from 1995 – 2005.

Reddy has a son, who is doing his masters in engineering, and a daughter who is in class 12.

This Article is Part of the 'Amazing Entrepreneurs' Series

MORE AMAZING ENTREPRENEURS
Arun Athiappan, CEO, Ticketgoose.com

C K Kumaravel, Co-founder, Naturals
Wish to share your story?
Trending Now: