'An entrepreneur is one who conceives and executes a unique business idea'

P C Vinoj Kumar
&nbsp | &nbsp Chennai
07-July-2014
Vol 5&nbsp|&nbspIssue 27
For 44-year-old Arun Athiappan, a serial entrepreneur and co-founder of Ticket Goose.com, an online bus ticketing company headquartered in Chennai, an entrepreneur is one who conceives and executes a unique business idea that provides a solution to an existing problem in society.

Making a distinction between a businessman and an entrepreneur, he says, "There are tried and tested models like setting up a kirana shop, which require little innovation. Such ventures can be run with the aim of making money."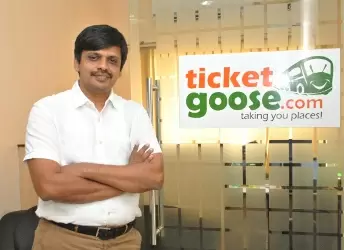 Arun Athiappan got his first business idea when he was just 12 (Photos: Media Ramu)
"But if you wish to be an entrepreneur, you need to have passion for the job, and be prepared to innovate and take risks. Money should not be your primary focus, but your entrepreneurial idea should be driving you," says Arun, who had dreamt of becoming an entrepreneur from his childhood days.
Ticket Goose.com started with an investment of Rs.30 lakhs in 2007 with just two employees has grown into a Rs.55 crore turnover company today. They have 110 employees and offices in Chennai, Hyderabad, and Bangalore. They work with 800 bus operators, and provide service for 5000 destinations across India.
Arun got his first business idea when he was just 12. As kids they used to play tennis ball cricket and lose the ball frequently. Every time they went back to their parents for a new ball, it led to face-offs with them.
One night a thought came to Arun; why not the kids themselves raise the funds for the ball by contributing Re.1 each!
The idea kept him awake the whole night. He developed the idea further and by sunrise he had a business plan ready to operate "a self-sustaining cricket club". He had calculated exactly how much each player needed to contribute to buy the bats, balls, stumps and everything else that was needed to start a cricket club.
"We formed the Rainbow Cricket Club and the idea worked well," says Arun, who would spend one more sleepless night years later figuring out the logistics of starting a bus ticketing portal after his friend and co-founder of Ticket Goose.com Karthi Easwaramoorthy mentioned about the scope of such a site while narrating his own experience in booking a bus ticket.
Karthi, who was working in the US, had come to his native village, about 30 km from Erode, for a short vacation. When he planned a trip to Chennai to meet Arun, he had to come to Erode to book a bus ticket and lost nearly a whole day in the process.
Talking to Arun on the phone, Karthi wondered how nice it would be if there was a site in India like expedia.com that dealt with flight and hotel bookings in the US. It was May 2007, well after Red Bus (redbus.in) had been started, but the sector had not yet picked up in the country. Arun found the idea exciting and it would be one more sleepless night for him.
"We did not know about redbus at that time," says Arun of the undisputed market leader in the bus ticketing segment in India.
Red Bus founded in 2006 by Phanindra Sama along with two of his batch-mates from BITS Pilani scripted a success story and finally sold the company to the Ibibo group last year reportedly for a whopping amount of around Rs.700-800 crores.
By the time Karthi reached Chennai the next day, Arun had already done his homework, spoken to few people including a bus operator to sketch a business plan. A week later, they had set up an office with two employees.
Arun, Karthi - whom Arun got to know while he was working in the US - and Vasu Ramasamy, Karthi's classmate in college, were the three co-founders of Ticket Goose.com.
On how they chose the name for the company, Arun says, "We considered names that would resonate with our customers. Any traveler is migrating from one place to another. We thought of the goose and the salmon (fish). Both migrate thousands of miles. Between Ticket Goose and Ticket Salmon, we chose the first one," says Arun.
Ticket Goose itself has travelled a long way from its humble origins. From a turnover of Rs.60 lakh in the first year, they reached Rs.52 crores last year. They book around 5500 tickets daily; about 40 percent are booked online, and the rest are through agents. They take a ten percent commission on the value of each ticket.
The company has many plans for expansion and growth, one of which is to tie up with State run transport corporations. They are already in talks with couple of corporations. They have also increased their media spend and looking at penetrating the North Indian market.
For Arun, the present company has been his fourth shot at entrepreneurship. Though he had developed a fascination for entrepreneurship at a young age, his father wanted him to become a doctor.
"But I was never interested in medicine. I could only join engineering, since I did not have the cut-off marks for a medical seat," says Arun, who had studied mechanical engineering from PSG College of Technology, Coimbatore.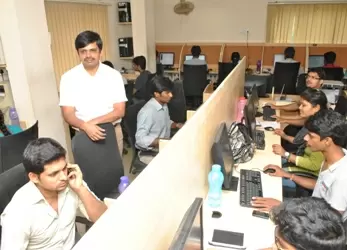 Around 110 employees work for Ticket Goose from offices in Chennai, Hyderabad, and Bangalore
Though he was unable to fulfill his father's wish, he lives by the value system his father taught him.

"My father was an engineer in the highways department. He always stood for what was right and didn't mind getting frequently transferred as a consequence of his principled life. While he never preached me on this, I learnt a lot just by watching him doing what was right, irrespective of the consequences."

While in college he looked up to Subbarayan, who had started a mosquito net manufacturing unit in Karur and became a successful entrepreneur. His company went on to become one of the top producers of mosquito nets in town. Subbarayan, a distant relative, was an inspiration to Arun.
"He built his business from scratch. He brought an old machine from Ludhiana, dismantled it with the help of local workshops in Karur and assembled a new machine to produce mosquito nets. I used to visit his company often when I was in college," says Arun.
Another person he admired was a classmate's father, who has a bus body building industry at Karur.
After taking his engineering degree, he joined Bosch in Bangalore and worked there for about eight months. During his stint in the company he received 3 weeks training in Foxpro, which gave him the confidence to start a software company.
"With investment of Rs.1 lakh, I bought a 486 computer, which had a 4 MB Ram, and a 40 MB hard-disk, and a dot matrix printer. I had one employee and we developed the management information system for couple of companies in Namakkal and Karur.

"But instead of specializing in one industry I kept taking up projects in new industries. Had I specialized in just, say spinning companies or bus body building companies, we would have made money. But I was keen on exploring new challenges, not aware of the resources that we spent each time we studied a new industry," says Arun.
The company grew up to 8 employees, but financially it went into the red. Later, he tried his hand in garment manufacturing by acquiring a sick unit. "It seemed an attractive proposition, but I had no idea that clients would pay back only after 3-6 months and would send back unsold inventories. I piled up a debt of around Rs.10 lakhs," he says.
After his marriage in 1996, Arun decided to wind up his businesses and take up a job to support his family and clear the debts.
He updated his software skills at a company in Chennai and joined HCL as member, technical staff, level 3, and quickly moved up the ladder. Within 4 months, he was sent to Connecticut, US, to handle the implementation phase of a project.
From HCL he joined Covansys in 2000. For 3 years he worked in the US and then worked for the company from India.
Ticket Goose happened after he quit Covansys in 2007 bitten by the entrepreneurial bug and had floated a software consultancy firm.The company had not taken off as he anticipated, but he had found the goose that laid the golden eggs for him.

Three watchwords for a Startup
"Have a clear understanding of the cash flow. Know where you are going to get the funds to execute your business plans. Don't devise plans with projected profit, because you may not make profit for the first three years at all.
"Have a razor-sharp focus. If you are selling bus tickets, try to become the master of selling bus tickets. Don't get diverted into selling multiple services, just because you have a large customer base.
"Be passion-driven. Don't get into entrepreneurship because you want to make money. Money will be a by-product of your success."

On Brand Promotion

"We found that online advertising is not enough. To gain the trust of people your brand needs to be seen offline too. We ran an advertising campaign on some TV channels and the response has been good."

On Competition

"It is a Rs.25,000 crore market, but hardly Rs.2000 crore worth of tickets are getting booked online. The existing market is shared by 3-4 major players and many smaller players. With the market expected to grow to Rs.50,000 crores in 5 years, the online share of the market will grow to at least Rs.20,000 crores by then. With such a big market to play on, we are very well positioned to take on competition and take Ticket Goose to a Rs.3000 crore company in five years time."

Arun Athiappan, Co-founder, Ticket Goose.com

This Article is Part of the 'Amazing Entrepreneurs' Series
Wish to share your story?
Trending Now: