This IITian built a multi-crore IT company with advance of Rs 1 lakh from client
Sapna Gopal
&nbsp | &nbsp Hyderabad
22-June-2015
Vol 6&nbsp|&nbspIssue 25
Around 10 years ago, an old nondescript house in Koramangala, Bengaluru, was getting a lucky makeover. Raghu Kanchustambham, 26, an IIT Guwahati graduate, and his six new team members were painting its cupboards.
Raghu had devised this 'project' as a team-building exercise with the added objective of learning to respect "all kinds of work". As an entrepreneur who had just started up, he knew that for a successful organisation it was important that all departments respected all the others.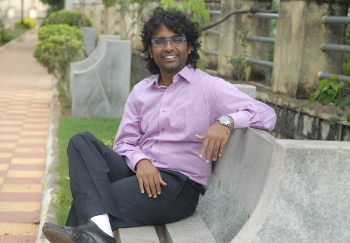 Raghu is poised for scaling up his venture after years of investing in technology
Now, at 36, Raghu Kanchustambham is the Founder and CEO of ConceptWaves, a company that is – literally – making waves in large-scale, high-impact mobile and cloud computing.
Besides their core product, a back-office platform for various education service providers – schools, colleges, training centres, test-prep institutions and NGOs - they have developed Livelihoods 360, a low-cost way to help farmers transact, and W365, a custom solution for an NGO to help deliver potable water.
Expectedly, acclaim has poured in: the Best Asian Mobile App by Telenor, Top 100 Social Entrepreneurs of India, NASSCOM Social Innovation Honors… the list goes on.
Sure, things have changed since those cupboard-painting days, but the 'first' things, the crucial things, have remained the same.
Raghu still runs a tight, efficient ship – with only 15-20 team members. And he still feels as he did about mutual respect at the workplace: "Quality control teams are as important as the teams that develop software," he says. "Teams that sell your services are as important as the teams that support the customers later."
It's probably these ethics that have helped Raghu be where he is, at that critical juncture in entrepreneurship, where after the building up, you are poised for the big leap forward.
A decade ago, Raghu and his new team, wielding paintbrushes and ideas, wanted to do "something" in software. Raghu had worked for six years in MNCs and startups (including Hughes Software Systems, IBM Software Labs, July Systems and Techspan).
He had won accolades, but he had that 'start-up' gene, that uncommon chromosome that makes one reject the conventional day job in favour of nights of sweat and toil that you can put your name on. He and six former IIT classmates had decided to come together in this as the original, pioneering team.
At that time, India did not have too many software product companies. They were also very clear that it wasn't going to be a typical service company. The turning point came in 2005, with their first break.
"We pitched to T.I.M.E (Triumphant Institute of Management Education) Bangalore, a test-prep institute, to see if we could help them build a web application to manage their student database," explains Raghu.
Meanwhile, there was turmoil within the team: one of them left for the Indian School of Business, another moved to the USA, and others got married and moved on. The team had fallen apart, and Raghu was stuck with the project they had committed to T.I.M.E.
However, in a classic case of fortune favouring the brave, Raghu got to know a few people, fresh out of college and looking for an opportunity. That was when they rented the modest Koramangala house at Rs 7,000 a month to set up office: four computers among six employees, and a salary of Rs 1,500 apiece.

The initial investment of one lakh rupees came from the advance from T.I.M.E Bangalore. That clever commentator on success Napoleon Hill wrote, 'If you can't do great things, do small things in a great way,' and it became Raghu's thought for the day for weeks.

"We grew organically from there," he says. "I re-invested revenues in the company to grow it slowly but steadily." Now the company's turnover touches a couple of crores, and it retains its most important assets – four out of six members of the original team are still working there.

And working at no mean feat, either. The team manages a large product code-base spanning more than 4,000 files and 900 database tables.

Talking about their primary product, Raghu says, "Over nine years, despite limited resources, we managed to build one of the largest platforms - and now counted as India's best student lifecycle management platform - with an integrated assessments and learning management system capable of managing operations on a large scale."

This is EduSquares, a comprehensive, flexible SaaS (Software as a Service) platform for Education Service Providers. SaaS is a software distribution model in which applications are hosted by a vendor or service provider and made available to customers over a network, typically the Internet.

This allows both small and large customers to plan and opt only for those modules that make business sense for them, while having access to world-class, one-stop infrastructure at affordable rates.

This includes CRM (customer relationship management), administration and operations modules to help manage admissions, payments, inventory, batch allocation, student attendance, assessments, teacher workload, syllabus coverage and so on.

Then there are the online tests and offline assessments management and learning management system modules, as well as analytical tools and dashboards to give senior management access to financial, operational and academics based metrics.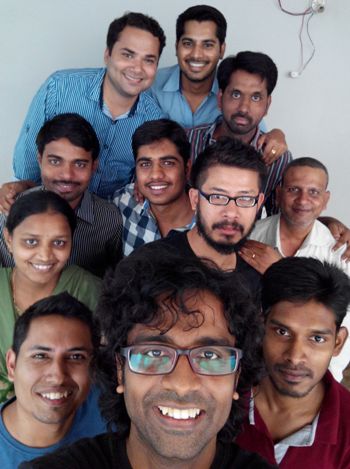 Raghu runs a tight, efficient ship, with 15-20 team members
Additionally, there are mobile applications, such as iTeach that helps an instructor to capture data in-class directly on their mobile phone, and iLearn, a mobile learning module for students (and sometimes to parents, too).

Going from the field of education to agricultural ones, Raghu and his team have created Livelihoods 360, a crop agnostic livelihoods ERP-deployed programme that has helped 12,000 tribal farmers in around 650 villages in the Araku region of Andhra Pradesh.

Yield estimates, produce management and farmer payments are covered by this mobile and cloud based application, which has transformed the way the Nandi Foundation Co-operative and produce-selling farmers interact. Earlier, paper transactions delayed and obfuscated payments.

Now, with a phone costing Rs 1,000 and armed with an app, transactions (at rupees two a pop) are in real-time and transparent, and the app has now been extended from coffee to pepper.

This ease of financial transaction, Raghu believes, can be taken to nutrition and sanitation, too. However, he cautions that this is it not just about idea and technology but also about knowing what works and how you implement it in the field.
Yet another initiative of the company has been W365, a custom solution for an NGO to help them deliver clean drinking water to around 6 lakh people in the low-income BoP segment.

"We track 500 to 600 water plants across five states, including Haryana, Punjab, AP and Telangana," explains Raghu. "Each data entry operator puts down what he sold and we pass that SMS on to the dashboard. A day-to-day matrix can be managed with just an SMS."
Now that a range of products is built and ready, the focus will be on scaling up the marketing of the products and services, instead of relying on references and word of mouth, as well as on creating products for other parties to sell and promote.

With their products receiving both national and international acclaim, the company has moved from being a proprietorship to a Private Limited and has shown a growth rate of a healthy 25 per cent year on year, operating at a profit margin of 30 to 40 per cent.
Raghu and his team watch finances and costs carefully. This frugality comes naturally to Raghu. "I was taught to be careful with money and live within our means rather than get lost in superficial gloss and glamour," he says.

His engineer father and homemaker mother both laid emphasis on education, whether it was Raghu's schooling at Hyderabad Public School or graduation from IIT Guwhati.

"So important was education to them, that one of the main reasons they chose my wife Niharika was because she had graduated from BITS Pilani," he grins.
Focused and pragmatic spending helped ConceptWaves to offer cost-effective solutions and inexpensive solutions priced between Rs 20 to Rs 50 per student per month in EduSquare, depending on the volume of students and modules activated by the customer.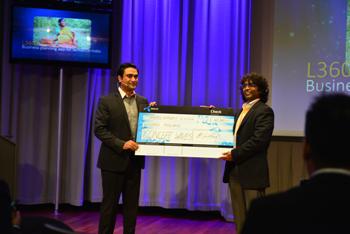 Raghu receiving the Telenor Best Asian Mobile App award
In case of NGOs and social enterprises, they often provide services at 10 per cent of that cost – a gratifyingly low Rs 2 per student per month. Yes, a little gaping is in order, and Raghu gives all the credit to his team.
"The real work is done by them, after all," he says. "ConceptWaves thrive on the fire in their belly, their bonding, their professional respect, complete commitment and determination to overcome challenges."
Shattering the myth of the danger-loving entrepreneur, the curly-mop-haired Raghu says, "It's a myth that entrepreneurs love risks; the fact is they have a Plan B for everything."
The inspiration – the key ingredient in the entrepreneur's pie - is innovation.

"Innovation keeps everyone on the team excited and interested. It is not only needed to be competitive and to add value to customers, but also helps in keeping all employees in the organization happy."
In the final analysis, though, there will always be that je ne sais quoi – that unnamed quality that makes a man paint a cupboard before he launches a business. . . "You start a company because you love it," Raghu concludes.
This article is part of the Amazing Entrepreneur series

MORE AMAZING ENTREPRENEURS
Senthil Natarajan, CEO, Kovai Pazhamudir Nilayam
C K Kumaravel, Co-founder, Naturals
T Sathish Kumar, MD, Milky Mist
Chayaa Nanjappa, Founder Partner, Nectar Fresh

Gazalla Amin, Founder, Fasiam Agro Farms

Trending Now: